By Jenna Soroka
(AJNews) – Elder-in-Residence Jo-Ann Saddleback from the Saddle Lake Cree First Nation, along with her husband Elder Jerry Saddleback from the Samson Cree Nation, led a Pipe Ceremony at the Edmonton Public Library's Stanley A. Milner Branch on September 29 to mark the opening of They Didn't Know We Were Seeds art exhibit by Carol Wylie which can be viewed at EPL until November 25.
The powerful exhibit features a larger than life, moving series of 18 poignantly painted portraits of Residential School and Holocaust survivors. In Wylie's artist statement she explains "through portraits of individual survivors, I hoped to create a silent dialogue between Jewish survivors and Indigenous survivors."
Members of the Jewish community were invited to participate in the Pipe Ceremony, experience an aspect of Nehiyaw (Cree) culture, and share a space with members of the Indigenous community in a meaningful way.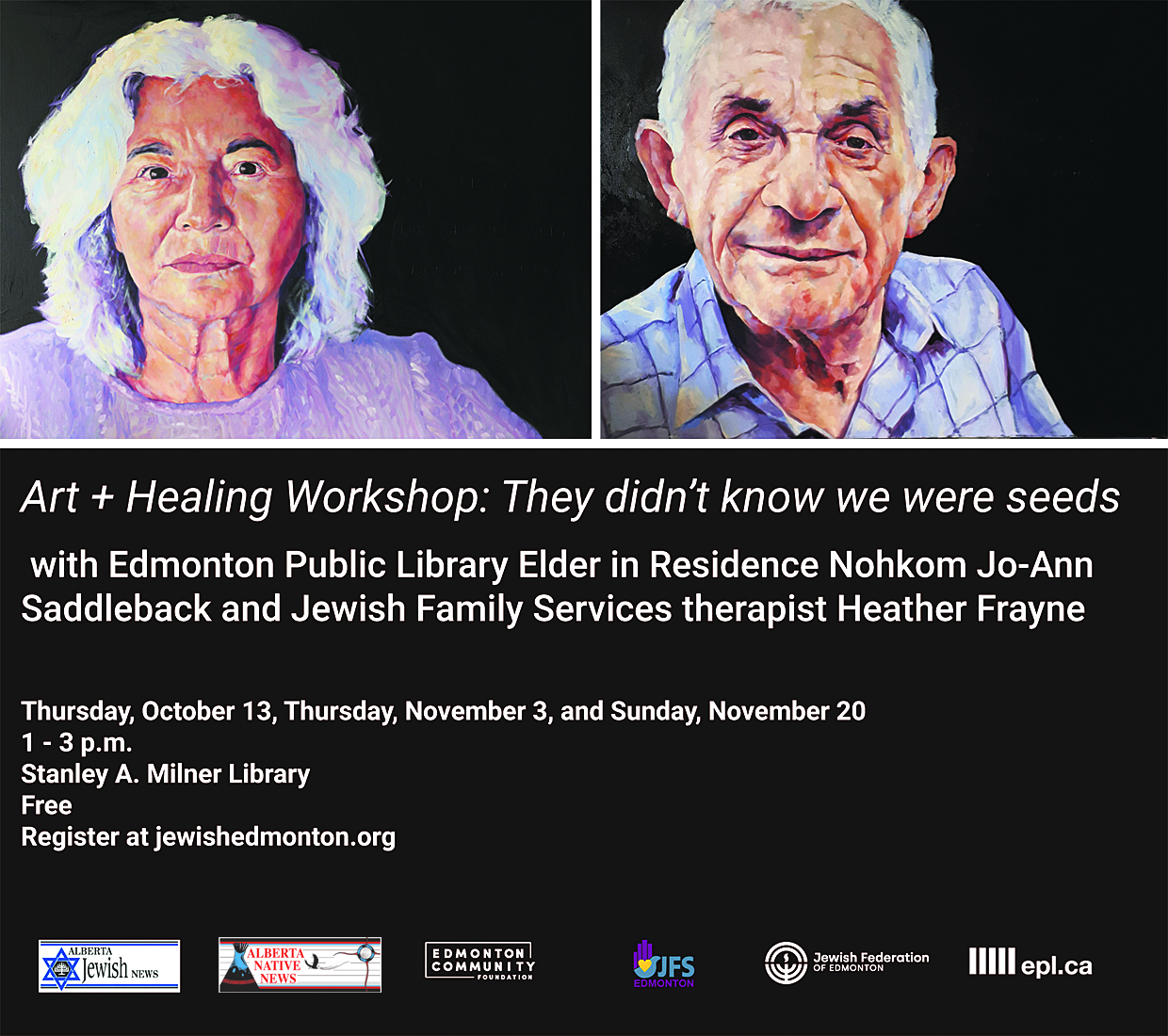 Those in attendance included JFED CEO Stacey Leavitt-Wright and Associate Director of Holocaust Education and Community Engagement Jennifer Magalnick, Rabbah Gila Caine, Jewish Family Services Case Management Supervisor Tatiana Kastner, two Holocaust survivors, among others.
Magalnick explained that meaningful engagement in Truth and Reconciliation was the impetus for showcasing the exhibit. "Last fall, in searching for a way to engage as a Jewish community in Truth and Reconciliation, we stumbled upon the breathtaking work of Jewish artist Carol Wylie and her series They didn't know we were seeds," said Jenn. "It features 9 large scale portraits of Holocaust survivors and nine of Residential School survivors. This work seemed to open a portal into how we might, as a community, immerse in this work."
Pipe ceremony participants were seated on cushions in a circle in PÎYÊSÎW WÂSKÂHIKAN (Thunderbird House) at the EPL's Stanley A. Milner Library, honouring Holocaust survivors and Residential School survivors and opening the exhibit, said Magalnick. "The air was thick with tobacco smoke. Participants were intently silent as they gathered to listen, learn, and honour those who were taken from our communities and those who survived. The pipe carriers, Nôhkom Jo-Ann Saddleback and Mosôm Jerry Saddleback, were surrounded by a mixed group including members of Edmonton's Jewish community, students from the Enoch Cree Nation, rabbis, several Holocaust survivors, and library patrons, and staff."
"The timing of the National Day for Truth and Reconciliation falling amid the High holidays this year provided both scheduling challenges and a unique opportunity to cogitate," added Magalnick. "Sitting in the room, it felt Bashert, or meant to be, that this significant time in the secular world fell when we are primed for repentance and repair Jewishly."
This moving experience launched the showing of the portraiture series that will hang at the Stanley Milner Library until November 25.
Magalnick had been communicating with Emily Riddle, EPL's Senior Advisor of Indigenous Relations, over the past few months to help guide JFED in their collaboration with EPL for programming to complement Carol Wylie's art exhibit. As part of their discussions, Riddle coordinated a meeting with Nôhkom Saddleback, Jenn and several other volunteer planning group members back in April. The idea of holding a Pipe Ceremony was suggested and came to fruition on a beautiful Fall morning.
There were several protocols and cultural aspects during the Pipe Ceremony that paralleled those in Judaism which brought a deeper richness to the experience for the Jewish attendees. From saying prayers over food before eating to learning about the significance of a specific number in their culture, it was special to witness these similarities. Of course, there were also differences that allowed for many opportunities to listen, learn, and participate. Throughout the ceremony Elders Jo-Ann and Jerry spoke fiercely about their culture, shared personal stories, and weaved light-hearted humour into moments of serious reflection.
From beginning to end, they made everyone feel welcomed and appreciated for their presence. The ceremony evoked various emotions and highlighted the power that compassion and holding space for healing can have in building trust in relationships.
Visit the Stanley A. Milner Library between now and November 25th to experience the compelling portraits of these remarkable 18 survivors captured in Carol Wylie's art exhibit, They Didn't Know We Were Seeds.
Additionally, if you or someone you know is a survivor or intergenerational survivor of Residential Schools, Day Schools, the Sixties Scoop, the Millenial Scoop, or the Holocaust, the Edmonton Community Foundation is funding art therapy workshops led by EPL Elder-in-Residence Jo-Ann Saddleback and Jewish Family Services' therapist Heather Frayne on Sunday, November 3 from 1-3 pm; the second of three workshops. Register today at https://epl.bibliocommons.com/events/63248a258e04733947ed912e.
Jenna Soroka is a Local Journalism Initiative Reporter.