by Maxine Fischbein
(AJNews) – When long-time Holocaust education volunteer Paula Lexier saw a production of The Children of Willesden Lane some five years ago, a dream was born.
"I thought it was amazing.  I was impressed with the storytelling and the artistry of the production, and I really had this passion for bringing it to Calgary," Lexier said.
Fast forward to last year when the KSW Holocaust Education Fund at the Jewish Community Foundation of Calgary ran with Lexier's idea, forming a group of partners to bring Grammy-nominated concert pianist Mona Golabek to Calgary to perform her highly-acclaimed one-woman show during Shoah Week.
Local philanthropists Al Osten and Buddy Victor have generously underwritten Golabek's Calgary performances, including two abridged daytime performances for junior and senior high school students and 500 copies of Golabek's book, which will be distributed to youth between the ages of four and 18.
The Western Canadian premiere of Golabek's multimedia show will take place in the Bella Theatre at the Taylor Centre for Performing Arts on Wednesday, April 19, followed by a second performance the following evening.
Based on the eponymous book by Golabek, The Children of Willesden Lane tells the story of the Kindertransport, a humanitarian mission that saved the lives of 10,000 Jewish children by transporting them from Nazi-occupied Europe to England in the months leading up to World War II. In particular, the story focuses on the experiences of a budding young Viennese piano prodigy, Lisa Jura, Golabek's mother.
There was excitement in Mona Golabek's voice when she spoke to AJNews from her home in Los Angeles last week.  With a packed performance schedule, the renowned pianist is a moving target at the best of times, spending 50 to 60 percent of her time on the road. On top of that, she was dealing with extensive damage to her home following the recent California floods.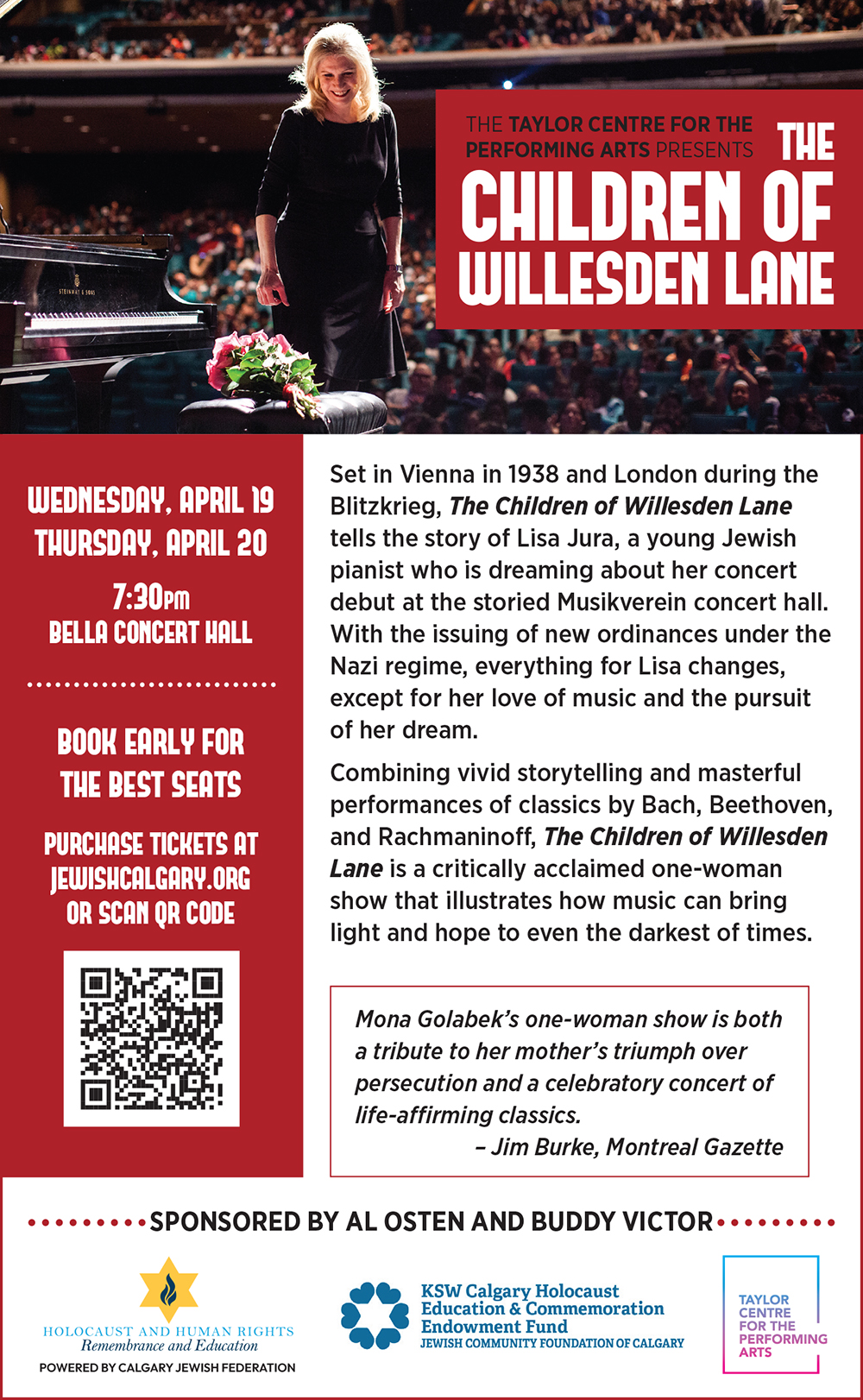 Seemingly unflappable, Golabek did not let the disaster distract from her greatest passion – sharing her mother's incredibly moving story.
Golabek and her late sister Renee learned both piano and their family history from their mother. Like her, the Sisters Golabek became talented pianists, performing together as a duo and producing several recordings including the best-selling album, Carnival of the Animals, featuring the voices of Hollywood stars including Audrey Hepburn and Charlton Heston.
Golabek was enjoying a highly successful career as a concert pianist, garnering a Grammy Nomination (Best Chamber Music or Other Small Ensemble Performance for Arensky: Piano Trio #2 in D Minor/Tchaikovsky: Piano Trio in A Minor).
Yet, despite all her success, she had a nagging feeling. "I came off one of my tours and thought to myself, 'something is really missing in my life'," Golabek said.
"When I was a little kid, my mom taught me the piano and told me the story of her life. It entered my heart, but then the years passed. One day I was engaged to play the very piece that she had dreamed of making her debut in, the Grieg Piano Concerto," Golabek added. "A dream was born…. I wanted to share her story with others."
At first, Golabek wrote a book about her mother's experiences. "Someone fell in love with it and sent it to a major publishing house. The rest was history for me," she said. Some philanthropists then embraced the book, feeling it would be "a powerful message for young people."
They assisted Golabek in forming the Hold on to your Music Foundation which, in turn, shared the story with schools.  It wasn't long before Golabek's efforts came to the attention of filmmaker Steven Spielberg's USC Shoah Foundation, which partnered with Hold on to your Music Foundation in The Willesden Project, bringing further educational resources to this unique form of Holocaust education.
The best was yet to come. Golabek was introduced to Hershey Felder. The pianist, actor and playwright – famous for his portrayals of composers – knew a good thing when he saw it.
"'I'm going to take a chance on you.  I'm going to produce you," he told Golabek, whose debut performance of The Pianist of Willesden Lane took place at LA's Geffen Playhouse Theatre about a dozen years ago. "He changed the course of my life," said Golabek of Felder. "He's toured me all over the world."
Sadly, Lisa Jura Golabek, who passed away in 1997, did not live to see how her daughter immortalized her story. "I hope wherever she is, in heaven, she's observing the millions of kids who have now read the book in multiple languages," said Golabek. "It's just been fabulous to see the reaction all over the world."
So impressed was Paula Lexier with Golabek's show, that she enthusiastically stepped up to help organize her Calgary performances, serving as liaison between the KSW Holocaust Education fund, the Taylor Centre for Performing Arts,  Calgary Jewish Federation, and event sponsors Al Osten and Buddy Victor.
"What makes this story so different is that she shares the history of the Kindertransport in a way that I've never seen before," said Lexier. "Her weaving of classical piano pieces with her mother's tragedy and triumph resonates with the audience in a completely different way. That is what makes the experience so unique."
"The fact that the Taylor Centre for Performing Arts is offering this as part of their regular concert season reinforces the quality of the production," Lexier added.
Organizers are predicting brisk demand from Calgary music lovers and encourage members of the Jewish community to grab tickets while the best seats are still available.
In addition to the public performances on April 19 and 20, Golabek looks forward, as always, to interacting with local youth.  Calgary Jewish Federation Holocaust and Human Rights Remembrance and Education co-chairs Marnie Bondar and Dahlia Libin promoted the youth performances with Calgary and area social studies and band teachers who snapped up every available seat.
"I am thrilled that 1,200 junior high and high school students will get to experience the abridged version of the production and have an opportunity to participate in a Q and A after the performances," Lexier said.
At the heart of The Children of Willesden Lane are the last words Lisa Jura ever heard from her mother as the 14-year-old boarded the Kindertransport train.
"My grandmother told my mother to hold on to her music, that it would be her best friend and that she would be with her every step of the way through her music," Golabek said.
"Even though the story is set 80 years ago it has more relevance today than ever before," said Golabek, because it touches upon the rescue of refugees as well as the fight against antisemitism and racism.
To date, an astonishing 2,000,000 young people have read Golabek's book, which has been translated into 12 languages, including Arabic.
Golabek told AJNews that she will soon take The Children of Willesden Lane to the United Arab Emirates.  Her performances there will be her first in an Arab country.  In January 2024 she will team up with the Israel Philharmonic in a Willesden Read event sponsored by philanthropist Charles Bronfman.
Golabek's performances and conversations have also had a profound effect closer to home.
"I've seen this story captivate young African Americans all across America. They really relate it to the stories they've heard from their legacies. I see Hispanic and Asian refugees cheer this story," says Golabek. "We are all in this together."
To purchase tickets for the April 19 and 20 Calgary performances of The Children of Willesden Lane, go to taylorcentre.ca/all-events. For more information about The Children of Willesden Lane, go to holdontoyourmusic.org/
Maxine Fischbein is a Local Journalism Initiative Reporter.