by Shelley Werner 
(AJNews) – On October 18, 2023 at 7 pm MDT Art and Scroll Studio will begin their fourth season with the dynamic work of graphic artist Hillel Smith. One of his beautiful images was featured on the cover of the August 2023 Calgary edition of Alberta Jewish News.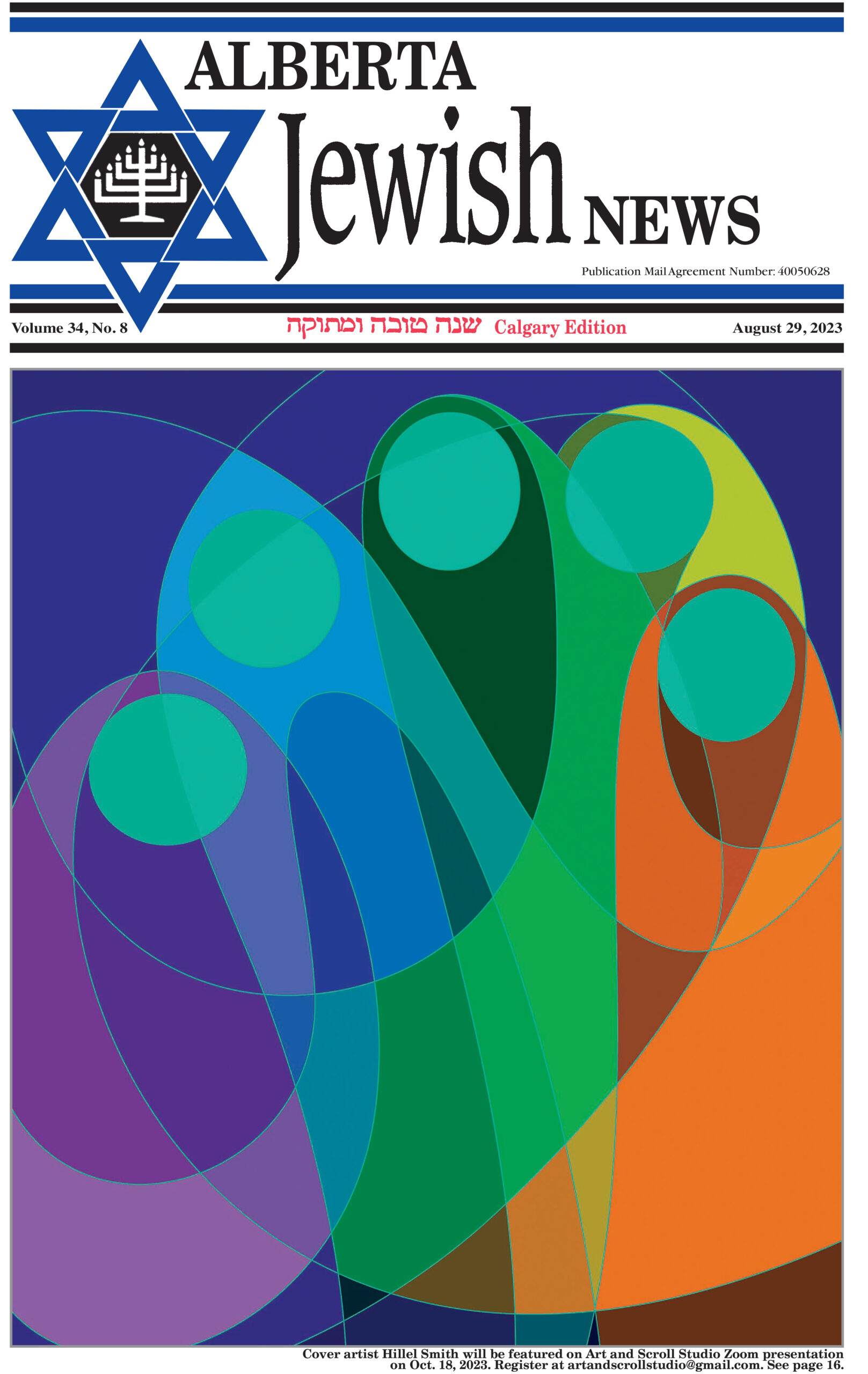 Art and Scroll Studio is proud to have hosted over 21 episodes since their inception, with more than 5,000 views on their YouTube channel. They are happy to present their first episode of the New year.
Hillel Smith is excited to bring colour and line to both public works and smaller pieces. A visionary for public spaces, his work enhances the experience of art of a large scale.
"My parents tell me that when the other kids in kindergarten finished their art projects and went to play, I stayed at the art table lost to the world," says Smith. "I design, I draw, I paint, I stencil, I build, and I inflate. I create bold, exciting work with a wide range of clients, providing strategy and insight alongside eye-catching visuals."
He helps nonprofits promote their causes and communicate their messages. He crafts presentations and litigation graphics for lawyers and law firms to visually convey attorneys' arguments and better inform and persuade their audiences. He develops brand identities for organizations and businesses to effectively connect them with their intended audience. He makes attention-getting publicity materials for media events of all kinds.
"When it's warm enough, you can find me outside with a spray paint can in hand painting murals or a new art piece for a gallery somewhere," explains Smith. "Best of all, I teach art and Jewish art history to children and adults, giving them the tools to introduce a little more colour into their world."
He is engaged in reinventing typography, whether Hebrew or English to enhance the message of his graphic work. He has created a poster series to illustrate the parshiot of the Torah as well as engaging workshops to bring his graphic message to all ages.
Smith said he enjoys the unusual juxtaposition of Jewish tradition and contemporary media such as graffiti. He grew up in the Pico-Robertson neighbourhood of Los Angeles, riding his bicycle to the comic book shops on Melrose Avenue and admiring the street art of his hometown.
"I've been concentrating on making what I think of as cutting-edge Judaica – art that mixes ancient Jewish texts and Jewish ritual practices with modern media and aesthetics," says Smith. "It's all about reimagining what Judaica and Jewish art can look like in the 21st century."
He graduated from the University of Pennsylvania with a degree in Visual Studies. He leads workshops on Jewish art, including Jewish street art, at a growing number of institutions, centering on artistic empowerment, continuity, and manifesting identity through the arts. Seeing Hebrew as the visual glue binding Jews together across time and space, he also teaches Jewish typographic history, using print as a lens for Jewish life and culture.
Visit Art and Scroll Studio on you tube at youtube.com/@artandscrollstudio
Register in advance by email at artandscrollstudio@gmail.com for the October 18, 2023 presentation which starts at 7 pm MDT.
 Shelley Werner is the host of Art and Scroll Studio zoom series that celebrates the makers and creators of Judaica Art. The premier of Season 4 features Graphic Artist Hillel Smith on October 18.