(EJNews) – Two new middle grades novels that are sure to interest and engage pre-teen and teen readers were launched recently by Fictive Press.
The first is a science fiction thriller entitled "Who Am I" by award winning author Carol Matas. The book, which is aimed at readers aged 8 – 15, is centred around a smart, beautiful and talented 14-year-old girl named Miranda who seems to lead a charmed life. Her life seems to be perfect until she experiences some blurred vision which sets into motion some startling discoveries that everything she thought she knew about her life and her family is a lie.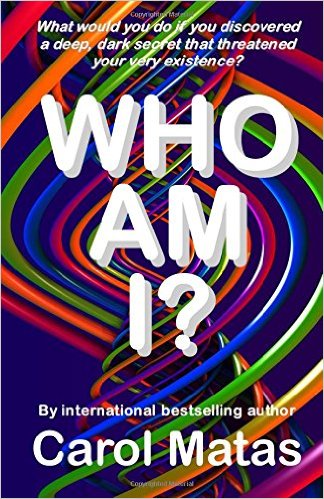 The book's heroine faces startling discoveries about her own identity and origin as well as the science and ethics surrounding cloning.  Along the way, she encounters dilemmas about honesty, friendship, parental respect and love. Her fight for her life brings her face to face with an unscrupulous scientist and puts her life as well as the life of her friend and her sister in jeopardy.
What makes us human? Is it our DNA, our upbringing or the choices we make? The author takes Miranda on a journey of self-discovery that is rife with exciting twists and turns.
Carol Matas, an international acclaimed author of 45 books for teen readers, has crafted a suspenseful and thought provoking story that will provide excellent material for discussion groups to ponder.
The impetus for writing "Who Am I?" can be found in this quote by author Carol Matas. "We must never simply accept the voice of authority," she emphasizes. "We must think for ourselves. Throughout the centuries, Jews have learned by argument. I have tried to follow in that tradition, using the context of Jewish wisdom by posting moral and ethical problems in my books and challenging young people to think about them, to think for themselves. Surely that is the most important thing a young person can do – think independently."
The second novel is by Morri Mostow entitled "P.J. le Pooch and the Magic Sketchbook." Readers are introduced to a delightful 11-year-old girl who gets a rescue dog while her mother is out of town. Millie and her dog – P.J. le Pooch – form a quick bond and have only 60 days to convince Millie's mother that the dog should become part of their family.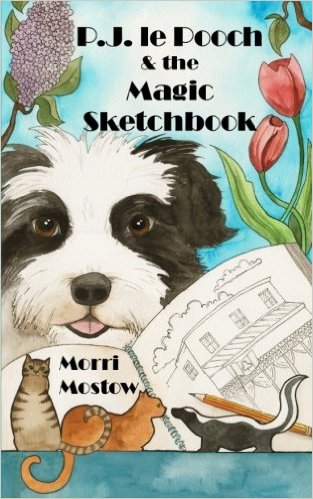 With the help of P.J. le Pooch, new friendships are made and existing relationships are strengthened.  Their adventures and misadventures make a really fun story including a brief encounter with some skunks and a cranky neighbour. P.J. le Pooch even helps Millie and her friend during the town's dog pageant. Lessons are learned about giving people second chances – and puppies too.
The novel, for children aged 9 to 13, is set in the Quebec Eastern Townships and was inspired by a well-known dog who greeted visitors to the England Hill store that once graced the top of the hill in Knowlton Quebec where the author used to live.
The author's friendship with store owners Jean McLeod and her mother, the late Audrey Nevins McLeod, inspired the book's main characters.
"Fond memories of my years in Knowlton compelled me to write this book, and launch it there," says Mostow. "The story weaves magic into the tale of a spunky 11-year-old girl who struggles to keep a rescued dog against her mother's wishes. It also pays tribute to Knowlton's recent past, when the town celebrated its Victorian heritage with an annual dog pageant and games."
Morri Mostow now lives with her author/songwriter husband, Doug Long, their two cats and assorted wildlife, on one of British Columbia's Gulf Islands. She is co-owner of BizNet Communications, and founder and publisher of Fictive Press.
Fictive Press publishes ebooks and print-on-demand books. It has published 14 titles since 2012, including the 2014 National Jewish Book Awards Finalist "Tucson Jo," an historical novel by international bestselling author Carol Matas.
For more information visit fictivepress.com.