by Dr. Regan Treewater-Lipes
(Edmonton AB) – The atmosphere was festive and exuberant to say the least as members of the National Council of Jewish Women of Canada converged on the West Edmonton Mall's Fantasyland Hotel from November 16 to 18 for this year's Triennial Convention.  Lifelong members and new devotees to the Jewish women's social action organization flocked to the chilly northern City of Champions from across the country, representing Vancouver, Winnipeg, Toronto, and the newly formed NCJWC chapter in Barrie.
Debbie Wasserman, NCJWC's National President commented following the weekend's packed program, "Our annual meeting is always a time to reconnect and come up with new National initiatives."
Since 1897 NCJWC has showcased the best qualities of community and social outreach.  The organization engages in many endeavors to improve the lives of Canada's most vulnerable inhabitants.  Long-term projects continue to include genetic testing awareness and outreach, public education on the dangers of human trafficking, supporting women's shelters, and efforts to eliminate child poverty.  This year's meeting brought with it a flood of new ideas, and promising reports from local sections reflecting on their initiatives and organized events from the past year.
"The 2019 NCJWC Triennial Convention was superb," elaborated Wasserman.
"We all felt the positive collective energy of the group and came away invigorated, ready to continue on the positive track that together we had developed."
The weekend kicked off with delegates from all sections boarding a yellow school-bus bound for the Jewish Seniors' Drop-In Centre.  Maya Feldman, from the center, welcomed guests with warm opening remarks and a beautiful spread of kosher dairy delicacies prepared by Bozena.  After schmoozing and plenty of noshing, agendas were distributed, and it was straight down to business before loading back onto the yellow school-bus to be shuttled back to WEM.
Bright and early on Sunday delegates reconvened for more meetings and lively conversation before local guests arrived for the Community Luncheon hosted by NCJWC's Edmonton Section.  "The NCJWC Community lunch was all that the Organizing Committee envisioned," commented Edmonton Section President Jodi Zabludowski following the event.  Over 150 people were in attendance on that crisp November Sunday, and Conference Room 6 of the Fantasyland Hotel was a buzz with excitement and celebration.
"It was wonderful having different parts of the community come together to honor three outstanding individuals:  Christina Tsipora Reboh, Francie Nobleman and Ruth Nolan,"
Zabludowski continued.
For their tireless dedication to the greater Edmonton Jewish community and years of devoted volunteering these three pillars of the community found themselves in the spotlight as the distinguished honorees of the day.
While attendees dined on a mouth watering three course kosher meal, each honoree was invited to ascend the podium.  Christina Tsipora Reboh was recognized for her leadership with Edmonton's Jewish young people, Francie Nobleman for her decades of community engagement, and NCJWC's life member Ruth Nolan was bestowed with a lifetime achievement award.  Nolan, who has been a proud NCJWC member since 1947 accepted the honour to a standing ovation.
"To be introduced to three special women who were honoured for their tremendous commitment to volunteerism was inspiring," noted Wasserman. 
Hands were clapping to the beat as Sari Uretsky's Aviv Dancers took to the stage in a whirl of sparkle and color.  The lively performance was an explosion of spectacular energy and captivating movement that mesmerized the audience.  "Of course, seeing the Aviv dancers perform was a special highlight at the lunch, as their dancing and music make our hearts sing," concluded Zabludowski.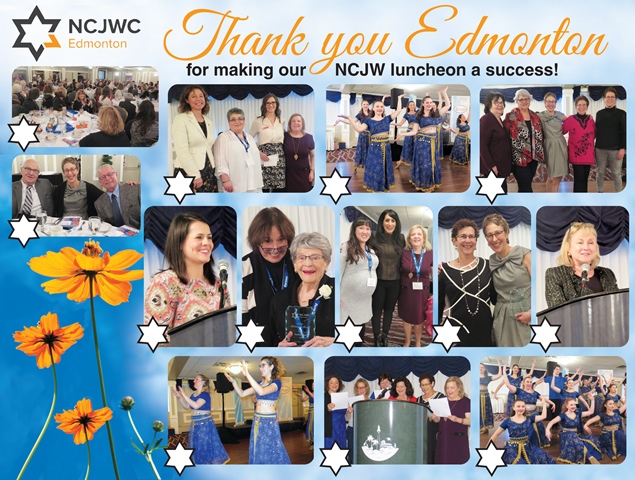 Other highlights of the afternoon included a keynote address by the Province of Alberta's Right Honourable Minister of Culture, Multiculturalism and the Status of Women – Leela Aheer.  Minister Aheer expressed her deep admiration of the work being pursued by NCJWC in Alberta and nationally.  She confided with the packed room that she personally continues to be profoundly moved by the Jewish value of Tikkun Olam and aspires to remember this teaching while pursuing her work as both Minister and MLA.
Other speakers included moving speeches from Christie Lavan, the Leading Change Program Developer for the Alberta Council of Women's Shelters.  NCJWC has long been committed to supporting women's emergency facilities across the country, and Lavan's report of the work being undertaken in Alberta gave delegates a valuable perspective to bring back to their local outreach projects.
Many in the Edmonton Jewish community may remember NCJWC's children's book drive during the summer of 2018.  The books collected went directly to children being supported by WIN House, a local non-for-profit providing assistance and safety to women and children.  Chair of the WIN House Ambassador Program, Jocelyn Davison, was also in attendance and spoke about the valuable outreach being completed within the city.
Both organizations were presented with cheques by NCJWC Edmonton in order to continue providing their impactful work.  "Hearing about women's issues from Minister Leela Aheer, Christie from the Alberta Council of Women's Shelters, and Jocelyn from WIN House also added greatly to the event," reflected Zabludowski.  All in attendance were in agreement that the afternoon's festivities were a roaring success!
NCJWC delegates again loaded onto the yellow school-bus, this time accepting a kind invitation to dinner at the Chabad House.  Rebbetzin Chaya Sara Blachman was the keynote speaker of the evening and delivered a moving reading of the week's parsha while everyone enjoyed a scrumptious spread prepared by volunteers Raisa Ostrovsky and Fira Kezhis.  The more intimate setting provided the opportunity for robust discussion and reflection.
Wrapping up final business on Monday morning before departing for the airport, visiting members found that they had experienced so much within the span of 36 hours hosted by NCJWC Edmonton.  "This event was a wonderful treat for the NCJWC delegates to experience," expressed Wasserman.
So much goes into planning and orchestrating an event as successful as this.  Jodi Zabludowski and her organizing committee wish to extend a sincere and "special thanks to the Edmonton Jewish Community Charitable Foundation (EJCCF) and the Dianne and Irving Kipnes Foundation for their generous support."