By Regan Treewater-Lipes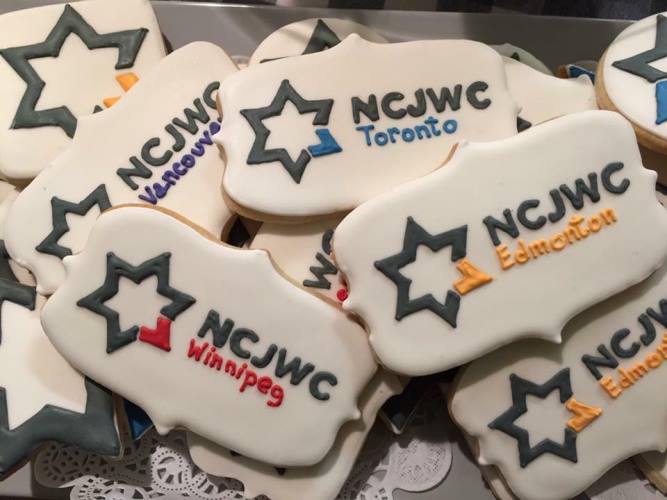 (EJNews) – Autumn in Winnipeg — a lovely time of year to be sure.  But it wasn't the canopy of fall colours that brought Jewish women from all across Canada flocking to this picturesque city, nicknamed the 'Gateway to the West.'  No, these socially-conscious, powerful women convened in Manitoba's bustling capital for this year's annual meeting of the National Council of Jewish Women of Canada (NCJWC).
I was fortunate to join their ranks, meeting and befriending this conglomeration of extraordinary ladies.  National president, and Winnipeg resident, Sharon Allentuck greeted each of us like family with open arms, a big smile, and more delicious food than any one of us could have anticipated.  A member of council for nearly 40 years, Allentuck and her fellow Winnipeg volunteers put together an event that both challenged and inspired us all.
Gathered in one slightly chilly room at Shaarey Zedek Conservative Synagogue was a collection of delegates ranging in age from 27 to a spunky 91-year-old with over 60 active years with NCJWC.  These women all arrived with their own story to share – a story of their individual experiences being Jewish woman in Canada and a hope to make a positive change in the world around them.
The Edmonton section of NCJWC, with Jodi Zabludowski at the helm, has supported local Jewish non-profit pursuits for over two decades — there are few among us in the community who have not benefited from their philanthropy.  But NCJWC as a national body boasts over a century of impressive accomplishments and humanitarian endeavours.
2017 will mark the council's 120th anniversary, and the ladies of NCJWC remain passionately committed to local and global causes: battling human trafficking, working to end child poverty and increasing awareness for genetic testing.  Most notably, however, NCJW has partnered with 'Save the Yazidis" a Winnipeg based advocacy group working to support Yazidi refugees from Iraq.
With such lofty and admirable goals one could easily ask just how this group planned to go about achieving these ambitious dreams.  The answer to this question was provided by this year's keynote speaker Dafna Michaelson Jenet, author of It Takes a Little Crazy to Make a Difference (2015).  A confident and brilliant speaker, with a smile as big as our great country, this keynote didn't feel like a speech at all, but as though she were confiding her wisdom in each of us as a cherished old friend.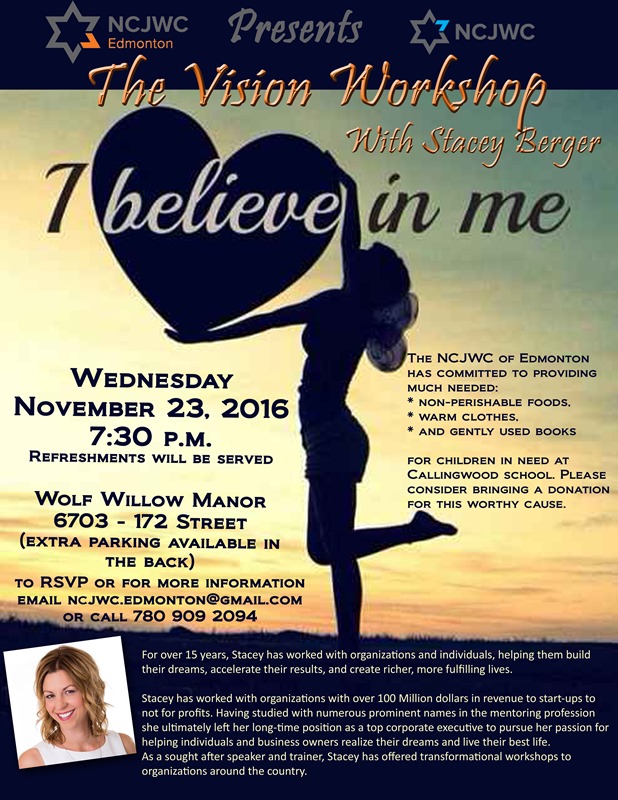 After travelling to all 50 US states, interviewing ordinary people striving to improve their communities, Jenet recorded her experiences learning what it takes to insight positive change.  Her conclusion: that "it takes a little crazy to make a difference."  Her message, both moving and empowering, was received loud and clear – the changes each of us wanted to see in our world needed to begin with us.
Under the leadership of Edmonton member Bianca Krimberg, NCJWC has committed itself to the elimination of child poverty, an issue that I personally had always mistakenly attributed to the third world.  Krimberg explained to a room full of wide-eyed veterans and newcomers alike how rampant this issue has become – even in our own communities.
To this end our local NCJWC section has organized a book, food, and clothing drive to benefit the children of Callingwood School.  Callingwood School, which sits just a stone's throw away from Talmud Torah, continues to function above capacity with drastically limited resources.  NCJWC Edmonton hopes to collect non-perishable food items to support their fledgling 'Breakfast Club,' as well as warm clothing to supplement a growing deficit.  But perhaps most important of all, NCJWC will be accepting donations of children's books in bins that have been set up throughout the community   – so that every youngster can receive an age appropriate book to call their own.
By the time I was sitting in front of Herzlia Adas Yeshurun Orthodox Synagogue with my little carry-on ready to head home, I had a binder bursting full of business-cards, notes and contacts — not to mention a new circle of dear friends.  Truly, when I boarded my flight to Winnipeg I had absolutely no idea what awaited me– but I learned more than I ever could have imagined: about the struggle of the Yazidi people, the need within our own communities, and most importantly the strength we all have as Jewish women.
Armed with a fiery new determination to take a page from Jenet's book and use my own little bit of crazy to make a difference, my fellow Edmontonians and I boarded the plane home. Make no mistake, this determination and drive has not waned with the passing of time.  NCJWC Edmonton will continue to be a visible and active part of our Jewish community – but we've returned with some astronomical dreams for the future.
In addition to donation bins throughout the community, NCJWC will be collecting these much-needed supplies at our first post-conference event entitled "The Vision Workshop: I Believe in Me" a free motivational journey led by renowned life-coach Stacey Berger that will be held in Edmonton on November 23.
We encourage you to come and join us at this wonderful event and stay tuned for more exciting initiatives, projects and events to come!