By Debbie Lambert
(AJNews) – The best journeys always bring you home.
Over the past several years there has been a massive shift in women entrepreneurs in the food industry. More than ever, women are taking their culinary skills to the highest levels and combining those talents with their business vision to make them leaders in local and international food scenes.
A graduate of the SAIT Culinary program, Amanda Lambert left Calgary a decade ago to develop her skills in the kitchen with the best of the best. In London, she worked at the prestigious Savoy Hotel in the same kitchen as the legendary "Father of Modern Cuisine" Georges Auguste Escoffier. "The experience and the knowledge I gained was a dream come true," says Lambert.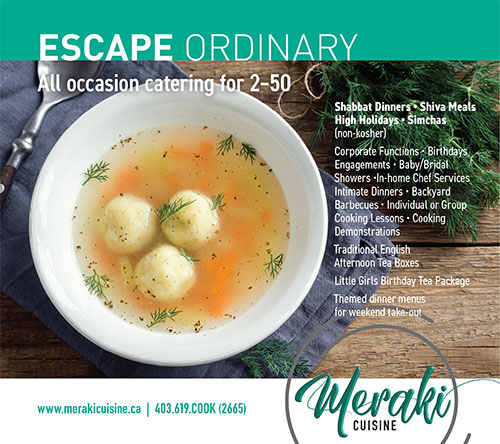 From London it was on to the famed St. Andrews Golf Course in Scotland, where she served as chef de partie at the Fairmont St. Andrews hotel.
Back to Canadian soil, Amanda found herself in Toronto, where, for the next five years she worked at the upscale 'North 44', owned by celebrity Chef Mark McEwan and under watchful eye of Executive Chef Sash Simpson. She eventually moved with Simpson to his new restaurant, Sash Restaurant and Wine Bar.  Along the way, Amanda became one of Canada's top 10 Finalists in the coveted 'San Pellegrino Young Chef Award' competition. The youngest and only female chef that year to achieve such an honour.
"My time in Toronto was invaluable and so satisfying, but I always knew in my heart that I would one day return to Calgary to be close to my mom and much of my family." When her 87 year-old Grandma Miriam decided to move to Calgary this year, that cinched the deal and Amanda made the decision to come with her. After all, it was Bubbie Miriam who was responsible for the love and passion for all things culinary Amanda has had since the age of 3. Who knew at the time that watching and helping Grandma prepare both family style comfort meals and upscale dinner parties was the start of something big!
Chef Lambert had the dream of one day opening her own restaurant. "Calgary is the land of opportunity for me now. Even with the pandemic surrounding us, I see a bright future here. I feel that there's a market and a need for some unique offerings that we'll be focusing on in the months and years to come."
Enter, Meraki Cuisine. (May-rah-kee – Greek) often used to describe doing something with soul, creativity, or love — when you put "something of yourself" into what you're doing.
Amanda and her partner, Miltos Chiotelis have created Meraki Cuisine, a catering and personal chef services company, from a ghost kitchen, providing upscale, high-end catering to various niche markets.  "I see an opportunity within the Jewish community to provide a choice in Jewish-style, non-kosher catering with an upscale flair."
Delivery, pick-up and In-home chef services for Shabbat dinners, Shiva meals, High Holidays and Passover options are available as well as catering (2 to 50 guests) for any simcha you may be celebrating.
In addition to their Jewish Lifestyle services, Meraki has created international themed dinners for pick up on weekends. One truly unique package they offer is a 'Traditional English Afternoon Tea' box and for the little girls in the crowd, they have a 'Little Girls Afternoon Tea' for birthday parties.
Amanda explains that more than ever, "this is a business that requires 'thinking outside the box' and staying relevant by offering a variety of unique services, but at the end of the day, the most important key to success is the food quality and taste." The attention to detail makes for a memorable culinary experience which results in clients coming back for more.
"Our food is prepared and served with love and passion. We use the freshest and finest ingredients available. We believe that a happy customer is our best recommendation and we already have a loyal following of clients ordering on a regular basis." Now accepting orders for Passover, the options include traditional meals, classics with a new twist and some innovative new dishes to satisfy the "foodies" in the crowd.
It's good to be home!
Click here for a delicious recipe for roasted chicken by Chef Lambert.
For more information visit merakicuisine.ca.