By Dina Wachtel and Nomi Yeshua
(AJNews) – Shared living in Jerusalem takes many forms and, even during periods of unrest and tension, shared living continues for many people in the city.  In the shared public spaces of Jerusalem, you will find Arabs and Jews and many others.  They share the same spaces but they rarely have meaningful interactions and they often don't even share the same language for communication.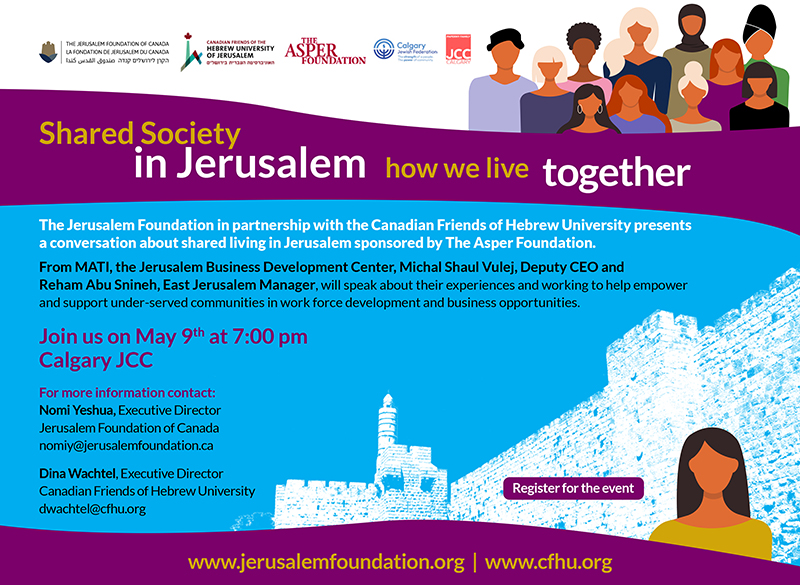 The challenge of building bridges, trust and communication between such diverse population groups has been one of the mandates of the Jerusalem Foundation since its establishment.  For many years, we created new community centers, cultural venues and parks and schools for all neighborhoods across the city, working to ensure that equal access to services and leisure could be achieved.
The Jerusalem Foundation supports programs for learning Arabic in Jewish schools and Hebrew in Arabic speaking schools, assisting Jewish and Arab women in creating art together, in increasing their skills and employment opportunities, in finding ways for Jewish and Arab children to learn together, to play together, to understand what they have in common and not what makes them different.
Jerusalem is home to the Hebrew University which like the city, encompasses students from a mosaic of religions, languages, ethnicities, cultures, and socio-economic backgrounds. The University leadership understands that this rich diversity is a precondition for academic excellence, critical examination, intellectual stimulation, and the cultivation of the next generation of Israeli and regional leaders.   Over the past decade, The Hebrew University has devoted considerable efforts and resources to social and academic inclusion, as well as support of traditionally underrepresented populations.
The Israeli public elementary and high school system is separated for Arab and Jewish youth, as well as for religious and secular Jews and many places of residence are homogenous. Campuses, therefore, have great potential for shaping students' perceptions and views regarding fairness, diversity, and inclusion. Indeed, a positive campus experience will motivate university graduates from all groups in society to work alongside those from other groups in the workforce and to function as agents of change in their communities.
There are many challenges to shared living in Jerusalem, yet both the Jerusalem Foundation and Hebrew University believe that the diversity of Jerusalem is the city's greatest asset and creates the resilience and strength needed to face all challenges for living together.
The Jerusalem Business Development Center (known in Hebrew by the acronym MATI) founded by the Jerusalem Foundation in 1991 to strengthen and develop small businesses and entrepreneurship in the city makes a direct contribution to shared living. The center focuses on the city's weakest economic populations: new immigrants, the ultra-Orthodox, east Jerusalem residents.   Each year, MATI Jerusalem helps thousands of entrepreneurs and business owners create or expand businesses in the city, thus aiding in the creation of thousands of new jobs and advancing the city's overall economic development.
A joint project of Hebrew U and the Asper Innovation Centre, together with the Jerusalem Foundation and the Jerusalem Business Development Centre (MATI) sponsored micro-loans for women in East Jerusalem and actually led to the establishment of a full time MATI Centre in East Jerusalem.
The Hebrew University established the Al-Bashair Program for Excellence in East Jerusalem, with the Jerusalem Municipality as a leadership program for excelling students at Hebrew U from East Jerusalem. They attend a two-year program which includes leadership skills, internships, tours, career support. Al-Bashair for High-schools: aims to prepare excellent high-school students (grades 10-12) for higher education.
On May 9th, the Jerusalem Foundation of Canada and Canadian Friends of Hebrew University will bring the women leaders from MATI to Calgary to tell their story and through them, the story of Jerusalem.
Michal Shaul Vulej, Deputy CEO and Reham Abu Snineh, East Jerusalem Manager, will speak about their experiences in east and west Jerusalem and working to help empower and support under-served communities in work force development and business opportunities.  Their visit is sponsored by The Asper Foundation.
Click here for more information and to reserve a spot.