Spring is a time for renewal and it's a perfect time to refresh your home decor with a new piece of art or sculpture.  You may think that original art is outside your price bracket but a new online gallery has beautiful paintings and sculptures that will complement anyone's pocketbook.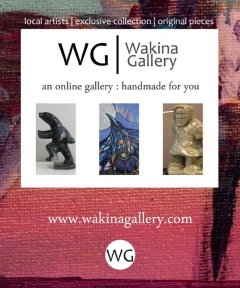 Wakina Gallery is a new online gallery that is designed to promote emerging artists who do not have a platform to exhibit their talents. Their website – wakinagallery.com – provides an excellent venue to display and market an assortment of original paintings and sculptures. The site is attractive, uncluttered and easy to navigate. It includes information about the artists and each piece of art is pictured from a number of angles so the shopper gets a true representation of the piece.
Wakina Gallery curator Daniel Moser built the site and launched it last month; he is proud of the extensive collection that is already on exhibit. "We are very pleased to launch this exciting new online gallery," said Moser. "We hope you'll take the time to browse our site and enjoy the stunning works or art that are featured."
The talented artists featured for the Wakina Gallery launch are Dene sculptor Anthony Antoine and Manitoba First Nation artist Linus Woods (who is represented by Bearclaw Gallery).  Anthony's soap stone sculptures are exquisite  and include a wide selection of sizes and animal forms. His polar bears are breathtaking and his abstract images are both curious and enticing. The smooth texture of the animal images combines with the cold touch of the stone and gives the viewer a dual sense of energy and calm.  His dancing bears are whimsical as they hold drums made of stretched hide and sticks made of wood and bone.  His abstracts include many hidden images in each sculpture so the viewer sees something different every time – a face, an eagle, a wolf all morphed into one abstract.
Linus Woods' paintings are wondrous; his colours are vibrant yet muted pastels. His images of horses and riders, of tipis and other wildlife all conjure a feeling of joy and contentment. His geometric landscapes provide a vivid backdrop that adds an interesting dimension to every painting.
There are other artists represented on the website as well. Wakina Gallery has teamed up with Alberta Native News to exhibit and sell their 30 year old collection of Aboriginal art.  "I am pleased to have the opportunity to bring the talents of our contributing artists to the mainstream audience," said Alberta Native News editor Deborah Shatz. "Wakina Gallery has provided such a lovely platform for their art to be appreciated."
Wakina Gallery curator Daniel Moser explained that the collaboration with Alberta Native News has provided an ideal launch point for the gallery. He is also interested in working with other artists to expand their reach.  "We are posting new paintings and sculptures every day," he said, "and although we are very proud of the Aboriginal collection, we will be expanding our collection and featuring the art of all emerging artists regardless of ethnicity."
If you are an emerging artist or an established artist who'd like a new platform, you should contact Moser about exhibiting your art on the Wakina Gallery site.  "We can provide an audience for your art and take care of the customer service for you so you can spend your time and energy creating art," he added.
Wakina Gallery is also working with a number of businesses and organizations who provide recognition gifts to retiring staff members or volunteers.  "Just contact us through the website," he said, "We have an assortment of sizes that are suitable for gifts – large and small – and we will be happy to discuss all sorts of possibilities."
"We also have items that would be ideal for inclusion in silent auctions," he added.
Moser encourages shoppers to browse the website. "We have a wide selection that includes a variety of paintings and sculptures of all sizes and price points," he said, "and we also do custom orders."
"So if you are shopping for art for your home or for a one of a kind gift or if you are an artist shopping for an audience, be sure to visit wakinagallery.com," concluded Moser. "You can also find us on facebook, twitter and instagram."