By Deborah Shatz
 (EJNews) – Klezmer music is the traditional secular music of Ashkenazi and Hasidic Jews and there is no finer group of klezmer musicians than the Klezmatics who will be performing at Festival Place in Sherwood Park on February 25, 2017.
But don't be fooled by the word "traditional" –  there is nothing static about the Klezmatics.
They are world-renowned superstars who erupted out of New York's East Village in 1986 and revitalized klezmer for the new century. Their music is steeped in Eastern European Jewish tradition and spirituality, while incorporating contemporary themes such as human rights and anti-fundamentalism.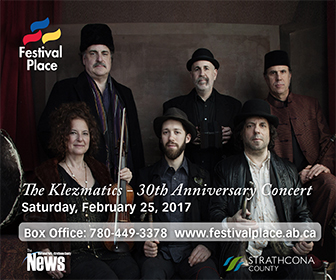 With three original members – Lorin Sklamberg (lead vocals, accordion, guitar, piano), Frank London (trumpet, keyboards, vocals) and Paul Morrissett (bass, tsimbl, vocals) – still on board, alongside longtime members – Matt Darriau (kaval, clarinet, saxophone, vocals) and Lisa Gutkin (violin, vocals) – the Klezmatics are without a doubt the most successful proponents of klezmer music in the world.
Over the years, the band has collaborated with numerous luminaries, including Pulitzer Prize playwright Tony Kushner and folk hero Arlo Guthrie to name a few. They have performed at some of the world's most storied venues and festivals and their accolades include a GRAMMY Award for "Best Contemporary World Music Album" and the New York Jewish Music Award for "Best Klezmer Band."
The Klezmatics' concert at Festival Place in Sherwood Park will be part of their 30th Anniversary tour. Adding to what is sure to be a spectacular evening, Merlin Shepherd, one of the leading players of Eastern European Klezmer clarinet, will be joining the group. Shepherd has toured throughout Europe with Frank London's Klezmer Brass Allstars, Budowitz and Boban i Marko Marcovic. He has been Musical Director for The Royal National Theatre, Royal Shakespeare Company and Shakespeare's Globe Theatre, London.
Edmonton Jewish News caught up with musician Frank London to discuss the allure of klezmer music. London explained that he did not grow up listening to the genre. In fact, he never heard Yiddish or klezmer music until he was about 20, studying world music and improvisation at New England Conservatory.
"At the time and until now, I think of it in two ways," he said, "as one of the many great music traditions and legacies of the world (i.e. salsa, Jazz, etc) and as the music of my own family and heritage. Coming from a background playing African-American, Latin, Balkan, Turkish, Arabic, European classical and other music, it was very enriching to know that 'my people' (Jews) had a musical tradition that rocked as hard as any other in the world – something that I didn't know, growing up with suburban, Reform, assimilated, American Jewish music."
Klezmer music is particularly moving to Jewish audiences but the music of the Klezmatics is by no means exclusive to the Jewish listener.
"The Klezmatics' music is moving – for the head, body and soul," noted London. "We try to express this in all our concerts – and on our new CD, Apikorsim / Heretics, by mixing songs with political, social and intellectual messages; dance music, and spiritual songs. The rhythms make people want to dance. The songs contain sections for audiences to sing with us, the messages are universal but expressed through the very particular language of Yiddish song and tradition."
Klezmer music is so joyful and also so melancholy; it is not just reflective of the Jewish experience throughout the ages but it is truly reflective of every people's experience.
"Can we think of any culture that does not contain things to celebrate and things to mourn?" asked London. "This is what music does; it accompanies the celebration and mourning. What is particular to the Jewish experience is the way that klezmer expresses joy and melancholy. The instruments try to imitate the khazn, the cantors, religious singers who cry out to G-d in their praying. The krekhts, the ornaments, the crying, wailing, glissandi… these are all very unique to the Ashkenazic Jewish sound of klezmer and Yiddish song as it developed in Eastern Europe.
Time Out New York describes the Klezmatics' music "as deeply compassionate as it is invigorating, as it is virtuosic."
According to London, there are a number of messages in the Klezmatics' music, but they all boil down to this: "We sing songs of life, love, celebration, mourning, spirituality or the search for it, and especially social justice and refuah sheleymoys – making the world a better place. We do this by studying and embracing our roots and tradition, connecting with them, and then bringing it forward by integrating our lives and experiences into it. This is how a tradition lives."
Tickets for the Klezmatics' Feb. 25 concert are on sale now at festivalplace.ab.ca or ticketmaster. For information call the box office at 780-449-3378.