by Stan and Rosemary Kitay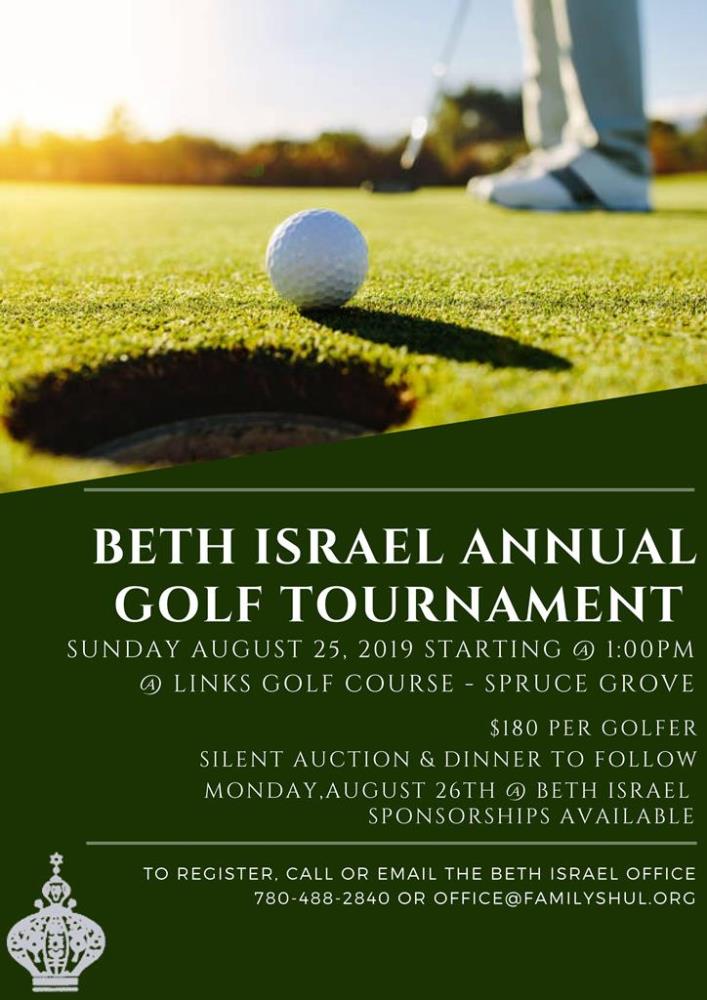 (Edmonton) – Summer is finally back and outdoor activities are in full swing. Yes, swing is the operative word with the familiar sounds of the season we have all been waiting so patiently: whack —oh no, not again. (You can also add your own expletives.)
That's right, its golf season.
To all the golfers out there, from the scratch golfer to the novice hacker: have a great season and have a good time. That's what it's all about.
Beth Israel is organizing its upcoming golf tournament scheduled for Sunday 25 August. This event promises to as good and hopefully better than our recent tournaments in 2015 & 2017.
A Sunday event starting at 1 pm at the Links Spruce Grove gives everyone an opportunity to take part. We accept all players including those who have never held a club before. A Texas scramble format ensures a good pace of play so that all players can enjoy the game without the frustration of the game dragging on for 6 hours or so.
Cost per golfer is $180 including 18 holes of golf, dinner, driving range balls, a food and drink voucher and use of a golf cart.
As usual for a Jewish institution tournament, you will not go hungry or thirsty. Your blood sugar levels will be well cared for!
We have scheduled the delicious kosher dinner, prize giving and silent auction for Monday evening at 6.30 pm at Beth Israel Synagogue. If you cannot golf, please join us for dinner for a nominal fee of $40.
We have a huge variety of donated auction items including rounds of golf and a spin in a high performance sports car.
Donations in the form of cash or items for the silent auction are also welcome.
Please sign up as a single, couple or bring as many friends, family members and work colleagues as you can. Funds raised will been designated to our youth department and programs, which we all know is so important to the future well being of our Jewish institutions.
Please contact the Shul office at 780-488-2840 or roxanne@familyshul for more details.
We are also available at skitay@shaw.ca or rlkitay57@gmail.com if you have any queries.
We look forward to hosting, feeding and entertaining you.
Your BI golf co-chairs.
Stan & Rosemary Kitay