(AJNews) – Temple Beth Ora welcomes special guest Rabbi Matthew Ponak on June 1 at 7 pm for an evening of movement, meditation, music, and mysticism. The evening  will begin with a Four Worlds Contemplative Service. Following light refreshments, Rabbi Matthew will share teachings from his new book, Embodied Kabbalah: Jewish Mysticism for All People. Afterward, there will be time for discussion and Q + A.
More about the Contemplative Service: 
In Kabbalah, the Four Worlds are the (1) physical, (2) emotional, (3) intellectual, and (4) spiritual dimensions of all reality—including ourselves. Through movement (body), chanting nigunim [wordless melodies] (heart), poetic reading (mind), and silent meditation (soul), we will journey through all four stages together.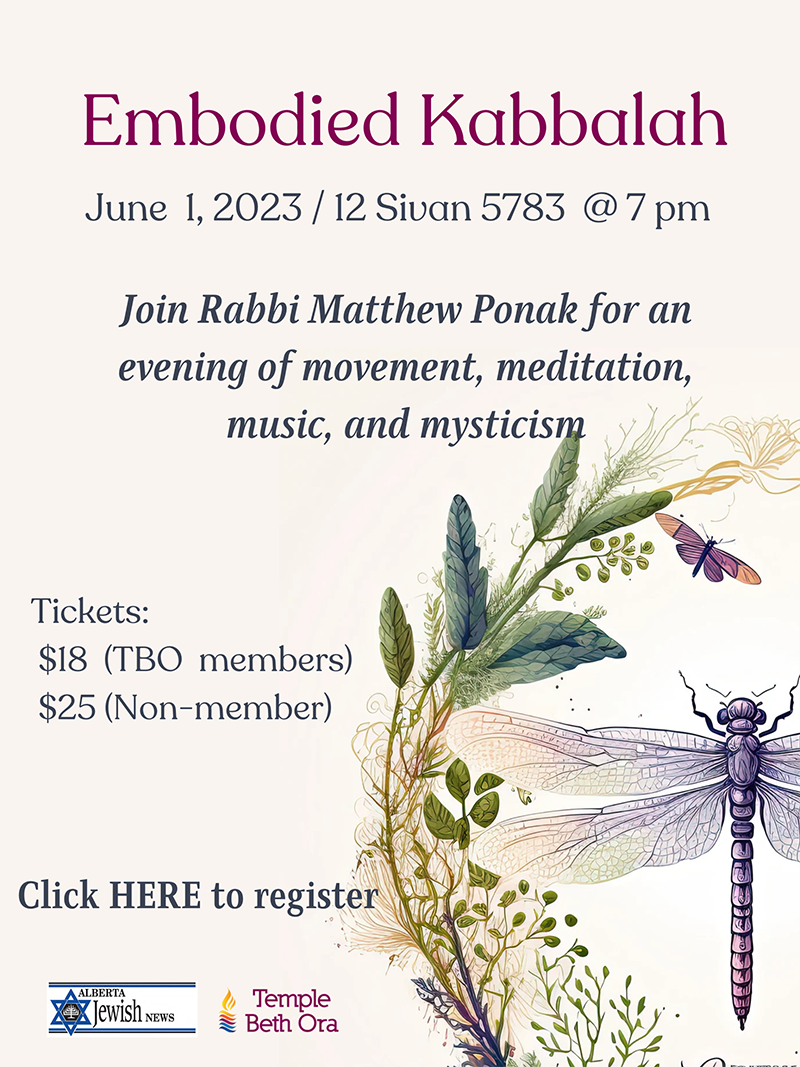 This innovative service is inspired by traditional Jewish prayer but is non-liturgical: it connects with many of the underlying themes the siddur points towards but uses other forms of meditative practice to get there.
About Rabbi Matthew Ponak:
Rabbi Matthew Ponak is a teacher of Jewish mysticism, a spiritual counselor, and the author of Embodied Kabbalah. Ordained with honours at the neo-Hasidic Rabbinical School of Hebrew College, he also holds a Master's degree in Contemplative Religions from the Buddhist-inspired Naropa University. Rabbi Matthew is certified as a Focusing Professional and guides others to deeper self-knowledge and healing through accessing the wisdom of their bodies. Originally from Alberta, he now lives in Victoria, BC with his wife Melina and their two joyful children. Learn more at MatthewPonak.com.
Temple Beth Ora is Edmonton's Reform Jewish congregation located at 12313 105 Ave  in Edmonton. Click here to register.