(AJNews) – Community members from Coast to Coast are sending in their favourite archived photos and video clips of themselves with friends and/or with Negev Gala honouree Gayle Tallman from when they were in a BBYO program, at Camp BB, in the Edmonton JCC or on a March of the Living trip.
They are also submitting heartfelt testimonials about the incredible impact that Gayle had on their lives.
The material is being compiled to help paint a picture of the amazing legacy that Gayle has left on a generation of Jewish community leaders. It will form part of the virtual tribute that will be celebrated on June 22 in Gayle's honour.
While honouring a special member of Jewish community, JNF Edmonton is also raising money to build the Gayle Tallman "Ninja Fitness" Park, a uniquely designed outdoor fitness & training park at Kibbutz Sde Nehemia situated in the Jewish Edmonton Partnership Region in Israel's Northern periphery.
Click here to register for the Negev Gala and donate to the Gayle Tallman Ninja Fitness Park.
Meanwhile, heartwarming testimonials are being submitted. Dylan Muscat reminisced about his interactions with Gayle.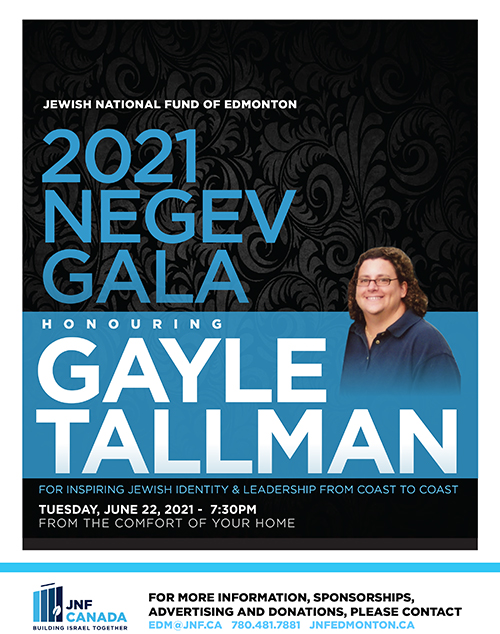 "I first met Gayle at the Jewish Community Centre in Edmonton through Day Camp Shalom," wrote Dylan. "Not only did she give me my first job, she did the same for my 4 siblings. In the Muscat house, once we were too old to attend Day Camp Shalom as campers, we worked as camp counsellors. (Gayle and my mom must have made a handshake deal to take us all on). From 1997 to 2011, there was always at least one Muscat working at Day Camp Shalom.
"As counsellors, a sure-fire way to get campers to obey the rules was to say, 'If you misbehave, you'll have to sit in Gayle's office!' This worked like a charm for years, until one bold camper pushed the limit and was sent to Gayle's office, only to return a few moments later with a huge grin, a fistful of candy and an announcement to all that, "Gayle is the best!" And with that, we had to find a new way to get campers to listen."
"Gayle has always been incredibly generous with her time," continued Dylan. "She served on numerous boards, was involved in countless community initiatives, and probably wrote every BBYO members' college reference letter, all while offering an inclusive and welcoming environment to anyone who walked through the doors of the old JCC. Years later, she was responsible for my first job as a professional. I had Day Camp Shalom listed as work experience on my resume and my employer called Gayle, who said, 'I don't care which Muscat applied, they are all good. Hire him!' – thus securing my Articling position."
"Gayle has always been incredibly supportive of my family," concluded Dylan, "which kept us tied to the community and strengthened our Jewish identity. I am very happy that JNF has chosen Gayle as the 2021 Negev honouree!"
Submit your testimonial about Gayle Tallman here and click here to register for the June 22 Edmonton JNF virtual Negev Gala.