(JNF Canada) – Although we all may have moved indoors there are so many ways to keep our minds stimulated and entertained, such as joining in on a JNF Canada Webinar!
Take a look to see all of the upcoming webinars!
---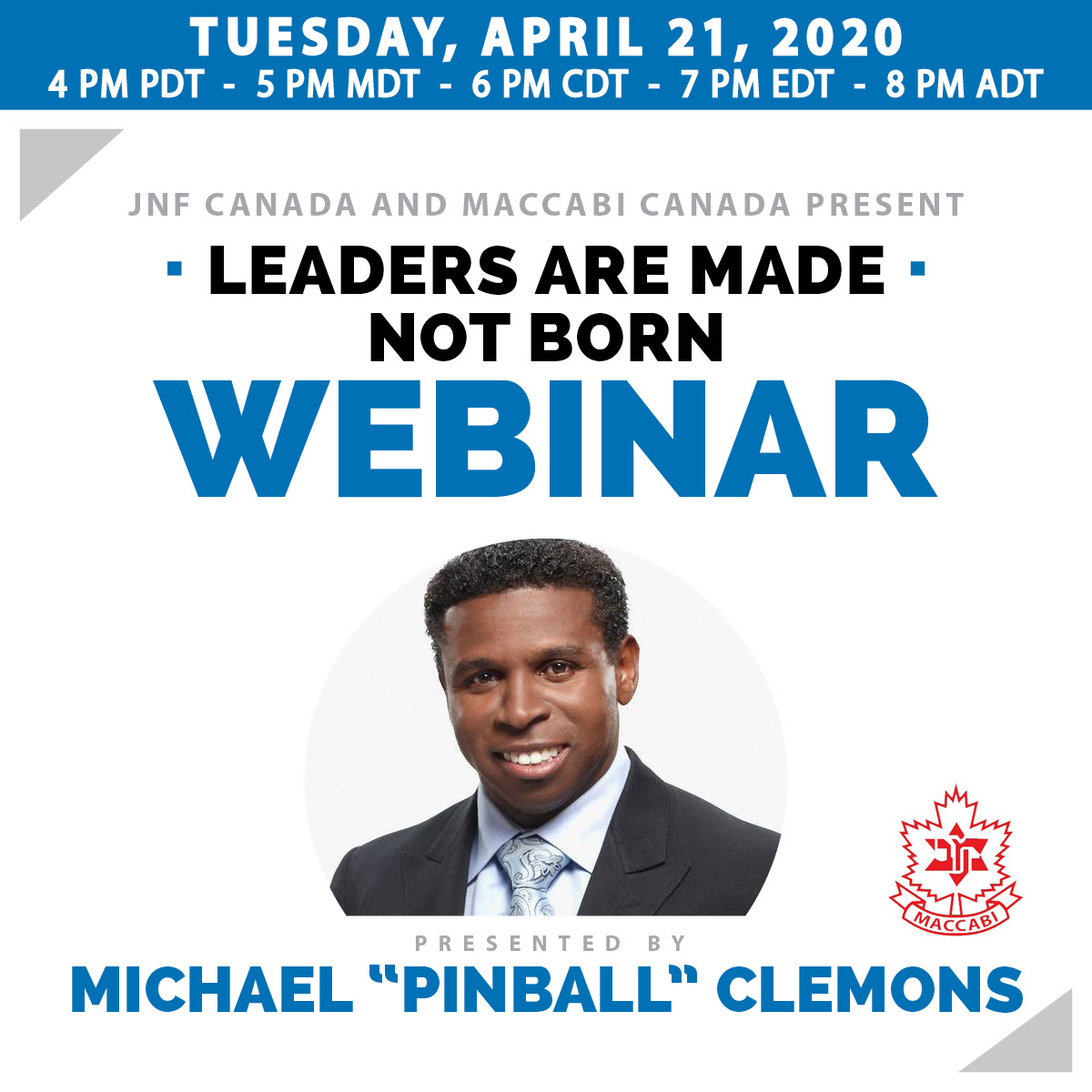 CFL legend Michael "Pinball" Clemons is an icon of sporting excellence, community leadership, and personal integrity. While he is considered one of the best athletes Canada has ever known, his real legacy may well lie with the thousands of people he has inspired, both on and off the field.
During his 12-year career, Clemons was named the CFL's most outstanding player, won three Grey Cups, and set records for everything from career pass receptions to kickoff return yards. He was inducted into the Canadian Football Hall of Fame in 2008.
With his signature charisma and relentless energy, Pinball will discuss leadership during these challenging times and take questions about his life and career.
The Michael Pinball Clemons Foundation, an organization that invests in youth education on a local and international scale, has awarded numerous scholarships, placed hundreds of children in youth mentoring programs, and has built 231 schools catering to 9,000 children per year across seven developing countries.
Pinball Clemons is currently the General Manager of the Toronto Argonauts and has previously served as the team's Head Coach, CEO, and Vice-Chair.
=======
About Maccabi Canada:
Maccabi Canada's mission is to strengthen Jewish identity through sports. Every four years, Maccabi Canada leads a delegation of Jewish athletes to the Maccabiah Games in Israel, the world's third-largest sporting event. The next Maccabiah Games will take place in July 2022. For more information on Maccabi Canada visit (https://www.maccabicanada.com/)

---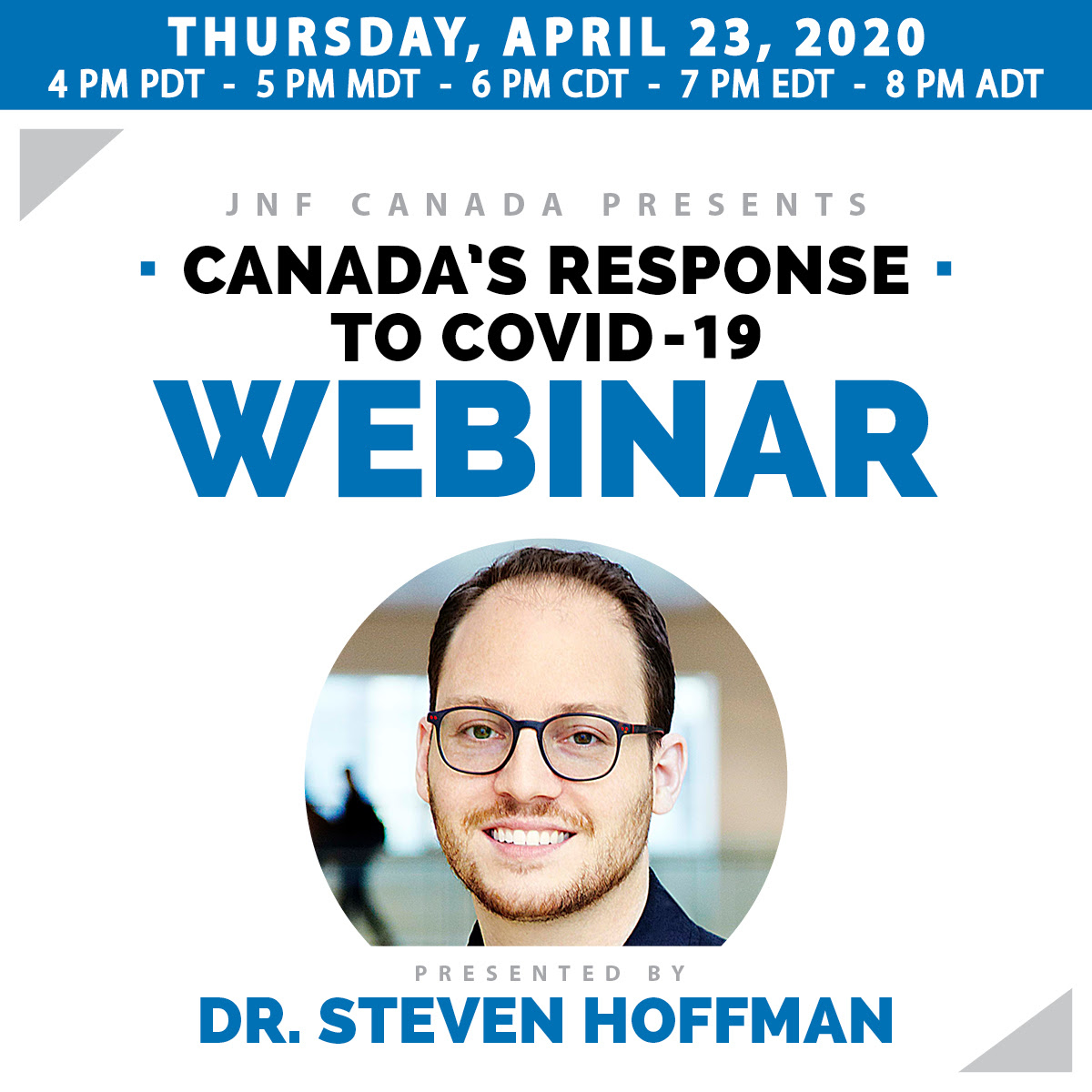 Dr. Steven J. Hoffman is the Dahdaleh Distinguished Chair in Global Governance & Legal Epidemiology and a Professor of Global Health, Law, and Political Science at York University, the Director of the Global Strategy Lab, the Director of the WHO Collaborating Centre on Global Governance of Antimicrobial Resistance, and the Scientific Director of the CIHR Institute of Population & Public Health at the Canadian Institutes of Health Research. His research leverages various methodological approaches to craft global strategies that better address transnational health threats and social inequalities. Past studies have focused on access to medicines, antimicrobial resistance, health misinformation, pandemics, and tobacco control. Steven recently advised the World Health Organization on the development of a global strategy for health systems research and was lead author on the background paper that provided the strategy's conceptual underpinnings.

---
JNF Future Workshop!

 
Feeling like you've had too many walks around the block? Have some fitness questions you'd like to ask a professional? We've got the webinar for you!
Join us this Wednesday, April 22nd at 12 PM EDT for a "Lunch Break Workout with JD Personal Training"!
Personal trainer Jenni Diamond of JD Personal Training will be bringing you a 30-minute workout, followed by a fitness Q&A session. The class will be suitable for all ability levels, including prenatal and postnatal, and different modifications and variations will be provided for the exercises. No equipment required.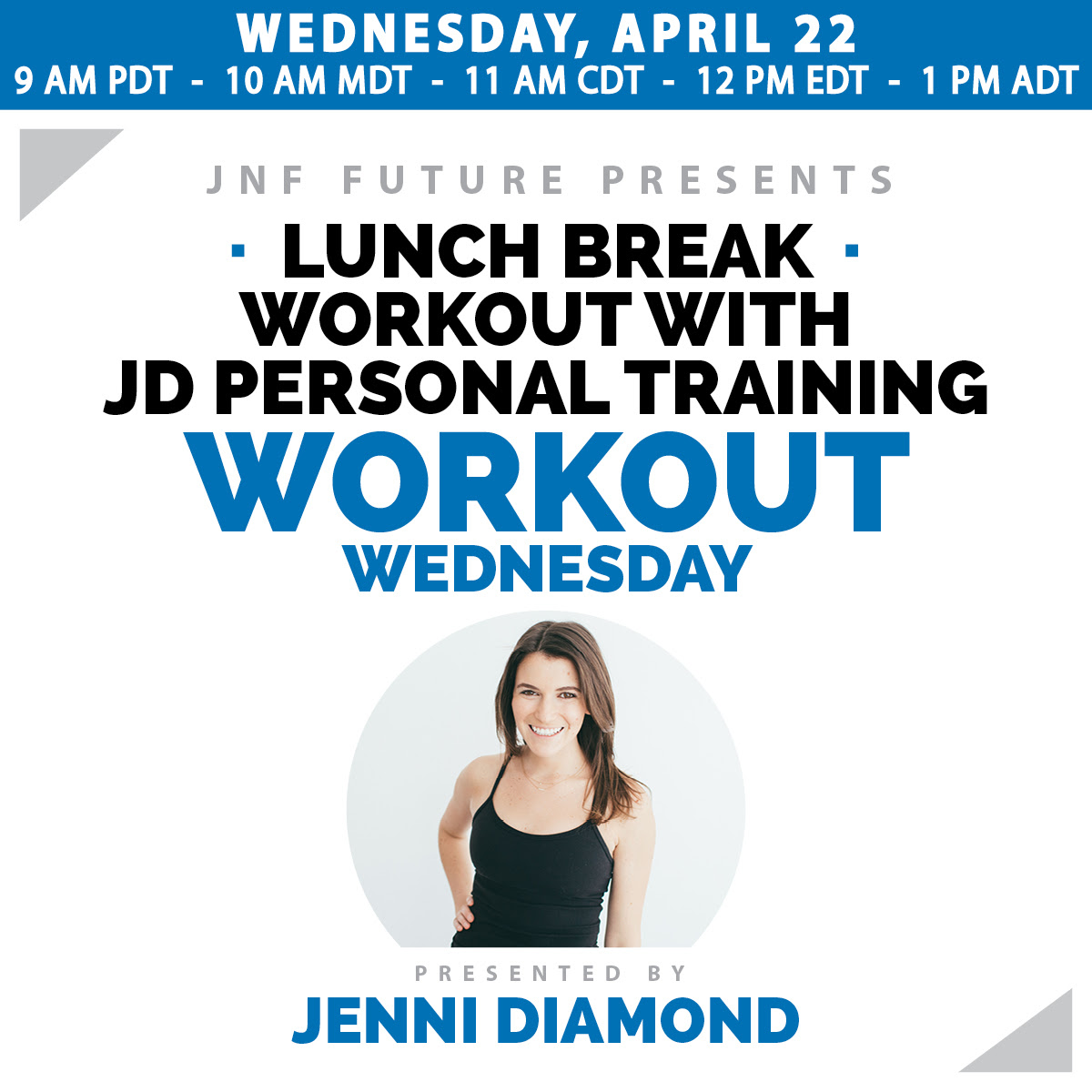 Jenni is a Certified Personal Trainer and Occupational Therapist. Through her platform "JD Personal Training", she provides in-home (and now virtual-only) personal training sessions for clients. She also posts workouts and other content on her Instagram page. With the recent COVID-19 pandemic, Jenni has been sharing at-home workouts and other health and wellness tips on her Instagram page to help others achieve and maintain a healthy lifestyle while stuck at home.
Instagram: @jd.personaltraining
Website: www.jennidiamondpersonaltraining.com

---
Interested in presenting a webinar or workshop or anything you'd like to offer? Please contact JNF Canada at national@jnf.ca.