By Lesley Machon
(AJNews) – The Calgary regional office of Jewish National Fund (JNF) of Canada will host their annual gala on May 1, 2022. This event is JNF Calgary's most important fundraiser of the year, with proceeds directed to social-service infrastructure projects in Israel. The gala is typically a formal evening with 300-400 guests who gather to share a meal and entertainment, however, due to Covid this event will be hosted online for the second year.
Each year, JNF dedicates the celebration to an individual or couple that is serving the Jewish community and Israel. This year, the event will honour Christian friends of Israel for their support. In light of increased anti-Zionism and antisemitism around the world, JNF believes in the importance of expressing gratitude to those outside the Jewish community who also work to ensure Israel is a strong, stable, and secure nation.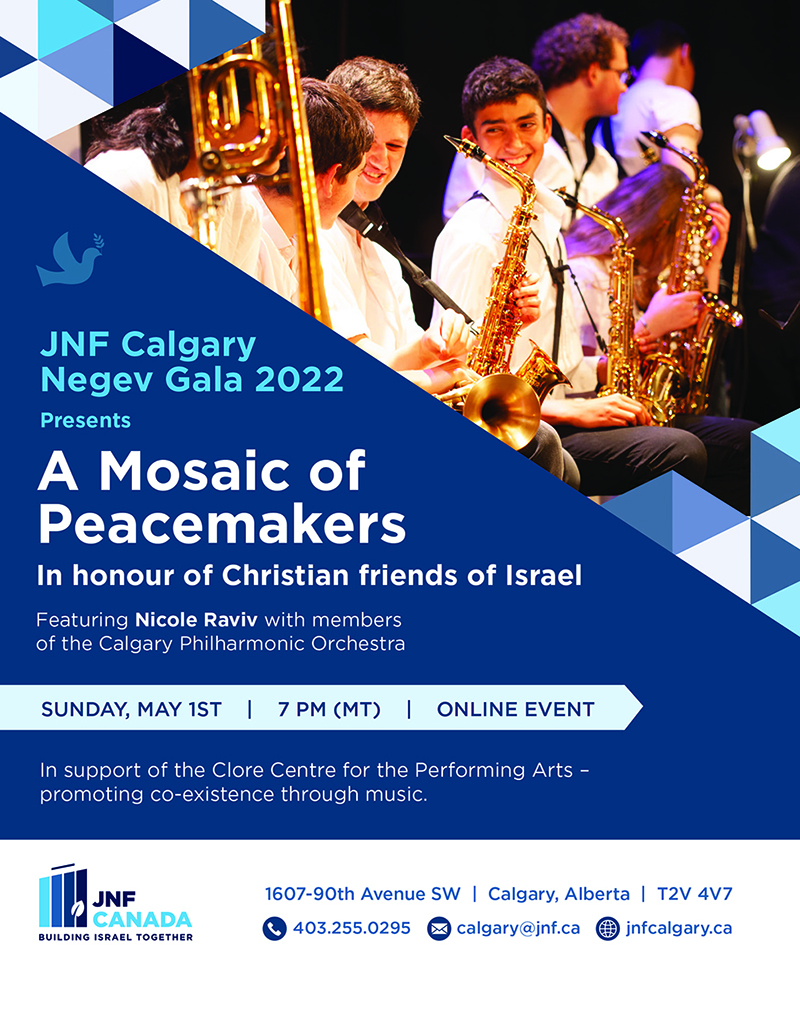 This year was particularly painful for Israel and Jews around the globe. As the conflict in Gaza raged on in the Middle East, antisemitic violence and anti-Zionist hate crimes in North America reached record highs. A rabbi was held hostage in Texas. Bricks shattered a window of a kosher pizzeria on Manhattan's Upper East Side. Jewish diners outside a sushi restaurant in Los Angeles were physically attacked. Vandalism desecrated synagogues in Arizona, Illinois, Salt Lake City, and New York. Anti-Jewish hate incidents in Canada included the vandalism of a Jewish daycare centre in Victoria, anti-Zionist movements on college campuses across the country, and countless incidences of verbal abuse via social media.
In the UK, the Community Security Trust (CST) recorded 2,255 anti-Jewish hate incidents during 2021, which is a 34% increase from 2020. The recent advancement of hate is disturbing. These occurrences highlight the importance of pausing to recognize those who stand in solidarity with the Jewish people.
"I think we in the Jewish community take for granted that there are others who support the State of Israel wholeheartedly," says Elliott Steinberg, Executive Director of JNF Calgary. "Given the rise in antisemitism and anti-Zionism, and the continued attacks on Israel on the ground, in world forums, and in the media, I think we're overdue in thanking those outside the Jewish community who stand with us. Our Christian friends are second-to-none in that regard."
The beneficiary project this year is the Clore Centre for Performing Arts in the Galilee. This is the only conservatory offering formal training in music and dance in northern Israel, and it plays a crucial role in creating harmony in the community. The Centre is open to students from all backgrounds in the region, with the goal of facilitating peaceful coexistence and understanding through dance, music, and theater. Artistic expression transcends cultures, and people from all walks of life are united through listening, playing, and moving together. The Centre's growing student body (1000+) needs more space to practice and host events, and construction is soon to be underway. JNF Canada will fund the creation of a rehearsal studio for their orchestra and smaller ensembles.
This project aligns beautifully with the theme for the gala's online presentation: "A Mosaic of Peacemakers." The program is a multimedia narrative, telling stories of the many grassroots peacemakers in Israel who build bridges between Jews and Arabs, generally under the radar of the media and public awareness. These are not official representatives in suits at Camp David, but brave advocates spread out in high-conflict zones throughout Israel, working towards nonviolent political resolution, and creating space for peaceful dialogue.
"This year's Negev Gala theme is about hope," explains Steinberg. "We're celebrating all kinds of grassroots peacemakers in Israel, who build bridges with their neighbours in an effort to find common ground, and ultimately, peace. There are many who think this is the only way forward, instead of formal negotiations between leaders that have proven to be mostly fruitless."
The hostess and storyteller for this event, Laura Shuler, brings her extensive professional background in leadership, education, and program development and a longstanding involvement with the arts, especially drama and music. Laura will facilitate the evening in the spirit of Tikkun Olam (repairing the world). For her, this work is all about building connections, and bringing people together in a unifying and harmonious way.
The program includes several esteemed keynote speakers and music by trilingual Canadian-Israeli actress and singer Nicole Raviv, with members of the Calgary Philharmonic Orchestra. Raviv has performed globally in English, French and Hebrew, and works with Grammy-award winning musicians and producers from around the world.
Gala attendees have the option of receiving a gift basket of Israeli treats, and are invited to enjoy this heartfelt, meaningful program, dressed in their finest gala attire or fanciest pyjamas – whichever is preferred – from the comfort of home.
Accessing the program requires a minimum donation of $180 which can be made online at jnfcalgary.ca, by phone at 403-255-0295, or by email to calgary@jnf.ca. Sponsorships and advertising in the commemorative book are also available. A link to the program will be provided after registration, and the program can be viewed for an additional 48 hours after the launch on Sunday, May 1, 2022 at 7 PM MST.
For more information please reach out to Elliott Steinberg, Executive Director, JNF Calgary (Southern Alberta) at 403-255-0297, or elliott.steinberg@jnf.ca.
Lesley Machon is a Local Journalism Initiative Reporter for Alberta Jewish News.