(AJNews) – Excitement is mounting for the 2022 JNF Alberta Cup Hockey Tournament which will take place this weekend at the West Edmonton Mall Ice Palace.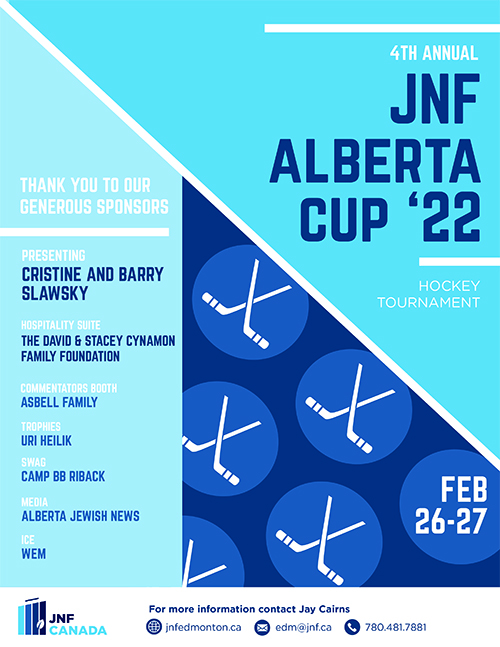 The tournament has become a favourite event pitting the competitive hockey prowess of Edmonton vs Calgary and the camaraderie of friends, families and colleagues gathering for some good fun. Team names like Fighting Yids, Chai Shticks, Charlestown Ribacks and Tu Bi' Shvat Tigers show that in addition to great hockey, there is good humour. Everyone from the community is welcome to come out and cheer for your team.
The action starts on Saturday night Feb. 26 and each game is one hour. Check out the schedule for a guide to who plays when and what the rosters looks like. The first puck drop is at 8:30 pm and the second game starts at 9:45 pm.
The action picks up again with the first game at 8 am on Sunday morning Feb. 27. The second game starts at 9:15 am, followed by a game at 11:30 am and one at 12:45.
A Free Skate sponsored by BBYO will be held from 2 to 3 pm. In addition to friends and families of the Alberta Cup athletes, Jewish youth from grades 9-12 are invited to come skate, nosh and meet with friends old and new.
The final hockey game will be played at 3:30 pm and the JNF Cup will be presented to the champions. The Award ceremony will also feature special trophies honouring the memories of two stellar young men who had an impact on our community: Nathan Reboh z'l and Stevie Schwartzberg z'l.
JNF thanks the generous contributions of the event sponsors. The presenting sponsors area Cristine and Barry Slawsky; sponsoring the Hospitality Suite is the David and Stacey Cynamon Family Foundation. The commentator's booth is sponsored by the Asbell Family; Trophies are sponsored by Uri Heilik, Swag is sponsored by Camp BB Riback and the Media Sponsor is Alberta Jewish News. #olddutch The ice is generously sponsored by WEM.
Come out to cheer for the teams and stay for the Free Skate. See you there!