By Daniel Moser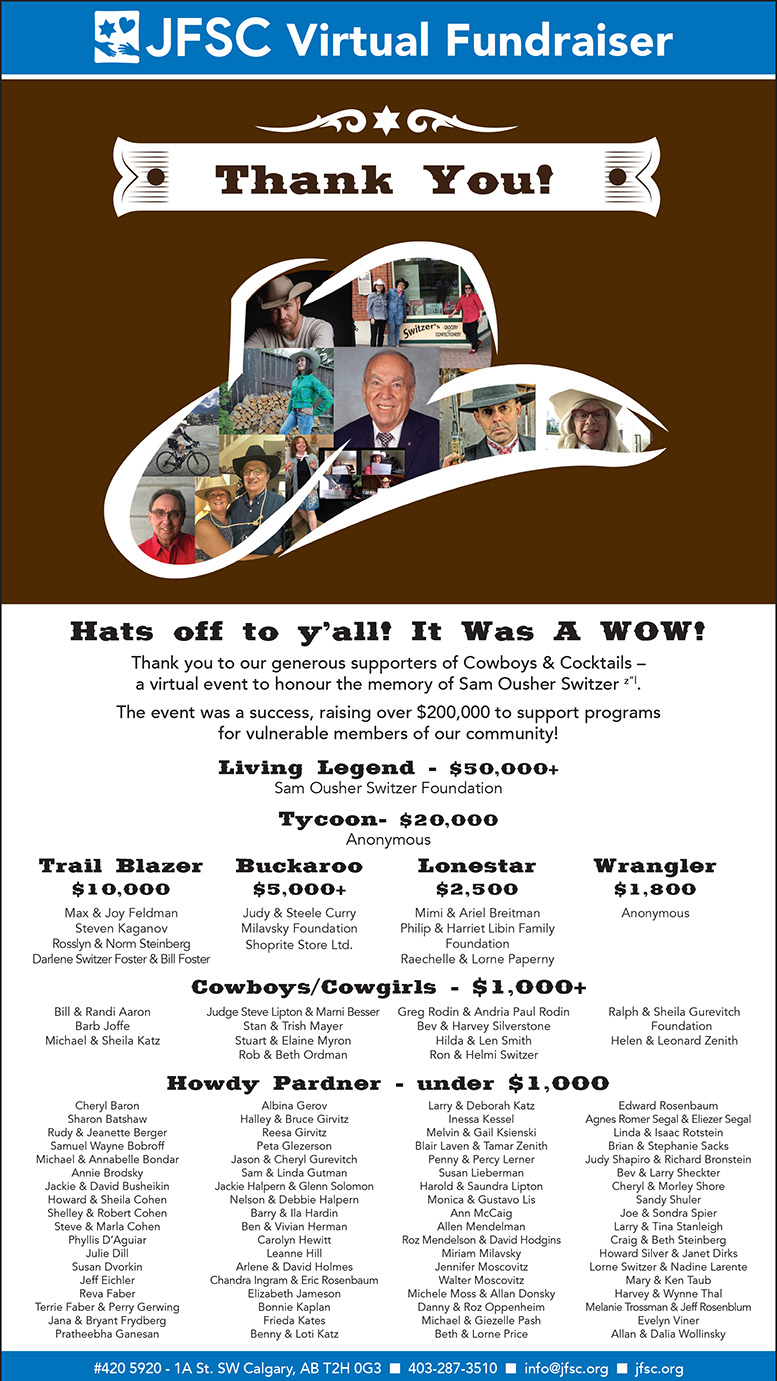 (AJNews) – New times call for new measures, and Jewish Family Services Calgary (JFSC) took the leap and made the appropriate changes to hold their Cowboys & Cocktails fundraiser to honour the memory of Sam Ousher Switzer z"l. In a normal year the fundraiser would have been a gala event, with members of the Jewish community gathering in cow-folk attire, sharing stories and schmoozing, and raising money for a great cause and worthy organization, but of course, this is no normal year. Faced with the option of having no event, or shifting online, JFSC Executive Director Roxanne Droppo made the decision to shift the event online, and it was the correct decision.
"June 11, 2020 is a day to add to the history books of JFSC," explains Droppo.
"What changed was the concept of delivering an online fundraiser, which was a first for us."
With communal eating off the table, Droppo and her staff entered into an ingenious partnership with Gruman's Deli. Attendees were instructed to pick up their meals from Gruman's and enjoy them during the virtual events, just as they would in person. Enjoying the meal, the energetic emcee Larry Stanleigh, line dancing, and having a great time over video chat was a blast, and even though everyone was separated, the warm feelings of togetherness and unity were very strong.
Through a combination of Zoom and Facebook Live, friends and family were able to share stories and memories of Sam Switzer, whose philanthropy and kindness shone through the entire event. There was virtual line dancing, which was a hoot, as well as raffles and wild west challenges galore.
The evening's entertainment was provided by country music star George Canyon, who serenaded the attendees with his baritone voice and toe-tapping rhythms. It was a unique experience, a live show, in the comfort of your own home.
The night was a perfect remembrance of Sam, with attendees joining in virtual l'chaims with the signature cocktail of the evening, the Sam Spritzer Quarantini. When something was impressive Sam would often "wow" with a sense of approval and the 2020 Cowboys & Cocktails fundraiser embodied everything that was implied by the event's catchphrase, "#ItsAWowJFSC."
Yes, some new ideas, and delivery methods had to be implemented, but as Droppo explains, the foundation remained the same.
"What did not change, is the incredible support we receive from our donors and community which allows us to enrich the lives of vulnerable Calgarians and strengthen communities.
"Every day, I am grateful to be part of an organization and community that is committed to changing the world."
The evening was a fun and memorable event, and will surely be used as a template for other community organizations hoping to continue with their event calendar in some capacity. Though, hopefully next year, we will all be in the same room, to give a hearty l'chaim to the fantastic work that Jewish Family Services Calgary is responsible for.
Sam Switzer z"l was born on Feb 25, 1926 and lived everyday a life of building and giving until June 20, 2018. Sam was blessed with six children: Darlene (Bill), Lorne (Nadine), Susan, Ronald (Helmi), John (Christine) and Mark (Martin.) He was predeceased by spouses Aneta Switzer and Betty Switzer. May his memory be a blessing.
For more information about JFSC visit jfsc.org or call 403-287-3510.