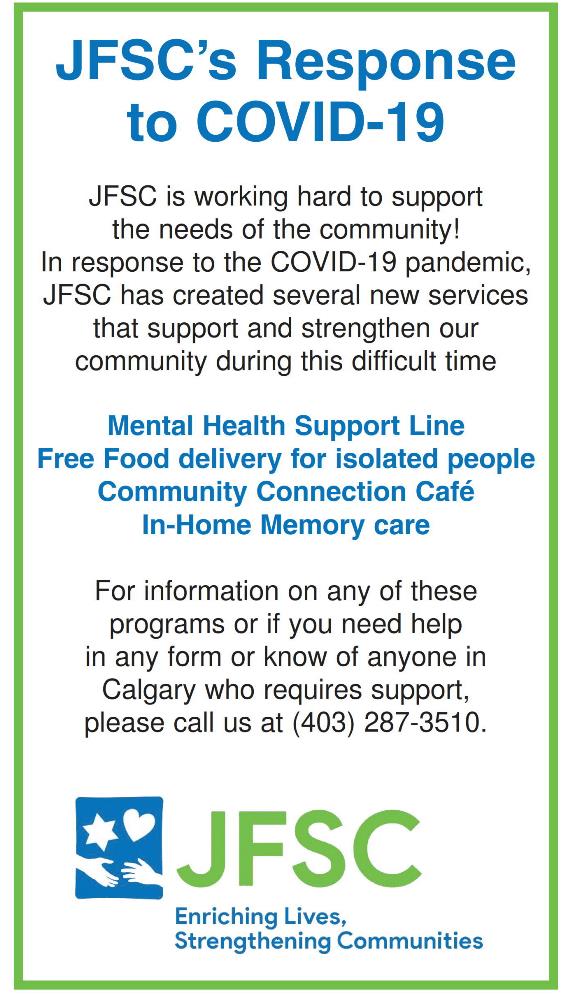 (Calgary) – Jewish Family Services of Calgary is working hard to support the needs of the community!
In response to the COVID-19 pandemic, JFSC has created several new services that support and strengthen our community during this difficult time. This includes our Mental Health Support Line, a short term, brief-intervention therapy service delivered online or over the phone FREE of charge for up to three sessions. All services are delivered through trained, registered psychologists.
As well, we started our In-Home Memory Care program. A one on one service for individuals diagnosed with memory loss, dementia or Alzheimer's. Staff engage with the client to deliver brain boosting activities that support them with their diagnosis, while also providing respite opportunities for the caregiver to engage in self-care during what is otherwise a very isolating and difficult time.
JFSC will also be presenting Community Connection Café – a virtual space for parents, guardians and natural supports to engage remotely to share experiences and learn from one another. Each gathering will be facilitated by mental health professionals and give participants a chance to gain awareness and knowledge about areas of interest that will help promote healthy dynamics among the family unit.
For further information, visit www.jfsc.org or call 403.287.3510. "We are here to support you and will work with you to put you in touch with the help and resources you need. We truly are in this together and at times like this, we band together to make sure no one is left behind."