By Lisa Tkalych 
(Calgary) – After its extraordinary debut in Calgary in November 2016, the Israeli Chamber Project returns for its second set of concerts to open Calgary Pro Musica's 47th season on October 1 & 2, 2023 at the Rozsa Centre. The Israeli Chamber Project (ICP) is a chamber music society made up of a pool of musicians and guest artists who perform a much wider range of classical and contemporary repertoire than a typical piano trio or string quartet. Pianist, Co-founder and ICP Executive Director Assaff Weisman explains the advantages of this set-up over a more traditional ensemble: "We find this creates fresh and unique programs and a greater variety of colours and textures." Calgary's October program features Weisman at the piano, Carmit Zori on violin, and guest artist Eric Reed on horn.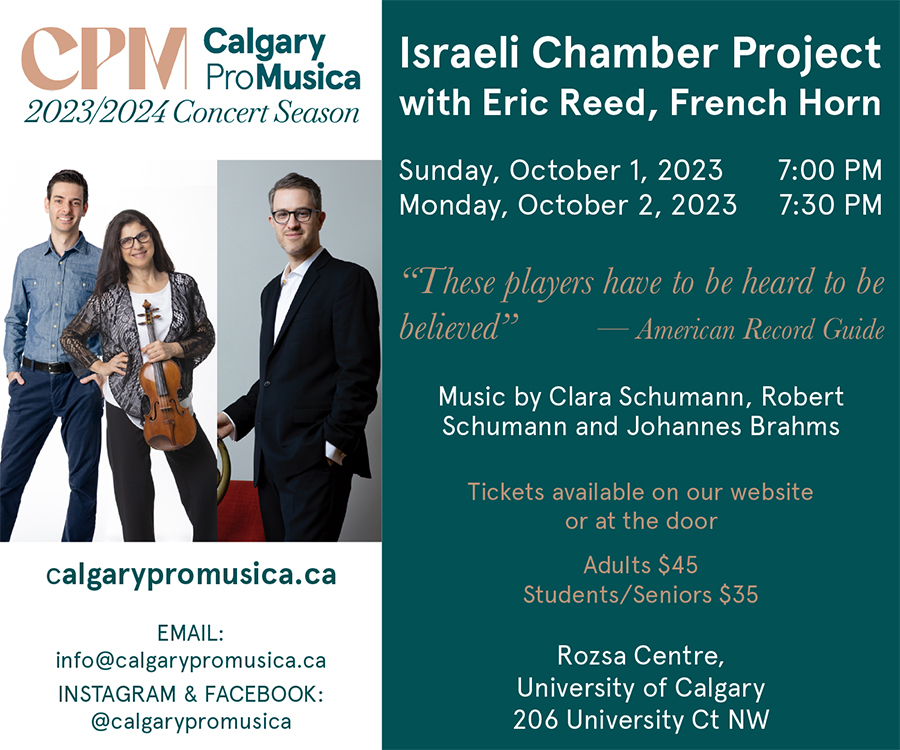 The Israeli Chamber Project will treat Calgary's audiences to a program of duos and trios exploring the nexus between Robert and Clara Schumann and Johannes Brahms. Weisman elaborates: "These wonderful pieces tell a bigger story about the time period, composers and cultural atmosphere. The three met for the first time in 1853 when, at the tender age of twenty, Johannes Brahms made the pilgrimage to Leipzig to visit the power couple. Robert Schumann was an influential composer and critic of music, and his wife Clara Schumann was one of the premier world-touring pianists." Three out of the four pieces on the ICP's program were written around the time of this first fruitful meeting. Hearing the works side-by-side reveals connections between these composers who worked together closely and even borrowed each other's musical material. Following Robert Schumann's untimely death in 1856, his widow Clara and friend Brahms continued their correspondence, music-making and some even speculate romantic relationship over the next several decades. The fourth work on the program, Brahms's Horn Trio in E-flat Major, Op. 40, written in 1865, offers audiences a unique opportunity to hear Romantic era chamber music featuring the French horn.
Founded in 2008 and now in its fifteenth season, the award-winning Israeli Chamber Project features musicians who, like the Schumanns and Brahms, have a shared history. Eleven of its twelve core musicians are Israeli. Some played together as children, many attended the prestigious Rubin Academy of Music and Dance in Jerusalem and most earned degrees at top American conservatories including The Juilliard School and the Curtis Institute of Music. A Time Out New York review describes the ensemble as "that rarest of creatures: a band of world-class soloists that is not a muster of peacocks, but a hive mind in which egos dissolve and players think, breathe and play as one."
Weisman credits the Israeli trait of adaptability to making the group possible. "Members are spread all over the globe. This ability to find ways, creative ways about logistical issues is just as important as finding ways around thorny musical issues when rehearsing a piece." The ICP won the 2011 Israeli Ministry of Culture Outstanding Ensemble Award and in addition to performing the classical repertoire, it promotes living Israeli composers and even commissions new works. Next spring, ICP guest artist and Grammy award-winning tenor Karim Sulayman will premiere a work commissioned by the ICP and written by Iranian-American composer Gity Razaz. Such a diverse repertoire as well as the ICP's changing roster of distinguished guest artists, including the legendary violist Tabea Zimmermann, creates spontaneous and exciting music-making experiences for the ICP's musicians and its audiences alike.
Recipient of the 2017 Partos Prize for its commitment to the highest quality of artistry, creative programming and educational outreach, the Israeli Chamber Project regularly returns to communities throughout Israel to help train the next generation of classical musicians. Calgary Pro Musica has arranged for all three ICP musicians to give free public masterclasses to students at the Mount Royal University Conservatory and the University of Calgary while the ICP is in town. Weisman adds, "We are really delighted to impact the community more than through the concert hall. The level of student musicianship in Calgary is so high."
Calgary Pro Musica (CPM) is grateful to welcome back the Israeli Chamber Project to open our 47th season which features eight leading chamber music ensembles from around the world. CPM presents intimate chamber music concerts in its home at the Eckhardt-Gramatté Hall, a "384-seat acoustic marvel," and its visiting artists join audiences for post-concert receptions in the lobby. Weisman fondly remembers the ICP's debut seven years ago. "Calgary Pro Musica is one of the few presenters that book the same artists two nights in a row playing the same program in the same hall. We were wonderfully surprised at the attendance on both nights. It was a testament to the strength of the organization and the community that there are such huge numbers of crowds. That really stuck with us." Join the Israeli Chamber Project and Calgary Pro Musica on October 1 or 2, 2023 for a concert that you will not soon forget.
The Israeli Chamber Project will perform at the Rozsa Centre, University of Calgary, on Sunday, October 1, 2023 at 7 PM and Monday, October 2, 2023 at 7:30 PM. Tickets are $45 for adults and $35 for seniors/students and can be purchased online at calgarypromusica.ca, by emailing info@calgarypromusica.ca or at the Rosza Centre directly before the concert. Check out Calgary Pro Musica's 2023/2024 season on our website, and mark your calendars for CPM's second concert featuring the Ensemble Phoenix Munich in "A Day with Suzanne – A Tribute to Leonard Cohen" on Saturday, October 28, 2023 at 8 PM.