(October, 2016) – As 32 out of Boys Town Jerusalem's 100 seventh graders took their places in class on the first day of school, their teacher Rabbi Yosef Ben Zruel surveyed the rows of anxious students with a smile. "I look at you and I see myself," he told them. "I remember my mother bringing me by bus to Boys Town on my first day of school in seventh grade.  We have a lot in common!"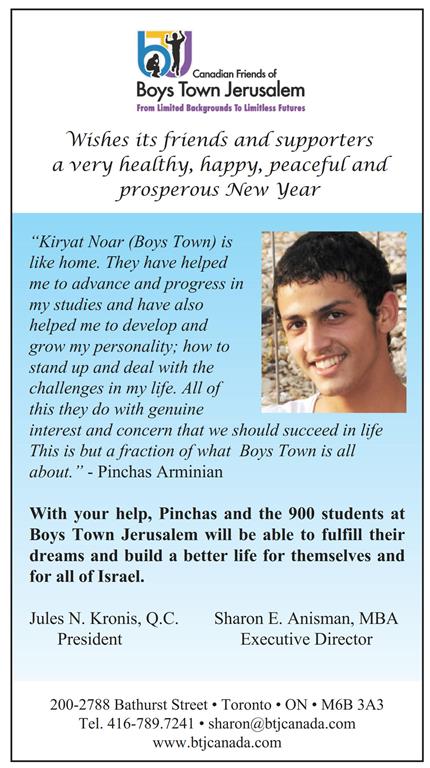 Like their teacher, the current students come from difficult and disadvantaged backgrounds; broken homes, unemployment, poverty, neglect and abuse. Although many students are Israeli, the school also has boys who have come from Ethiopia, France and Russia. As situations around the world become more difficult, parents are sending their children to Boys Town where they know they will be well educated and properly cared for. The school, one of Israel's finest institutions of learning, provides a safe haven for 900 boys annually who might otherwise have no place to go.
The school focuses on preparing the boys to be productive citizens of tomorrow, benefitting the State of Israel and beyond as many of the students eventually work for international companies. The graduates proudly serve in the military, and then go on to careers in business, hi-tech, medicine or education like their teacher.
Now in his forties, "Rabbi Yossi" notes that he gained vital teaching skills from that first day at Boys Town onward. "I teach what I learned from my own teachers, who gave me tools for life." Yet his journey to become a member of the faculty of Boys Town Jerusalem took several decades to complete. After graduating with honors in 1991 from BTJ's Electronics Department, Ben Zruel served a three-year term of duty in the Israeli Air Force. He then entered university to pursue advanced electronics studies before realizing that he'd taken the wrong turn. "I always wanted to be a teacher," he confessed. Turning then to education and Jewish studies, Ben Zruel became a rabbi and taught elementary school for nearly twenty years.
Three years ago, he was delighted to accept a job at his Boys Town Jerusalem alma mater. "I walked back into the school, and everything had changed. Except, of course, for the students. As in my days, I saw boys struggling to grow and develop, to overcome hardships, and to meet the demanding BTJ curriculum that combines academic, technological and Jewish studies." That's when Rabbi Yossi Ben Zruel knew immediately that his course of teaching had already been charted. "I tell my students what my teacher (Rabbi Elimelech Yaakov, today a BTJ principal) told us: 'You are the elite! You are the finest, most capable students to have ever studied here!' That lifted our spirits, and spurred us to believe in ourselves and to soar."
The emotional and psychological problems that plague the students take a heavy toll on their wellbeing. For many, there is no food at home and the three nutritious meals provided by the school are so important. Dealing with these issues is an integral challenge to a Boys Town Jerusalem teacher, Rabbi Yossi admits. "I tell all my students, as I was taught, if you fall, get up. Believe in yourself. Be curious about your world, and learn as much as you can so that you can give to others."
To his students' joy, Rabbi Yossi often expands the curriculum beyond the classroom walls. "Boys Town once taught practical courses in carpentry, mechanics, and printing. In today's technological world, I still find it essential to learn to build from scratch." Last year he carefully instructed his students in the ancient Middle East art of building a "tabun" oven from clay and stone to bake pita bread.
"Perhaps it's crazy to be a teacher," he muses, "but it's clearly a mission of love. Hopefully my students will someday continue the circle of passing on the gift of knowledge and energy for life."
With the help of its many generous and loyal supporters, Boys Town Jerusalem will be able to keep providing hope, encouragement and opportunity to thousands of disadvantaged boys.