By Judy Shapiro
(Calgary) – Cabaret is one of those award-winning, hit musicals that never gets old. Originally staged in 1966 in New York, followed by the hit movie directed by Bob Fosse in 1972, the play has seen a number of successful revivals in New York and London. Now, Calgary's Front Row Centre Players is in rehearsal for their upcoming production, directed by Kristine Astop.
Why does Cabaret keep coming back?
"It's a classical musical," explained Astop. "Everybody knows parts of it."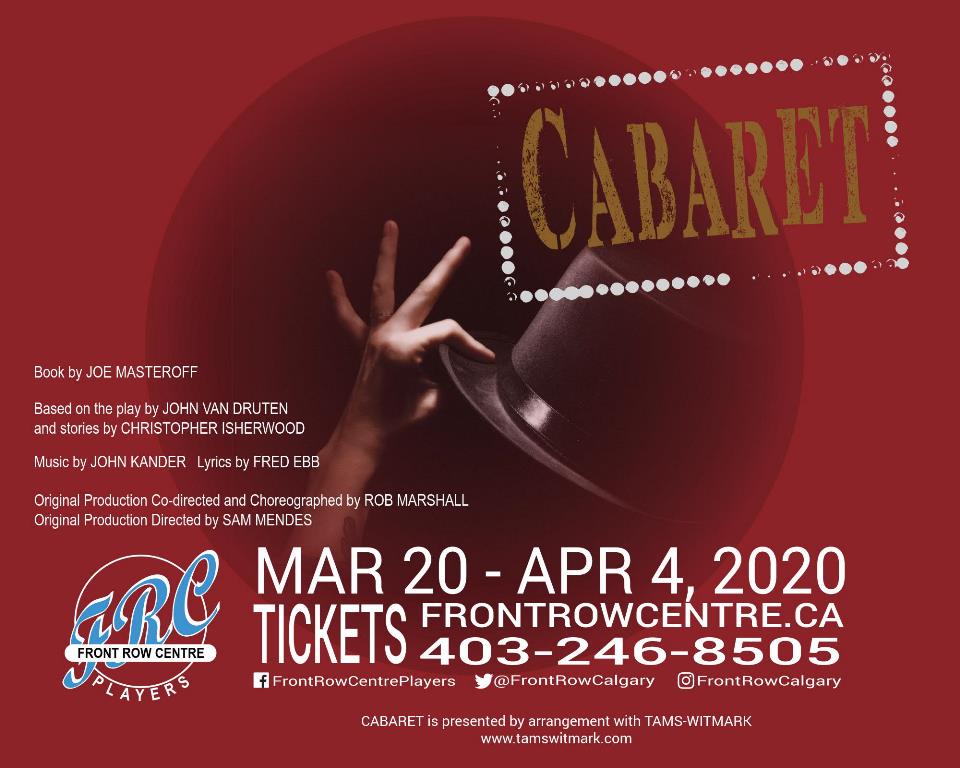 The decadent Kit Kat Klub, the outrageous Emcee, sympathetic writer Cliff Bradshaw and compelling cabaret singer Sally Bowles may be familiar, but the story bears repeating. Set in 1930s Berlin, Cabaret explores the dark, heady, and tumultuous life of Berlin's natives and expatriates as Germany slowly yields to the emerging Third Reich.
"The reason the play continues to be staged, is because the themes are still very relevant today," Astop said. "Look at what's happening in the world. Persecution continues to happen. We think it would never happen again, but it could. It's terrifying that [discrimination, antisemitism] doesn't go away, so the story has to be re-told."
Although the play is really about the rise of Nazi Germany, that theme is subtle in a way, as the plot focusses on the lives of the main characters.
"It's about facades and about people pretending to be what they're not," Astop said. "Ernst, for example, is likeable until you find out his [Nazi] politics." And, she points out, everyone is dismissive of him at first.
The wonderful music and memorable dance numbers of Cabaret convey the naughtiness and decadence of 1930s Berlin and show glimmers of the darkness that the audience, with the benefit of hindsight, knows is about to descend.
The character of the Emcee, who is the audience's guide into the crazy world of the Kit Kat Klub, is "kind of a tragic representative of what happened to a lot of people – to Jews, queers, everyone who had to suffer under Hitler," Astop explained. "This is an authentic story of what was going on at the time, of how things started to change, how Hitler played on fear and blamed the Jews."
A heart-breaking side-story is the lovely relationship between the rooming house proprietor, Fräulein Schneider, and mild-mannered fruit seller Herr Schultz, the latter played by Gary Silberg. Schultz is the only overtly Jewish character in the play, and he and Schneider plan to marry. As the Nazis begin to gain power, they are forced to put their romance on hold.
Silberg is a prime example of the actors and crew of Front Row Centre Players. A computer consultant by day, he is one of the 15 actors in Cabaret, all of whom are volunteers. He says that acting has been his hobby his whole life, ever since his first appearance in a B'nai Brith show at age eight.
It takes a great deal of commitment to take part in these shows – rehearsals are often three times a week for three months. But for everyone in Front Row Centre Players, it's a labour of love.
The community theatre company, which began in 1987, is a volunteer-driven organization that provides a supportive environment for anyone to participate in and learn all aspects of musical theatre.
"It's an opportunity for people who love theatre to grow and perform, even if they don't make it their business," explained Astop, who works for Theatre Calgary as the Database and Systems Manager. She started out in props and design, and this is the second show she is directing for Front Row Centre Players.
Silberg said that much of musical theatre is not terribly serious, but that is not the case for Cabaret.
"There is a lot more to understand and explore than in a lot of musicals. It requires more talk about the backstory for the characterization to be authentic," Silberg explained.
"Some directors like to delve deeply into the characters and Kristine is one of those."
Cabaret has a strong message – and although it is set in the 1930s, and was first staged in 1966, the story still resonates with audiences today. Check out Front Row Centre's production from March 20 to April 4. Tickets are available at www.frontrowcentre.ca. Cabaret is recommended as adult viewing.