(AJNews) – With Father's Day only a few weeks away, you might be looking for a creative gift idea. Neckties are so 2019 and who needs more BBQ tools? Halpern Akiva Academy has got you covered!
Treat your dad to a delicious roast beef dinner, cocktails, entertainment, and more! Halpern Akiva Academy is pleased to present "Start-Up School" as the theme for their in-person Gala Dinner which will take place on Sunday, June 19, 2022 at 5:30 pm at the Carriage House Inn.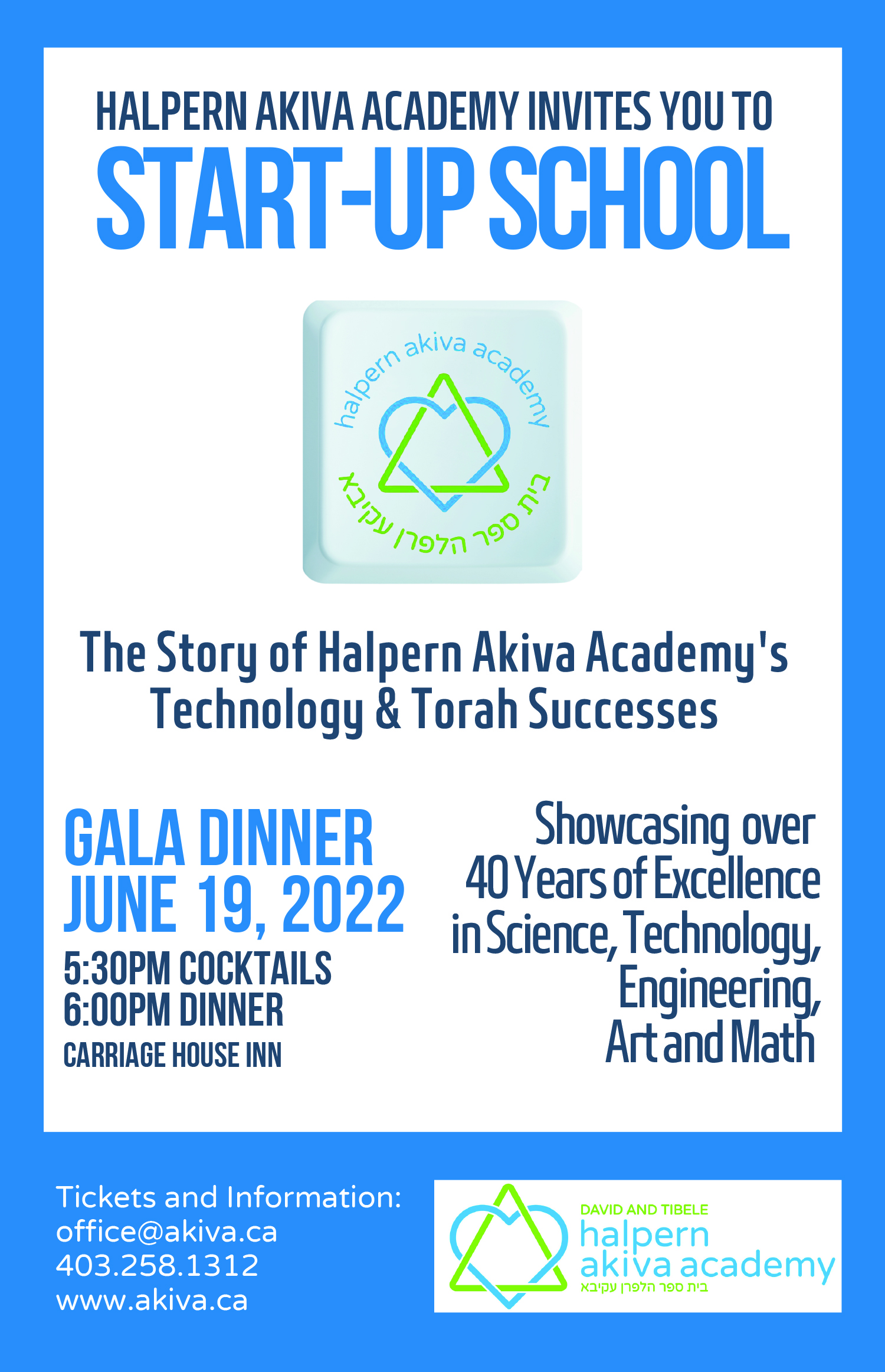 This year's theme recognizes both the technological success of Halpern Akiva Academy students and alumni, and also speaks to how the school has embraced Israel's Start-Up Nation ethos. From the Akiva Broadcasting Network (ABN), to the Len and Faigel Shapiro STEAM Lab, to pivoting to online schooling and back again, the school has embraced innovation in learning, bringing together Torah and Technology!
The evening will feature the following distinguished alumni, who have made their mark both in technology and in community leadership:
Jordan Balaban, President of Greengate Power Corporation, a leading wind energy project developer. Jordan is also Co-President of Calgary Jewish Federation. In November 2021 Jordan was selected as "Top 40 under 40" by Avenue Calgary Magazine for being a leader of one of the largest producers of renewable energy in the country.
Daniel Feldman, Founder of Goats for Weeds. Daniel identified a disconnect between progressive energy solutions and the use of harmful chemicals to manage the land. The idea was very simple: use animals instead of chemicals, just the way it's been done for thousands of years.
Yannai Segal, Co-Founder of GeologicAI, which is using machine vision to improve the science and practice of resource recovery. Yannai is former President of Calgary Jewish Federation and former President of Halpern Akiva Academy.
Joanna Halpern, Software Engineer at Indeed. Joanna has vast experience in creating and implementing successful software, providing creative solutions to her clients' needs. She comes from a long line of community builders.
Halpern Akiva Academy is also excited to see what the future holds for current students who get to learn, play and create in the Len and Faigel Shapiro STEAM Lab. There will be an opportunity to see what the students are working on this year!
To order your tickets please email to office@akiva.ca. or call 403-258-1312. Donations can also be made at https://charitableimpact.com/groups/halpern-akiva-academy-2022-fundraiser