(Calgary) – Nourish Lactation Consulting has provided in-home breastfeeding support and education to families in Calgary and surrounding communities since 2008. Owner and founder Leanne Rzepa became a Registered Nurse in 2000 after graduating with a Bachelor's Degree in Nursing from the University of Calgary. Rzepa quickly developed a passion for breastfeeding support when she began her career as a postpartum nurse at the Rockyview General Hospital.
In 2006 Rzepa began to focus her nursing practice on breastfeeding support and started studying to become a certified lactation consultant. Rzepa successfully passed her exam in 2007 and became an IBCLC (International Board Certified Lactation Consultant).
In 2008 Nourish Lactation Consulting was open for business. Rzepa, always an entrepreneur at heart, saw a need for in-home support after years of working in the hospital setting.
"Women spend such a short time in the hospital after giving birth," she explained. "Most new mothers are exhausted and aren't able to retain the information shared by hospital staff. Breastfeeding is a learned art. It often takes days or even weeks for a new mother to feel confident feeding her baby. Nourish provides support in the home setting which is more conducive for learning and confidence building."
Breast Milk provides many vital health benefits for both babies and mothers. Breastfed babies have lower rates of many diseases such as asthma, allergies, ear infections, obesity and SIDS. Breast Milk is considered nature's first immunization as it contains important immune factors, proteins, and antibodies that provide lifelong protection. Breast Milk contains Human Milk Oligosaccharides that help to feed good gut bacteria in order to promote a healthy microbiome.
Breast Milk is always served at the right temperature and changes over time to meet baby's growth needs. The benefits for mothers include lower rates of breast and ovarian cancer, increased basal metabolic rate calories are burned faster, quicker uterine involution, promotes bonding, is very cost effective and better for our environment.
Nourish has helped countless mothers meet their breastfeeding goals by providing quality, caring, evidence-based support. Rzepa tries her best to see a mother within 24-48 hours of receiving a consult request. During a home visit, Rzepa starts by taking a thorough history of the mother's birth story and her breastfeeding struggles thus far. Most women Rzepa supports
struggle with latch, pain, tongue tie, milk supply issues, poor weight gain, or feeding multiples.
Rzepa has a special scale that allows her to perform accurate pre and post feed weights. The baby is always weighed at the start and end of the feed in order to determine how much milk was consumed. After the baby is done eating, Rzepa collaboratively creates a feeding plan that works best for the family. She is the only Lactation Consultant in Calgary that provides
complimentary phone/text support to her clients after the initial consultation for an unlimited amount of time.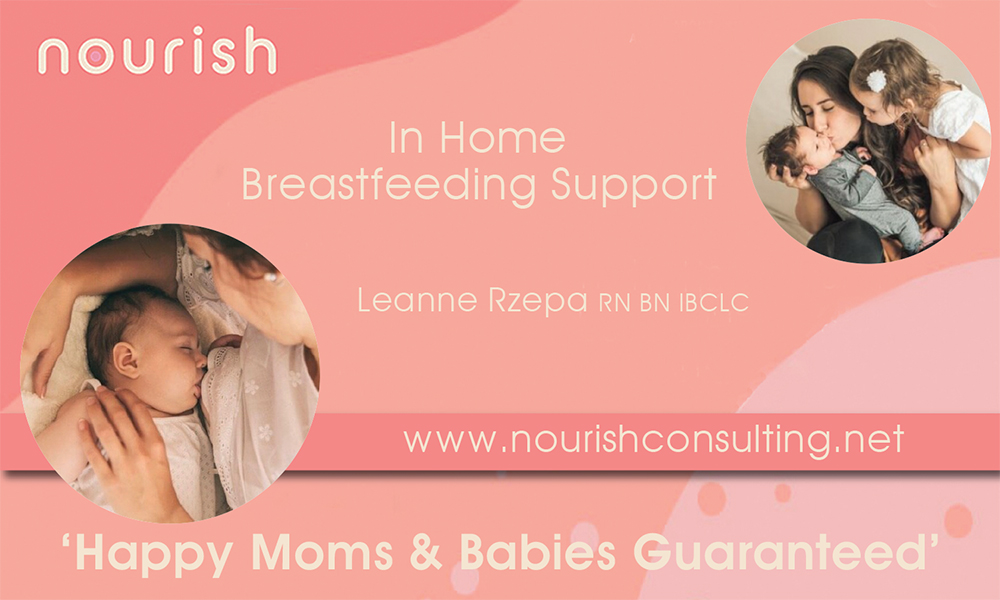 In addition to providing in-home support, Rzepa has an on-line store that sells a variety of breastfeeding related products, apparel, and supplements. Nourish also offers a breast pump rental service, monthly workshops, virtual consults, a drop-in clinic and a multitude of services provided by other healthcare professionals such as a sleep consultant, registered dietitian, pelvic floor physio, and postpartum support provided by a Doula.
Rzepa has been featured on Global News Calgary numerous times and interviewed by Today's Parent and Parent's Canada magazine on a variety of breastfeeding related topics. Rzepa launched Project Angel Pump in the Spring of 2019. Angel pump provides quality closed system breast pumps to women in the Calgary community that can't afford to purchase or rent a pump.
Rzepa believes that all mothers should have the opportunity to provide breast milk for their infants and cost should not have to be a barrier. Angel provides each mother with a brand new pumping kit and a sanitized pump to use for up to 6 months. The cost to participate in the program is $35. Rzepa has helped new immigrants, refugees, teen moms, and women in domestic abuse situations.
Rzepa is clearly passionate about her job and receives much joy from supporting mothers to achieve their breastfeeding goals.
If you are a new mother or know a mother that could benefit from in-home lactation support, please visit nourishconsulting.net for more information. Be sure to follow Rzepa @nourishconsulting and @ NourishLC on Facebook.