(AJNews) – These are challenging times but Ethos Bridal Boutique will help make your wedding day a wonderful experience.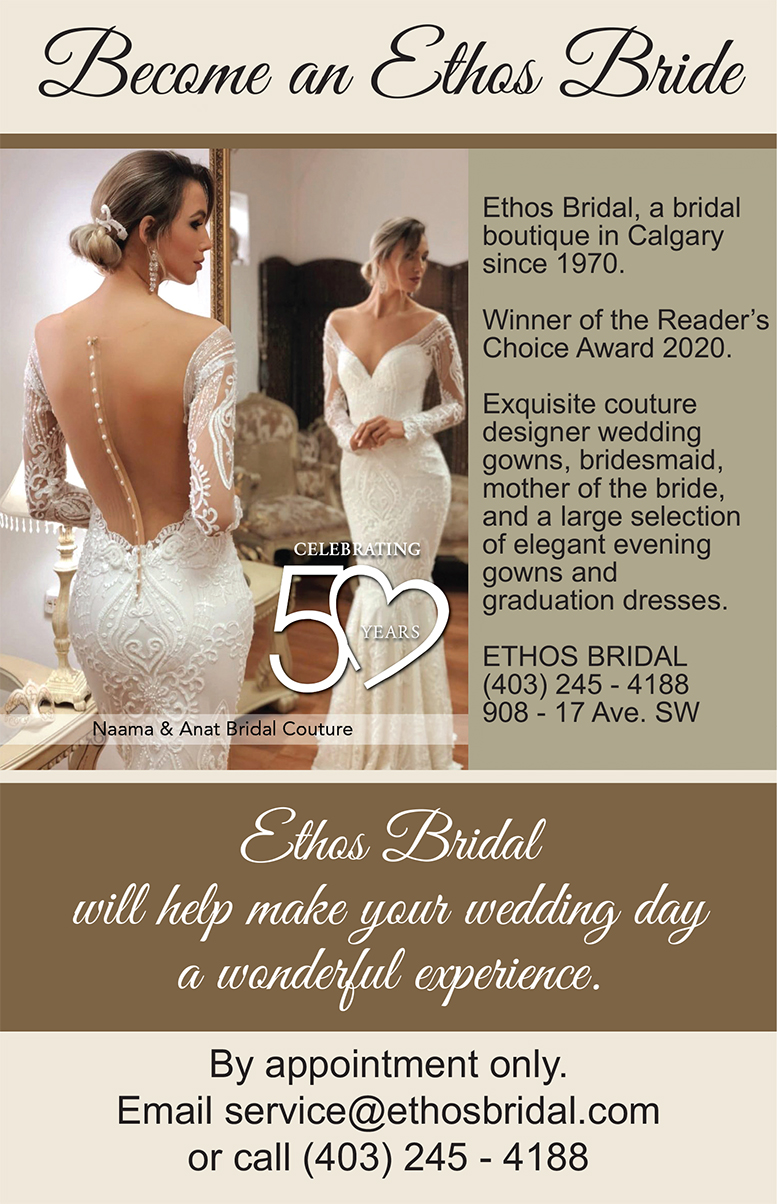 Fashion trends have come and gone, but the classic elegance of Ethos Bridal Boutique has withstood the test of time and flourished. They are proudly celebrating their fiftieth anniversary of dressing Alberta's brides and bridal parties.
Every special occasion begins with the dress and that is the specialty of Ethos Bridal Boutique. From flower girl to prom, bridesmaid to bride, evening gown to mother–of-the–bride, it's no wonder that visiting Ethos has become such a sentimental family tradition.
Stan and Haya Stein, along with Haya's brothers, Sam and Hayim Hamborger, founded Ethos in 1970 in Alberta and they have worked together for 50 years to bring the finest quality gowns to Canadian brides and their wedding parties.
Hayim manages the day to day operations with precision and dedication to the bridal fashion industry. Ethos matriarch, Haya Stein has a passion for all things bridal and a natural talent for designing extraordinary wedding gowns and evening wear. You will find her designs at Ethos under the Anna Rose Label Ethos Couture, lovingly named after her mother.
"Making your wedding day a wonderful experience is our main objective."

 – Haya Stein, Ethos Bridal Boutique
"In our bridal salon you will find a wide range of dresses including exquisite couture designer wedding gowns, bridesmaid dresses, mother of the bride dresses, mother of the groom dresses, flower girl dresses and a large selection of elegant evening gowns, special occasion dresses, graduation/prom dresses and unique bridal accessories."
With 50 years' experience in the wedding industry, Haya has cultivated close relationships with the world's most celebrated fashion houses and fills her store with their finest collections. She inspires her professional bridal consultants to graciously serve every bride and help her find the perfect dress… at the very best price!
"We have an assortment of dresses that flatter every figure and offer styles for any taste or special occasion," remarked Haya.
Bridal collections include @Naamat and Anat, @MadelineGardnerProm, @Julietta, @CallaBlanche, @SKYCollection, @elliewildemoncheri, @Angela&Alison, @moncheribridals, @sophiatolli, @palomablancabridal, @pronovias, @morileeofficial,  @ethosbridal,  @callablancheofficail and others.
Originally based out of both Edmonton and Calgary, the Edmonton store, located in West Edmonton Mall was a favorite destination shopping experience for brides for many many years. Now Edmonton shoppers make the special trip to Calgary to sample the unique Ethos bridal selection.
"Our beautiful dresses bring the customers into the shop," noted Haya, "but it is our amazing customer service that brings customers back year after year and across generations of friends and family members."
By appointment only – visit Calgary's historic Devenish Building on 17 Avenue you will find the latest bridal, bridesmaid, mother-of-the-bride, flower girl, prom and evening wear collections. Book an appointment online at ethosbridal.com or call 403-245-4188.