By Howard Starkman
(AJNews) – Esther and I were surprised yet delighted to be asked to serve as Honourary Chairs for this year's JNF Edmonton Negev Gala scheduled for June 25, 2023.
Our Honourees, Dr. Stan and Rosemary Kitay are stellar members of both the General and the Jewish Communities in Edmonton. Their commitment in coin and leadership, as volunteers working for the betterment of Edmonton and to enhance our community's relationship with Israel is worthy of recognition and praise. Kol Ha Kovod, Kudos to the Jewish National Fund (JNF) for selecting this incredible, dynamic duo for this significant honour.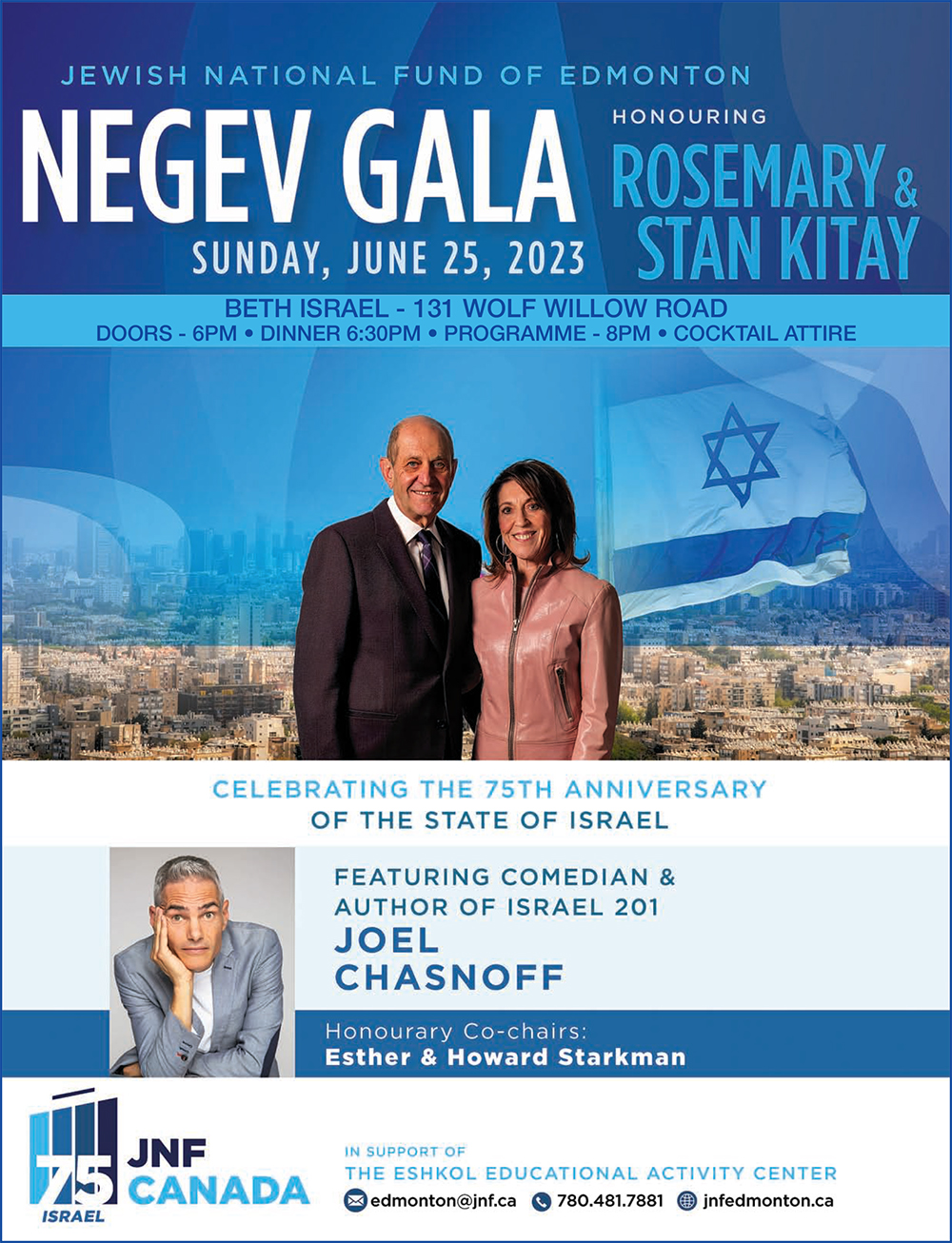 It is singularly satisfying for us, especially for Esther, an educator and advocate of lifelong learning to have the Kitays' select as their Gala Project, the creation of a sheltered children's educational activity center in the Eshkol region; a safe gathering space providing parents and children with sanctuary when their homes and communities are all too frequently assaulted by deadly in coming missiles. A shelter which facilitates comfort, learning and safety when the region is in peril, merits our financial contribution and support.
On a personal note, it has been 20 years since Esther and I were Negev Dinner Honourees. In 2003, Israel's astronaut, Ilan Ramon, of blessed Memory, was thrilling the world with his comments from space urging us all to plant trees on planet earth, traditionally an ongoing JNF reforestation project. This, and other incredible contributions to Israel, through the aegis of JNF, has continued over the decades.
The multitude of projects sponsored by past Negev Gala Honourees shines a bright light on the effective partnership between a myriad of contributors and JNF to enhance the lives of Israelis and the State itself.
The list of past honourees set out in your program merits your approbation and applause. It is fitting that this year's Honourees be added to that distinguished list.
The JNF Negev Gala provides an opportunity for each of us to encourage the attendance and participation of all Edmontonians to showcase Israel and to acknowledge the significate contribution of Israel to the world in technology, the advancement of science, the arts and culture.
Surviving and thriving for 75 years, 2023 marks the 75th anniversary of the State of Israel. This jewel of the Middle East is anchored by a rich history and faces the future with confidence. A resilient democracy, Israel wrestles internationally with complicated issues that often perplex and strain Israel-diaspora relationship.
In an article by Gail Adelson – Marcovitz, president of Centre for Israel and Jewish Affairs (CIJA) dated March 15, 2023 which we quote and endorse, she wrote: "As in any extended family, Jews represent a spectrum of views and beliefs, and we are each entitled to express our perspective. But we must do so respectfully, ensuring those who object to the very existence of a Jewish state cannot leverage our criticism to distort the reality of Israel's thriving democracy or of our united stance against all seeking Israel's destruction."
Let Edmonton celebrate the miracle of Israel on this 75th anniversary by joining with JNF and with this year's JNF Gala Honourees, Dr. Stan and Rosemary Kitay by attending the Negev Gala and contributing as best we can to the project chosen by Edmonton's 2023 Negev Gala Honourees, Rosemary and Dr. Stan Kitay.
Special guest speaker at the event will be Elan Isaacson, Head of Security – Eshkol Region. Isaacson's roots are as a farmer and he brings his down to earth and gentle sensibilities to his position coordinating volunteers across the Eshkol region to serve and protect their communities.
Howard and Esther Starkman are Honourary Co-chairs of the 2023 JNF Edmonton Negev Gala which will be held on June 25 in the Beth Israel Ballroom. Entertainment will feature comedian and author of Israel 201 Joel Chasnoff as well as special guest speaker Elan Isaacson. Sponsorship opportunities and tickets are available at edmontonjnf.ca.