Comedy duo Yid Life Crisis will be the headliners at this year's UJA launch to take place at The Club at the Citadel on Sept. 20th. The duo, comprised of Jamie Elman and Eli Batalion, who hail from Montreal, perform most of their show in Yiddish, but English audiences will have no problem understanding the show, which explores the experiences of two young Jewish men as they struggle with their Jewish identity through hilarious Yiddish dialogue. The show is subtitled "Sex, Drugs, Milk and Meat. In Yiddish."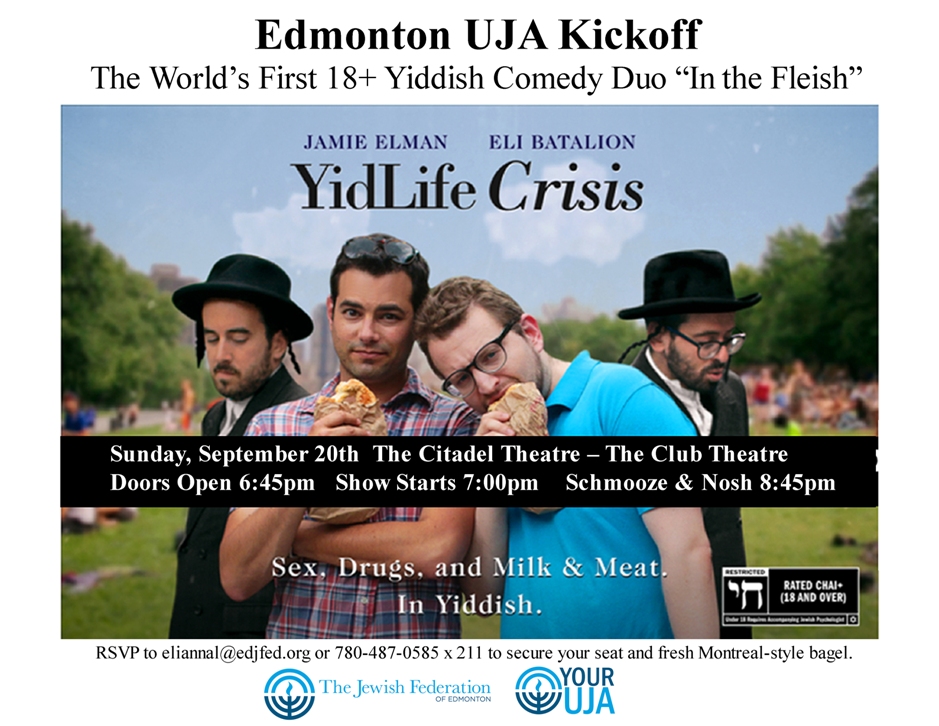 Elman is a graduate of McGill University and has appeared in such shows as Mad Men, Curb Your Enthusiasm, CSI, House MD and the Young and the Restless. Batalion is a composer with a BA from Brown University and an MBA from Ecole des Hautes Etudes Commerciales. He has composed such shows as Fright, and the Legend of Beaver Dam. Yid Life Crisis has been called, "The Seinfeld of Montreal."
The evening will launch the 2015-16 campaign of Edmonton UJA, which this year will focus on the theme, "Do Good Everywhere from Anywhere." Campaign C0-Chairs Stacey Leavitt- Wright and Suzanne Davis are focused on bringing a new level of enthusiasm and professionalism to this year's campaign, and on reaching the goal of $1.2 million.
This year, proceeds will go to fund local, as well as national and international beneficiaries such as Jewish Community Programming, Hillel, JCORE, BBYO,Camp BB, Talmud Torah, Jewish Family Services, CIJA, JFC-UIA, JDC, JAFI and our partners in Northern Israel. In addition this year there will be a plus campaign to purchase incubators for the NICU at HaEmek Afula hospital in the Galillee.
The evening will start with a Montreal-style kosher reception for top donors at The Club at the Citadel, the former Rice Theatre, followed  by the show, and a dessert reception for all UJA donors. Special guests from JFC-UIA Canada will also be joining us, including President Julia Reitman from Montreal and CEO Linda Kislowicz from Toronto. Seating is limited, so please RSVP to Elianna at eliannal@edjfed.org or 780-487-0585 to secure your seat.