By the TT Society Board
(Edmonton) – An incredible amount of work has gone into the Edmonton Talmud Torah (TT) Society Strategic Plan, a process that began during the 2019-20 school year. While our priorities were shared with you at our June 2021 AGM last year, we have spent the last few months orienting our new board members, approving the final plan details and beginning our action plan (which you may have seen updates from in our newly redesigned Talmud Torah Times newsletter).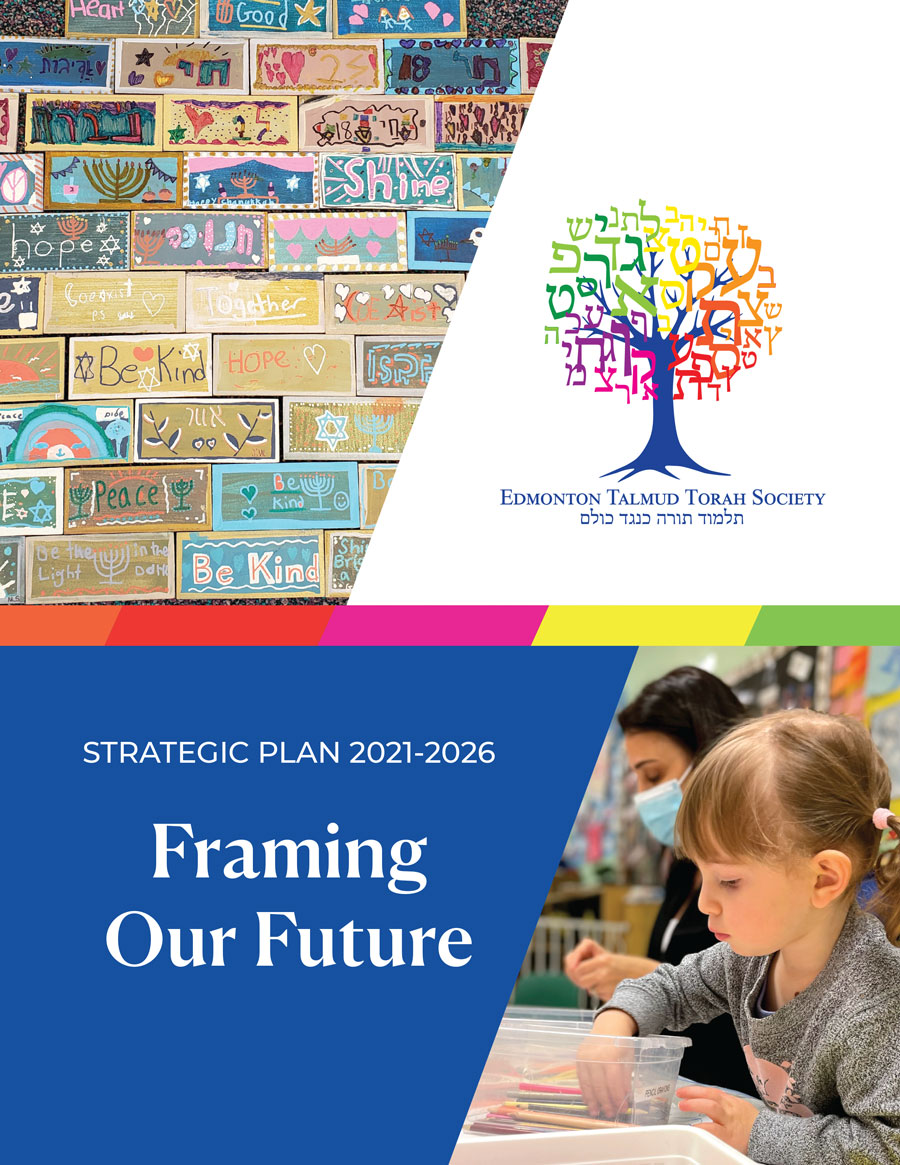 In line with TT's rich history of support from community-minded individuals, the development of this strategic plan was the culmination of many hours of volunteer work from a diverse group of committed community members and TT parents.
Our strategic plan areas of focus are:
1. Ensuring and promoting high pedagogical and academic standards in Judaic and Hebrew studies;
2. Meeting the needs of individual students;
3. Creating and implementing a comprehensive communication plan that integrates Talmud Torah Society (TTS), School Council (SC) and Early Learning Centre (ELC) communications;
4. Ensuring the Society's financial viability;
5. Establishing a fundraising program and; 6. Ensuring the Board follows governance best practices.
We would like to recognize the following community members who invested their time to create this plan, many of whom are now working to bring these goals to life: Laurence Abbott, Melissa Benjamin, Ben Coppens, Jennifer Coppens, Ruth Coppens, Leeor Eliyahu, Lisa Hering, Michelle Huberman, Doug Kondor, Jennifer Magalnick, Megan Mandel, Sharon Marcus, Rebecca Mello, Christina Reboh, Mona Rosenberg, Debbie Sniderman, Randy Soifer, Arielle Whitham, Gary Wolch, Noga Vaisblat, Ben Yovel. Additional thanks to Talmud Torah Society and Edmonton Public School Board staff, consultant George Rutherford, and all the other community members and parents who engaged with us along the way. Thank you all!
We are thrilled to see both this plan and its actions come to life and look forward to continuing to connect with you in meaningful ways in the future. You can find the Strategic Plan on our website at www.talmudtorahsociety.com. Please direct any questions or comments to nataliesoroka@talmudtorahsociety.com.