(EJNews) – The Jewish National Fund of Edmonton is celebrating the 50th Anniversary of the Reunification of Jerusalem at the 2017 Negev Dinner on Thursday, June 22 at the Fantasyland Hotel.
There is no more fitting an honouree than the City of Jerusalem.  Her virtue is praised in the Torah: "If I forget thee, O Jerusalem, let my right hand forget its skill.  Let my tongue stick to the roof of my mouth, if I do not remember thee; if I do not set Jerusalem above my greatest joy" (Psalms 137: 5, 6).
Through exile, persecution, destruction and rebirth, the linkage of the Jewish people to Jerusalem has been a constant.  From the time of King David, the city has been at the core of Jewish identity, manifested in scripture, ritual and prayer.  For 2000 years, Jerusalem represented the aspirations of a people longing to return and live in freedom. Fifty years ago, as an outcome of the Six Day War, Jerusalem was reunified within Israel and access to the holy sites restored.
Today, Israel's capital remains a testament to Jewish resiliency and continuity, a spiritual and uplifting place for people of all faiths.  As David Ben-Gurion, Israel's first prime minister, noted, "The value of Jerusalem cannot be measured, weighed, or put into words.  If a land has a soul, Jerusalem is the soul of the land of Israel."
The special keynote speaker for the event is Major Jonathan Conricus, the first Israeli officer to hold a position at the United Nations' Peacekeeping Department.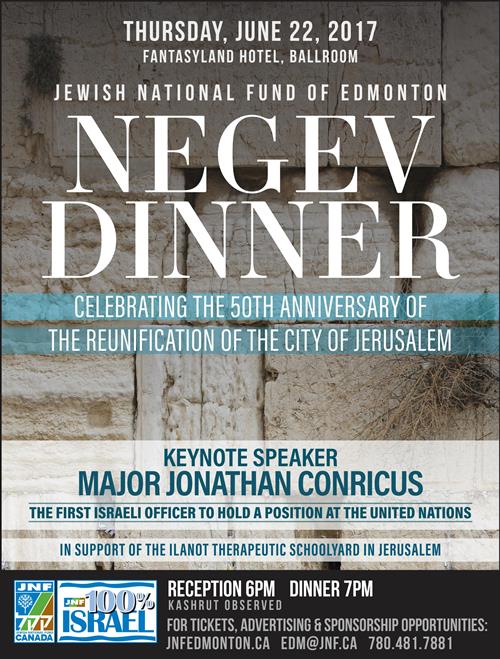 Since 2014, the IDF Major has been quietly serving in the United Nations' Department of Peacekeeping Operations in Manhattan. His role is that of an evaluation officer, relating to intelligence. Conricus is responsible for collecting information for a number of UN forces and penning evaluations of risks in certain areas.
Israeli Ambassador to the United Nations Danny Danon said regarding Conricus's service: "We are very proud of the Israeli representatives at UN institutions. Despite attempts by anti-Israel elements to boycott Israel, its citizens continue to show Israel's true face to the world and to contribute to the international community in a wide range of areas."
He further said that "technology for protecting peacekeeping troops, professional consultation on legal matters, and major healthcare aid are only part of Israel's assistance for the UN's humanitarian purposes. We are working to integrate more Israelis into the UN, and I call on more Israelis to join the campaign and become true ambassadors of Israel."
"Join JNF Edmonton on June 22, 2017 at the JNF Negev Dinner as we celebrate the reunification of Jerusalem and support an important project in Israel," says JNF Edmonton Executive Director Jason Cairns.
The proceeds of this year's Negev Dinner will support the Ilanot special education school in Jerusalem, a public school for special needs students aged 6 – 21, with severe disabilities.
This JNF Canada project, in cooperation with the Ministry of Education and the Jerusalem Municipality, will create a safe, accessible and stimulating outdoor environment for the students.
The specially designed state of the art therapeutic schoolyard will offer an accessible and stimulating environment where students can develop their motor and cognitive skills while fostering social and emotional growth. Its shady, green environment will be a pleasant setting for physical therapy and other treatments specifically tailored for individual students, serving as a model for similar schools in Israel and around the world.
"Providing a therapeutic outdoor space that enhances the children's educational experience will have a positive impact on their lives," adds JNF Edmonton Board Chairman Jeff Rubin. "Your contribution will help sustain this initiative and assist the Ilanot School in Jerusalem to help students realize their potential."