By Regan Treewater-Lipes
(AJNews) – The long-term ramifications of two-years and counting spent under vacillating levels of social isolation will only begin to be known in the time to come. What is already evident is that the COVID-era continues to be one of great loss, and in its wake, no one has been left untouched.
Rebbetzin Rifka Drelich, who has lived in Edmonton with her family since 1992, has seen firsthand how the Edmonton Jewish community found new ways to support its members despite the obvious limitations imposed by social distancing, but she has also been acutely aware that despite these efforts, many continue to suffer.
"This space we are in right now is an effort to support people when they need it most," she explained in a recent interview at the Kosher Friendship Circle headquarters in southwest Edmonton."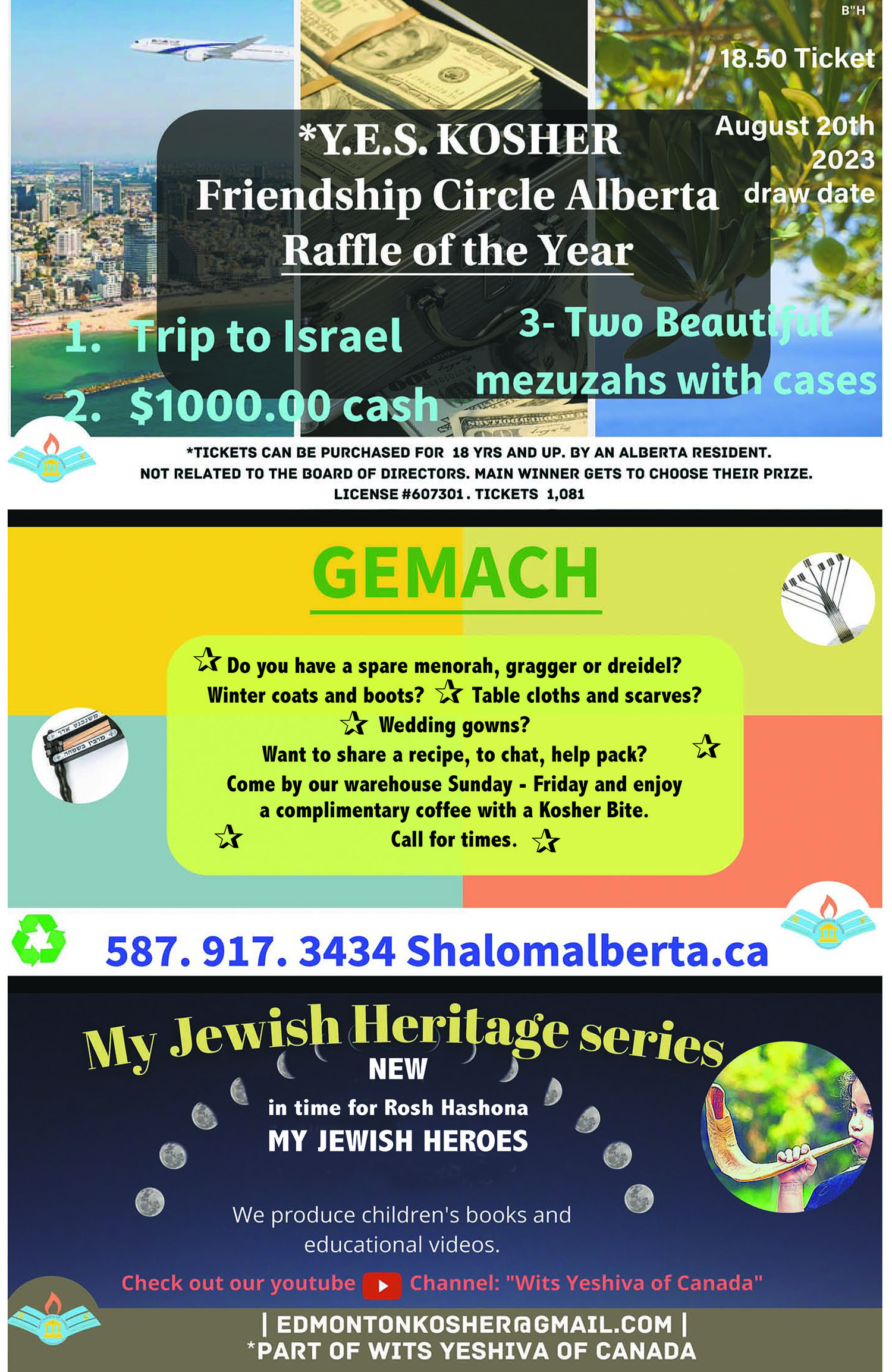 Rebbetzin Drelich explained that a community member (who prefers to remain anonymous) came to her after their family suffered the tremendous loss of one of their loved ones by suicide. This person felt compelled to explore ways to promote the mental, physical, and spiritual wellbeing of those within the community during times of significant need.
"Kosher Friendship Circle was formed in 2021," she added, "born of a cry to action following tragedy." Many have seen the Kosher Friendship Circle's name when perusing the Alberta Jewish News, but they don't yet have a clear sense of what the group's focus and activities are. Well, if there is a need, then the team at Kosher Friendship Circle is ready!
"Kosher Friendship Circle is a part of Wits Yeshiva of Canada and is a non-profit organization that follows the Shulchan Oruch Harav and the Baal Shem Tov's teachings," explained the Rebbetzin. "Our motto is that 'the Kosher Friendship Circle feeds the body and nurtures the soul,' and we service all demographics and abilities within the Jewish community, but we are also a valuable resource that can assist the general public as well."
Guided by Jewish principle of olam chesed yiboneh – a world built on kindness, the Kosher Friendship Circle hopes to give comfort and support to those within the Edmonton Jewish community, but the organization's mission welcomes all those who seek help. "We deliver baskets of dry-food goods bi-monthly to seniors living alone, and others in need," elaborated the Rebbetzin. Newcomers to Canada, refugees from Ukraine for instance, are also welcome to request services from the Kosher Friendship Circle. "Not all the people we support are Jewish, but all the food that we pack in the dry-food baskets is completely kosher."
As their name suggests, 'friendship' is at the core of everything the organization stands for. "If COVID has taught us anything, it is how damaging feelings of loneliness and isolation can be," offered the Rebbetzin thoughtfully.
Rebbetzin Drelich, who is currently studying psychology through distance education at Thompson River University, has seen the healing value of simple 'friendship.'  "We don't provide professional counselling here – although we can connect people with resources," she noted, "but we've seen that people often just need a sense of togetherness and another person to talk to."
At the moment, the Kosher Friendship Circle does not have an open-door policy, but those seeking a space to connect meaningfully in a social capacity are highly encouraged to contact the Rebbetzin and arrange a time to stop by the group's bright and colourful Southside location.
"We host regular luncheons for volunteers," she added. On the day of the Rebbetzin's interview, there was even musical entertainment.
On July 26th the Kosher Friendship Circle held an exciting raffle for a grand prize of two round-trip tickets to Israel. Fundraisers of this kind go a long way in facilitating the extensive activities of the organization. "What we do here, and the services we provide, complement what is already available in the community. It's important that the resources are made available."
The Kosher Friendship Circle has a board of directors made up of a 51% female majority. "We have a guiding principle to empower and educate," explained the Rebbetzin. "Part of what we do is work with the strengths of those that come to us."
With the assistance of government grants to promote student employment, the Kosher Friendship Circle has been able to take on a summer team full of youthful energy. "We are committed to giving training opportunities and work experience to a diverse demographic of students of all abilities," added Rebbetzin Rifka.
"We try to show youth, seniors, and everyone in-between that they have something valuable to offer. If someone is handy with construction then they can help with everyday maintenance and repairs," she said, gesturing to some recently hung shelves. "We had a woman volunteer who was marvellous with sewing. She would teach small groups how to use sewing machines," she concluded pointing to a lovely collection of pieces adorning a nearby wall.
Pioneered by Rebbetzin Drelich, the Kosher Friendship Circle will be releasing the first in a series of children's heritage books this September. "The Torah is the blueprint for our organization," she said. "We aim to address twenty-first century issues with a Jewish approach. There is a necessity for education about the beauty of Jewish heritage and culture for our children."
To this end, Kosher Friendship Circle is dedicated to facilitating the observance of Jewish traditions in addition to adding the educational component. The Rebbetzin and her team maintain a room full of donated new and gently used Judaica items.  "We have all sorts of books here. This one is for bar mitzvah studies," she said holding up a thick volume. "We have a bit of everything, and if people need something then we can provide it to them."
The organization seeks to meet the needs of the community wherever necessary.  "Our logo," explained the Rebbetzin, gesturing to an elaborate winged image on the wall, "comes from the scriptural verse 'ufaratzta nakeidma tzoforna banegdbo,' from north, south, east, and west. We aspire to always be in a state of growth. The upright flame is to symbolize and remember that our lives are dynamic and ever evolving – each breath can bring inspiration to further promote kindness around us. The colours symbolize the diversity of our world and the mosaic of people within it."
So, to add greater clarity to what the Kosher Friendship Circle of Edmonton is all about, it is a place of sanctuary and empowerment. The organization provides people with support through friendship and community guided by Jewish principles. The Kosher Friendship Circle routinely arranges engaging guest speakers, seminars, and enriching workshops. For those that still have questions, Rebbetzin Drelich is always ready to chat about the great work being pursued at the Kosher Friendship Circle. And for those who may know of someone in need of a friendly place to seek support, the Rebbetzin and her team are always ready to welcome new and old faces.
Regan Treewater-Lipes is a Local Journalism Initiative Reporter.