by AJNews Staff
(AJNews) – JNF Edmonton is honouring Gayle Tallman at the 2021 Virtual Edmonton Negev Gala which will be held on June 22, 2021.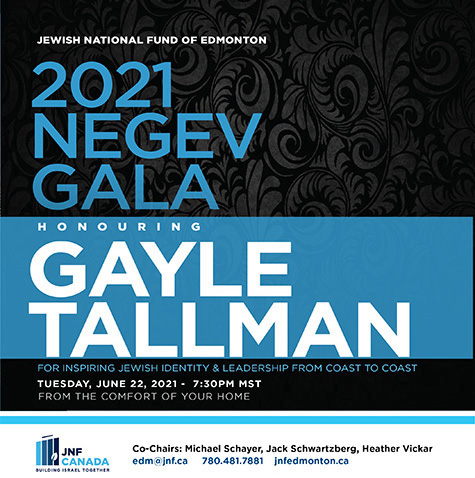 Gayle was an important and influential leader within the Jewish Community of Edmonton and beyond for several decades. She contributed to the education of a generation of youth and young adults – from coast to coast, sharing with them her love of Israel, her commitment to community service and Jewish values, and her belief in the importance of Holocaust education and awareness.
Gayle's career was focused on teaching compassion and inclusivity to Jewish youth who would become future leaders, said Edmonton JNF Executive Director Jay Cairns, along with Negev Gala campaign team leaders Michael Schayer, Heather Vickar and Jack Schwartzberg.
"The JNF team is issuing a call out to everyone – from coast to coast – whose life was impacted by Gayle's amazing work.
"We need your help gathering photos and videos to honour her. Send in your favourite photo/video clip of you with Gayle when you were in a BBYO program, at Camp BB, in the JCC or from a March of the Living trip."
Tributes should be sent by email to edm@jnf.ca or they can be posted on the JNF Edmonton Facebook page.
"I first met Gayle at the Talmud Torah where she was a student with my children. It struck me at the time and I still feel it to this day that here comes trouble. The mischief in those eyes and demeanor was very evident," wrote B'nai Brith Manager for Alberta Affairs, Abe Silverman.
"Over the years my first impressions proved to be correct," he continued.
"Years later when she was the Executive Director of Jewish Federation and me a Past President we worked together on Holocaust Education. She was tireless in her quest to tell the story of the Holocaust. And heaven help anyone who stood in her way. She knew what needed to be done and no one was going to alter her course. And she succeeded beyond anyone's expectations.
"She organized Holocaust Education Symposiums for Edmonton and area High School Students that are legendary. 3000 plus students came every year to hear the testimony of Holocaust survivors and learn the important lessons of the Holocaust.
"Though Gayle has received awards in recognition for her work we will forever be grateful to Gayle for being Gayle. Mischievous, dedicated, funny and trouble. The Silverman family loves you Gayle and supports this well-deserved JNF honour."
Camp BB-Riback Director Stacy Shaiken wrote,
"If you went to camp or participated in BBYO in the 70s, 80s or 90s, Gayle Tallman would have touched your life in some way you never forgot.
"For me it was an interesting journey. Gayle and I were often at odds as I was a very irreverent and mischievous teen. Often times I would cross the line. Gayle didn't have a lot of patience for my hijinks. At one point I actually crossed the line with her and we didn't speak for a number of months. It was brought to my attention I actually hurt her feelings. I felt awful so I went to apologize. She was so impressed I would own my mistake it relieved the tension.
"Later on, she was one of our chaperones on the March of the Living in 1992. For those of you who know me, I am not the most emotional dude around. Majdanek, toward the end of our Poland stay, wrecked me. As I came out of the surgical room, there she was to greet us. She gave me the biggest hug as I broke down In her arms. I'll never forget that moment. And I'll never forget what a great mentor and friend she was to our whole generation.
"She taught us leadership was accountability and participating in community was a soulful pursuit. She is one in a million. This event is long overdue to celebrate a woman who touched so many our lives and taught us how to be leaders with action not words."
"It has been my experience over the years that the best way for a Jewish community to strengthen and grow is to educate and support its youth," wrote Mor Barzel. "Gayle Tallman embodied this vision. Personally, Gayle instrumentally shaped and strengthened my connection to our community.
"I was lucky enough to be one of those kids hired by Gayle as a Day Camp Shalom junior counsellor in 1988. Despite the ongoing ribbings, she always conveyed respect and showed a genuine interest in our lives.
"Later, as the Lead Chaperone for March of the Living in 1990, she not only educated and comforted us, but also instilled a strong sense of Jewish identity. Gayle had faith in our abilities and pushed us to be more involved in all aspects of Jewish life. And in so doing, she encouraged a younger generation to take on leadership roles that would spark lifelong relationships within our community.
"I am incredibly grateful to Gayle for her kindness and guidance, and for helping me find my place in this community. Thank you, Gitale!"
JNF Edmonton Executive Director Jay Cairns also has wonderful memories of Gayle. "The Edmonton JCC was a very special place for me growing up," he wrote. "I have so many fond memories of various programs, swimming lessons, BBYO board meetings (that were held in a storage closet), Hadassah meetings that my mom would go to in the basement in the 80's. The various kosher cafes, the JNF, Hadassah and many other Jewish organizations had offices in the building. It was much more than a building, it was a place where relationships developed, where people from different walks of life came together and interacted and it was here that so many of us met Gayle Tallman.
"Gayle is a feisty, sharp witted person who always had her door open looking out for anyone who needed help… with anything. And I think more people needed a hand than even Gayle knew at the time.
"Gayle is very humble, quiet and kind with an incredible sense of humour. Since we launched the campaign, I have had the pleasure of reading so many stories and kind words expressed in tribute to Gayle and in appreciation of her influence on so many people. And that's amazing. That is a legacy."
With the proceeds from the 2021 Negev Gala, Gayle has chosen to support a project in the north of Israel, in the Partnership 2000 region in a community that has a history and connection with Jewish Edmonton.  Please join us in helping to build a youth and recreational fitness park, in kibbutz Sde Nehemia.
For more information, email edm@jnf.ca or visit JNF Edmonton / Facebook