(Edmonton) – The Fort Edmonton Foundation has raised over $909,000 to light the historical midway at Fort Edmonton Park. It is almost at its $1 Million fundraising goal, selling more than 18,000 symbolic bulbs for the Light the Midway campaign. The Foundation is seeking the community's help to reach the goal of 20,000 bulbs by May 31.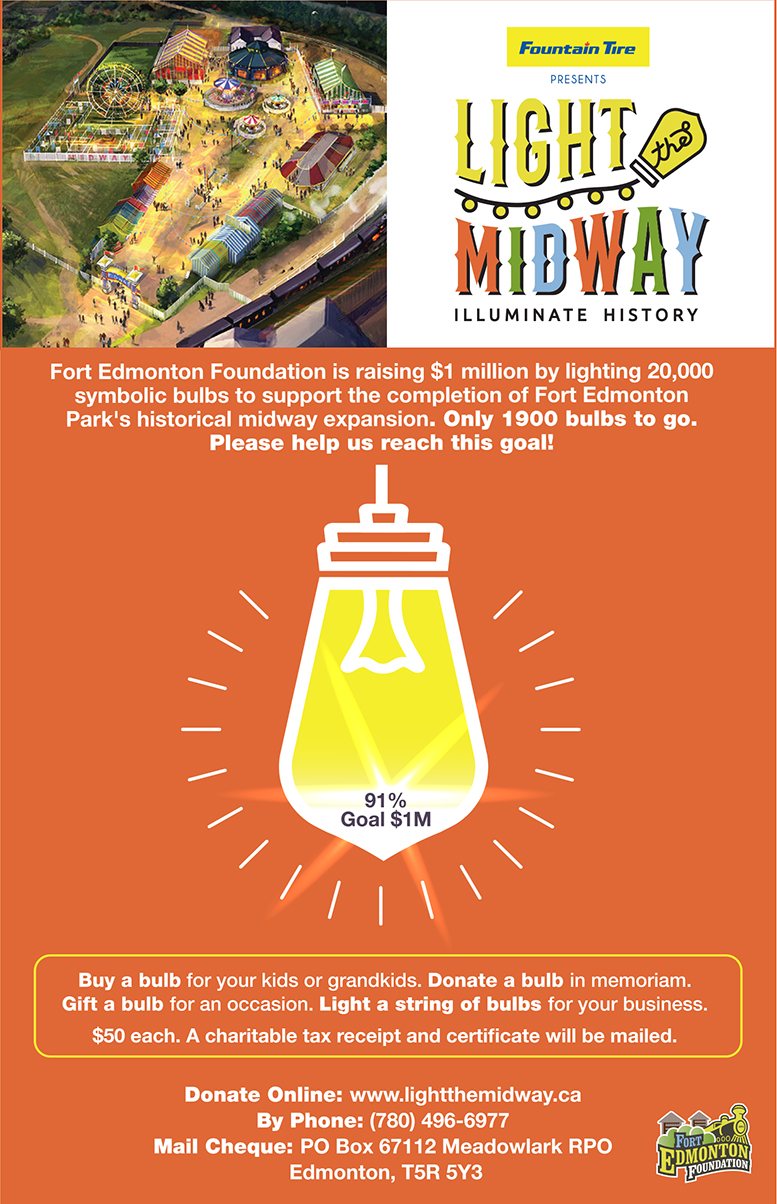 The Fort Edmonton Foundation is a group of passionate community leaders and Rotarians that provide the financial resources to enable project development at Fort Edmonton Park. The Foundation was key in building the historical midway at Fort Edmonton Park in the early 2000s. It is a replica of the original 1920s Edmonton Exhibition, featuring carnival rides, games, and amusements brought into Edmonton each summer by the Johnny J. Jones traveling railroad show.
The newly expanded midway will be twice its size featuring a bigger Ferris wheel, more vintage rides, a games alley, funhouse, carnival maze, and Cabinet of Curios. In August 2020, the Fort Edmonton Foundation began its mission to raise the final dollars needed to complete the expansion. Thanks to the public's generosity, the Foundation is almost at its $1 million fundraising goal.
"After coming through a dark winter and the challenges of the pandemic, lighting the midway at Fort Edmonton Park is something bright and exciting to look forward to," said Janet Tryhuba, Executive Director of the Fort Edmonton Foundation. "The Light the Midway campaign has been a powerful way to keep our community working together for something positive," she added, "we can't wait for folks to help us light up the last 1,800 bulbs!"
Symbolic bulbs are $50 each, and donors receive a charitable tax receipt and personalized certificate. Bulbs can be purchased online at www.lightthemidway.ca, by mailing a cheque to 67112 Meadowlark RPO, Edmonton, T5R 5Y3, or phoning 780-496-6977.
Fort Edmonton Park is Canada's largest living history museum and is currently completing a $165 million enhancement project. The funding for this project comes from all three levels of government and is supported by the Fort Edmonton Foundation and Fort Edmonton Management Company.
For more information about Fort Edmonton Park's reopening, visit www.fortedmontonpark.ca.