By Judy Goldsand
(AJNews) – On August 27, 2020, Jewish National Fund Edmonton is very proud to be hosting a special livestream Negev Gala, honouring Odette and Jacob Masliyah. The event will take place at 7 pm from the comfort of your home. Save the date today! Registration will open soon. Don't miss this opportunity to honour this exceptional couple.
"A  wonderful choice!"  "Well deserved!"  are comments heard after learning of Edmonton JNF's 2020 Negev Gala honorees, Dr. Jacob and Odette Masliyah.
An internationally recognized researcher, Dr. Jacob Masliyah is known for his ground-breaking research to improve oil recovery from the Alberta oil sands and reduce its impact on the environment.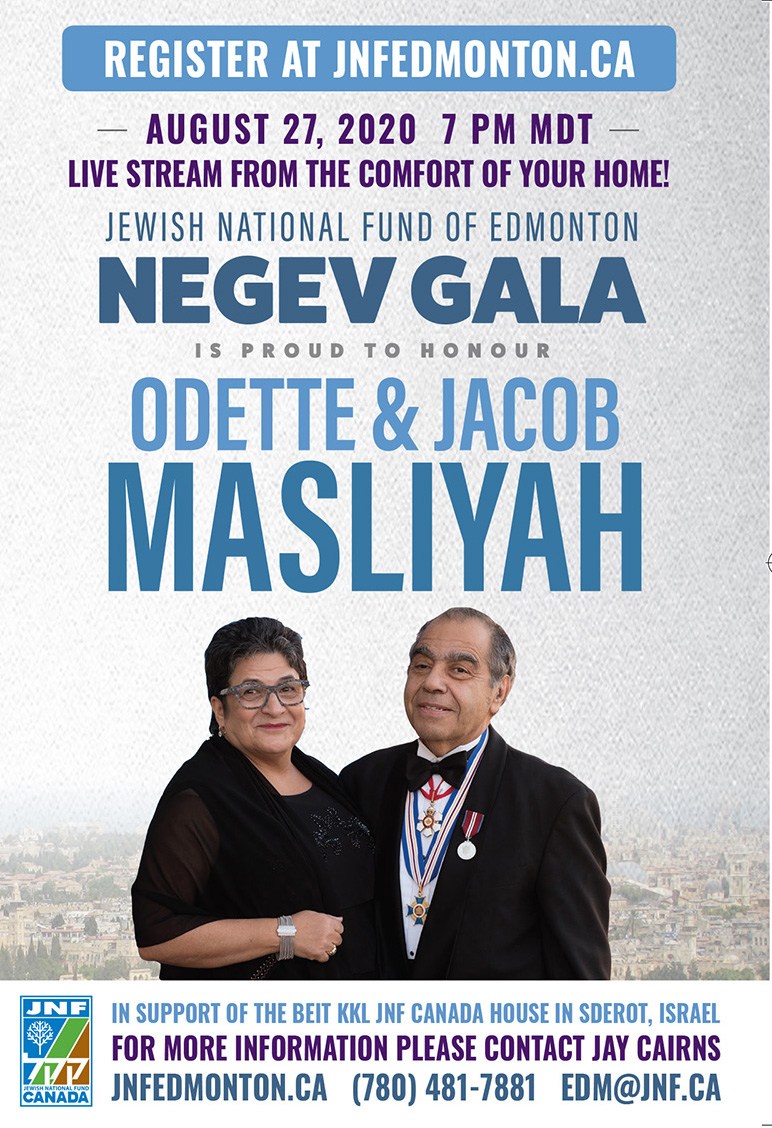 Born in Baghdad, Iraq, in 1942, into a family of eight that placed great value on education, Jacob was fortunate to attend the last Hebrew school in Bagdad where the curriculum was conducted in French, with Arabic and English also studied. He therefore had qualifications to be admitted to University College in London, England, where he graduated in Chemical Engineering in 1964. Although Iraqis who were studying abroad were supposed to return to Iraq, the hostility Jews faced in Bagdad forced Jacob to seek other paths. He was accepted at the University of New Brunswick in a Master of Chemical Engineering program and then completed a PhD at the University of British Columbia.  In 1977, Jacob met and married Odette and accepted an offer from the University of Alberta's Faculty of Engineering. Jacob became a pioneer in extracting bitumen from the oil sands and his work has greatly contributed to the University of Alberta's reputation as one of the world's leading research and teaching institutions.  Jacob has authored two books and many articles and has traveled extensively to deliver lectures and keynote presentations at universities, conferences and symposia around the world.
In recognition of his innovative research, Jacob was inducted as an Officer of the Order of Canada (2008) and has been honored with many other awards, including being named a Foreign Associate of the US National Academy of Engineering, a Fellow of the Royal Society of Canada and a Fellow of the Canadian Academy of Engineering. In 2013, Jacob received an honorary science degree from the University of Alberta and in 2015 was made a member of the Alberta Order of Excellence.
Odette Masliyah (nee Ishayak) also was born in Bagdad surrounded by a large extended family and a close-knit Jewish community. Because of the Iraqi government's hostility towards Jews, the Jewish community placed a strong emphasis on education and good language skills because there constantly loomed the possibility of needing to leave the country. Odette became fluent in Arabic, French and English. In 1967, after the Six-Day War in Israel, Iraqi Jews faced escalating levels of government-sanctioned discrimination and persecution. In 1969, unable to leave Iraq legally, Odette's family was smuggled into Iran and they eventually made their way to Israel. After taking Hebrew courses, Odette worked for Bank Hapoalim and then the American Embassy in Tel Aviv.  About five years later, the family moved to join relatives in Montreal.
Odette soon met and married Jacob and, after settling in Edmonton, she studied at the University of Alberta graduating with a Bachelor of Education degree specializing in French and Hebrew. Odette taught French for the U of A's Faculty of Extension and Hebrew for Edmonton Public School's Continuing Education program.  In 1990, Odette began teaching Hebrew at the Edmonton Talmud Torah. She has served on the Board Directors of Beth Shalom Synagogue and is a frequent Torah reader during Shabbat services there. She was treasurer of the Beth Shalom Women's League and also volunteered on the Boards of the Jewish Seniors' Drop-In Centre and the Edmonton Jewish Film Festival. Odette and Jacob have three children, Tamara (Larry), Ruth (Michael) and Daniel (Nicole) and four grandchildren, Ellie, Jasmine, Judah, and Hannah.
The funds raised at the 2020 Negev Gala will go towards the creation of the KKL/JNF Canada House for Excellence, in Sderot, the Israeli city closest to the Gaza border. The KKL/JNF Canada House will serve as an after-school, informal education, empowerment, and enrichment center for high school youth from Sderot and its surroundings. The aim is to provide students with the necessary tools and skills for academic and personal success. Given its location in a volatile region, the facility will be built to withstand direct missile attacks.
Karen Kayemet l'Yisroel  (KKL) is matching donations dollar for dollar so, for every dollar raised at the Edmonton Gala, KKL will contribute the same. JNF Canada invites you to join in creating a better Israel by supporting this innovative education and community project.