By The Tanya Eklund Group
(Calgary) – Can living in the inner city make people happier and healthier? According to a joint study conducted by Oxford University and The University of Hong Kong* well-designed, bustling urban centres encourage residents to be more active and socially engaged.
There are benefits to both urban and suburban living, but living inner city offers Calgarians a unique lifestyle that encourages active living, social interactions, and an easier way to find work/life balance.
If you are interested in exploring inner-city real estate opportunities in Calgary's core neighbourhoods, The Eklund Group is an expert team of inner-city Realtors®. Contact us for our skilled and knowledgeable insight into Calgary's unique living opportunities in the heart of the city. (403) 863-7434.
Living Better Downtown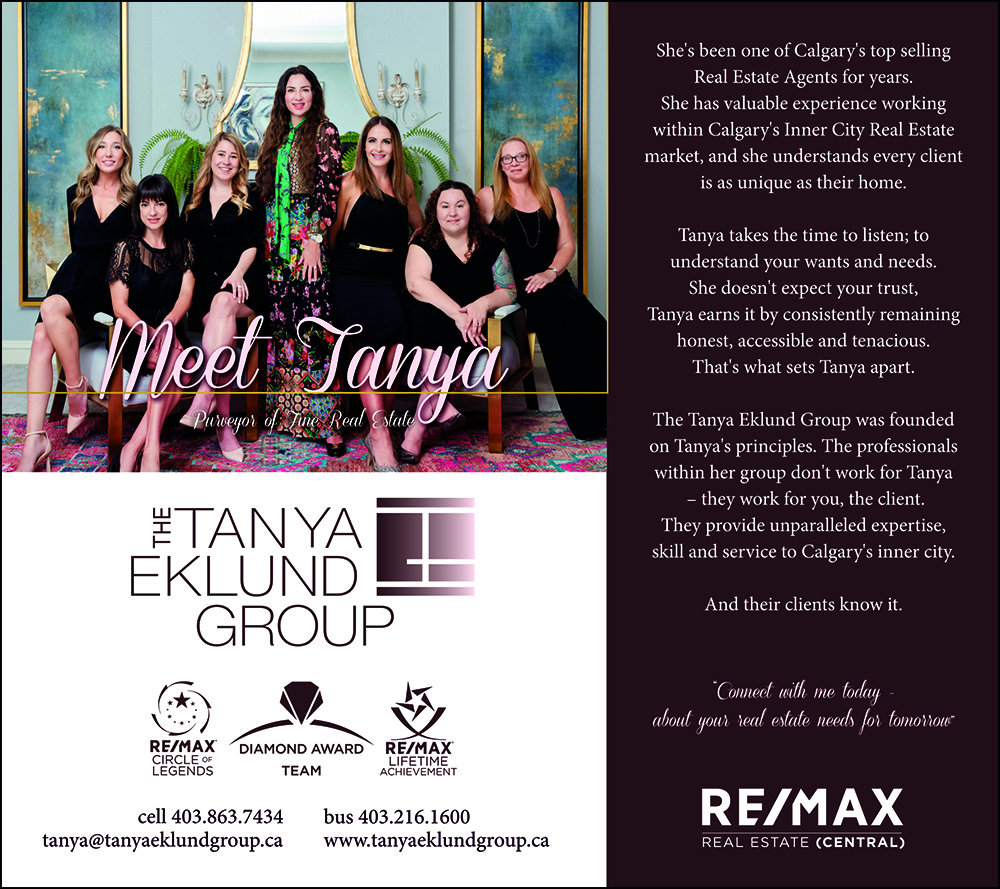 More Active: Inner-city neighbourhoods are infinitely walkable. Many downtown residents find they only need a vehicle when they travel out of the core and many forgo car ownership altogether. Calgary's downtown has an abundance of fitness facilities packed into its streets. Try yoga, spin, cross-fit, outdoor boot camps, cycling on the paths, and swimming. And Repsol, a world-class facility offers all of these activities plus tracks, pools and saunas, and high-performance training. Access to pathways and green spaces, recreation centres, and opportunities to train to make choosing an active life easy. And when you can access groceries and dining, work, and services easily, choosing a quick walk over a drive is a simple choice.
More Socially Engaged: People often choose suburban living for increased space and a sense of privacy. It really is possible to take a walk through a suburban neighbourhood and not encounter another soul. Not so when living inner city. Dense and diverse neighbourhoods enhance the opportunities and even the necessity to engage with the people in your neighbourhood. This creates a strong sense of belonging and encourages residents to feel like an important part of the lifeblood of their community.
Better Work/Life Balance: The ability to find a harmonious work/life balance is automatically easier when you live downtown. With over 4000 of the city's employers based in the core, long commutes, traffic jams, and transit delays aren't a factor. Of course, not every Calgarian works downtown, but the city centre is also a great hub for those commuting to one of the city's outer quadrants, reducing travel time by eliminating the need to travel from one corner of the city to another for work.
Attractive Destinations/ A Variety Of Services: The compact nature of downtown communities inevitably means easier access to a wider array of amenities. Condensed into several blocks you will find shops, restaurants, arts and culture, retail, fitness centers, and every service possible. Life satisfaction can increase for many when they have access to an abundance of options for recreation and socialization. Another consideration is this; lack of access to certain service providers is a barrier for many people. Inner-city living makes health and wellness services more easily available to residents for whom transportation may be an obstacle.
We Are Inner City
Inner city living is not the choice for everyone, but growing research shows that well-planned, thoughtful, and dynamic downtown neighbourhoods can help residents feel happier and healthier.
If you are interested in exploring homes for sale in the vibrant and exciting core of the city, contact The Eklund Group. Tanya Eklund and her team of inner city Realtors® can guide you with a comprehensive understanding of the unique communities, demographics, opportunities, and challenges of buying and selling in the inner city. Their knowledge and experience is cultivated with real-life insight; they work, live, and play in the inner city. Let them help you find your place in Calgary.
This article is sponsored content.