by Shael Gelfand
Tickets for the CMDA Calgary Chapter 2023 Annual Gala Event are Going Fast
"It's going to be the Gala of the year and not to be missed."  That's the word from Sharon Fraiman, Western Region Director for CMDA, describing the 2023 Calgary Red Carpet Gala Celebration on Sunday, May 28 at the newly renovated Carriage House Inn in SW Calgary.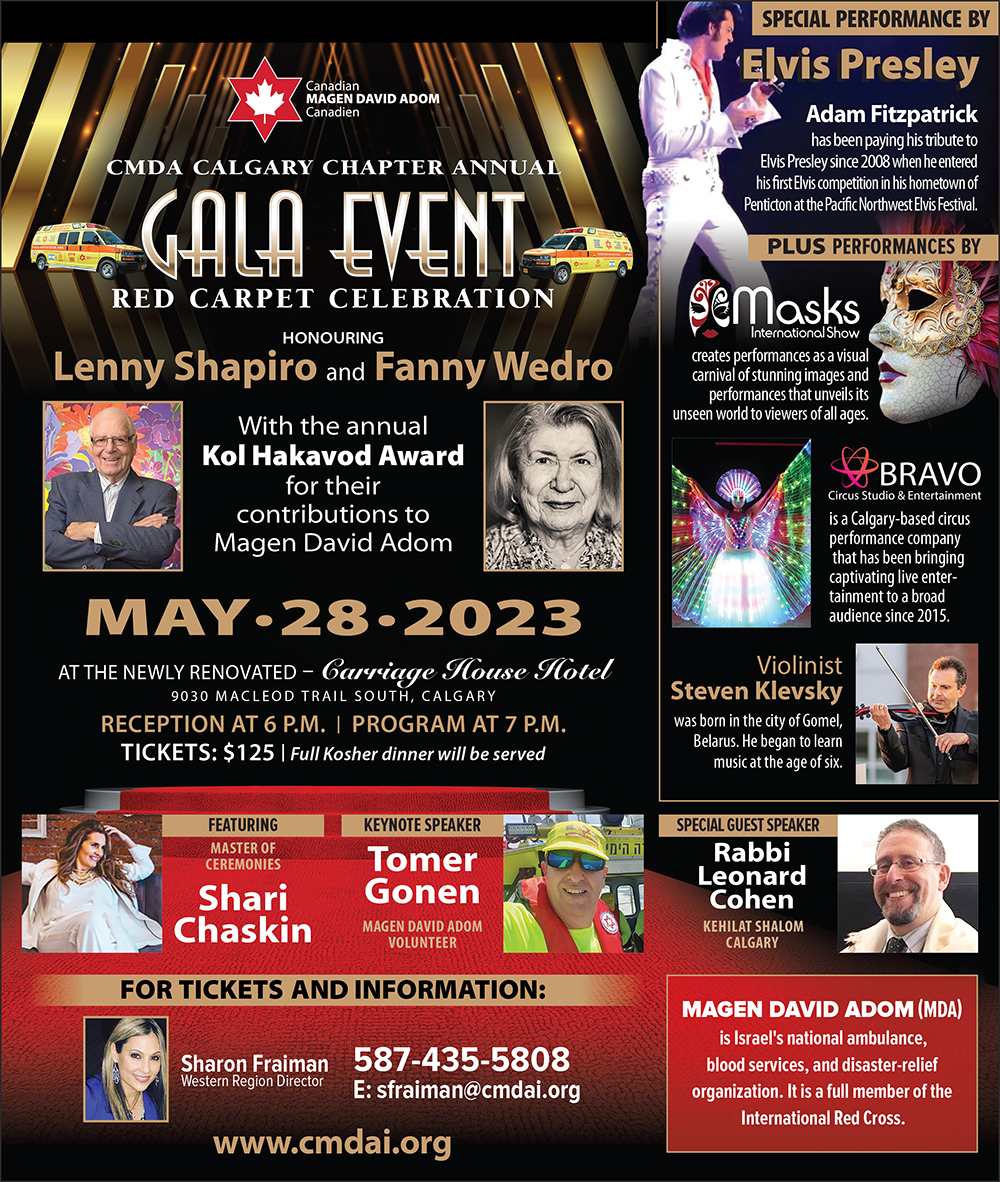 Fraiman's enthusiasm is understandable. Many months of work and planning are coming to fruition.  The Carriage House Inn is famous for its excellence in Kosher catering and this year's  Gala menu will be something extra special.  "And the food is just the beginning," says Fraiman.
Calgary singer, vocalist and entertainer Shari Chaskin will emcee the Gala and there's a tremendous line-up of speakers, performers, and special attractions.  The Keynote speaker will be Tomer Gonen, the Israeli lawyer and MDA volunteer who trains MDA's naval unit sailors on patrol in the Galiliee.  He'll bring stories of his team's around the clock efforts saving lives on the high seas.   Rabbi Leonard Cohen from Kehilat Shalom Calgary will also be a guest speaker with a message of hope and inspiration.
Gala guests will enjoy fabulous entertainment from versatile Calgary Violinist Steven Klevsky and for some fun rock and roll nostalgia,  Elvis Presley Impersonator Adam Fitzpatrick will hit the stage.
This year's Gala also features the Masks International Show, an international entertainment company that transforms art through innovative production.   It's a visual sensation of stunning images and performances.  And for some entertainment thrills, Calgary's own Bravo Circus Studio and Entertainment, founded by aerialist and hula-hoop performer Maria Chekmareva, will feature some world-class circus stars.
"The 2023 Gala will honour two outstanding Calgarians and CMDA supporters. Philanthropists Lenny Shapiro and Fanny Wedro will be presented with special Kol Hakavod Awards for their many years of support in helping MDA save lives.  "It will be the most important part of the evening," says Fraiman.  "And our opportunity to acknowledge two exceptional people and community leaders.
Tickets for the sure to be sold-out event are now available at $125. Sponsorship packages provide the opportunity to support CMDA with lifesaving tools including Mobile Intensive Care Units, Advanced Life and Basic Life support equipment,  and Automated Defibrillators for paramedics and EMTs.
"This year's Gala is going to be our best ever," says Fraiman.  "But in the end its really about saving lives and supporting the people of Israel," says Fraiman.
For tickets and sponsorship opportunities, contact Sharon at sfraiman@cmdai.org or call 587-435-5808.