This year Yom Yerushalayim falls on Sunday May 17 and the Edmonton Jewish community is uniting  to participate in the celebration.
Yom Yerushalayim – 28 of Iyar is an Israeli national holiday commemorating the reunification of Jerusalem and the establishment of Israeli control over the Old City in the aftermath of the June 1967 Six-Day War.  In honour of the reunification, the Edmonton community is coming together in a show of unity.
"We are so excited about celebrating Yom Yerushalayim in unity with so many different organizations," said Beth Israel Rabbanit, Batya Friedman.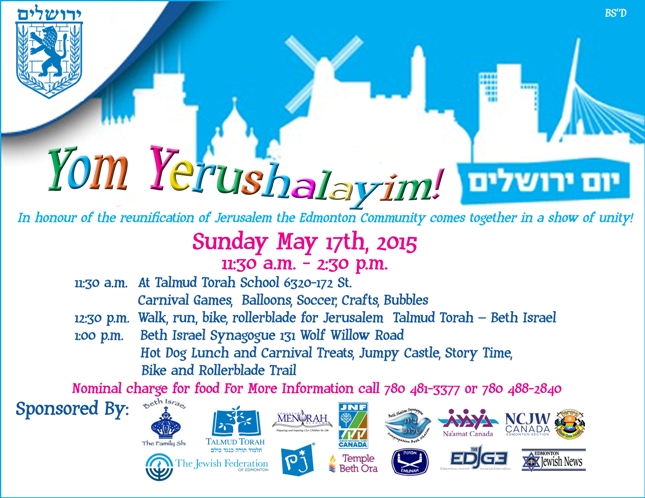 "The true beauty of Judaism is when all Jews from different backgrounds come together to unite as one.  While this event started off as a partnership between PJ Library and Beth Israel, we took the opportunity to invite all the Jewish organizations in town to unite the community for such a momentous occasion.  Our apologies that we could not reach all the organizations due to time constraints, however we hope next time it will include many more."
Numerous Edmonton organizations are happily participating.  So far, Jewish Federation, PJ Library, Talmud Torah, Menorah Academy, Camp Gan Israel, Beth Israel, Beth Shalom, Kollel/EDGE, Na'amat Women, National Council of Jewish Women (NCJW), Emunah Women, Edmonton Jewish News and JNF are all sponsoring funds and/or activities for the event.
This is going to be a wonderful event for the whole family to enjoy, noted  Batya. "And we greatly appreciate The Edmonton Jewish Federation for sponsoring the security and Israeli flags for the Jerusalem march."
The Yom Yerushalayim in Edmonton event will take place on May 17 from 11:30 am –2:30 pm.
The festivities will commence  at Talmud Torah with various sports activities and crafts at11:30am and at 12:30pm everyone in attendance will begin a Jerusalem March and walk, ride, roller blade (along with security provided by Federation) to Beth Israel for a hot dog lunch and other snacks (slushi machine, cotton candy and popcorn provided by Camp Gan Israel) and a PJ Library reading and a squared off area for the older kids to bike, rollerblade etc…
"We are really pleased that the entire community is coming together to celebrate Yom Yerushalayim," added Frida Pesin, Executive Director Talmud Torah Society. "This is sure to be a wonderful event that starts at Talmud Torah School and concludes at Beth Israel Synagogue. It's great that so many Jewish organizations are pitching in to make this a truly memorable event!"