by Jenna Soroka
(AJNews) – Each year for Tu Bi'Shevat — the New Year of the Trees — JNF chooses a special area in Israel to plant trees or a meaningful environmental project to support in celebration of Jewish Arbor Day. This year, they are campaigning to rehabilitate the forest of the Jerusalem Hills.
This past summer, a fire broke out in the Jerusalem Hills. It was the largest wildfire to occur in the Jerusalem area in recent years. Canadians have planted millions of trees in Israel over the decades, some of which were destroyed in this fire. JNF Canada is working with partners on the ground to start the first stages of rehabilitation needed to help the forests and environment start to heal.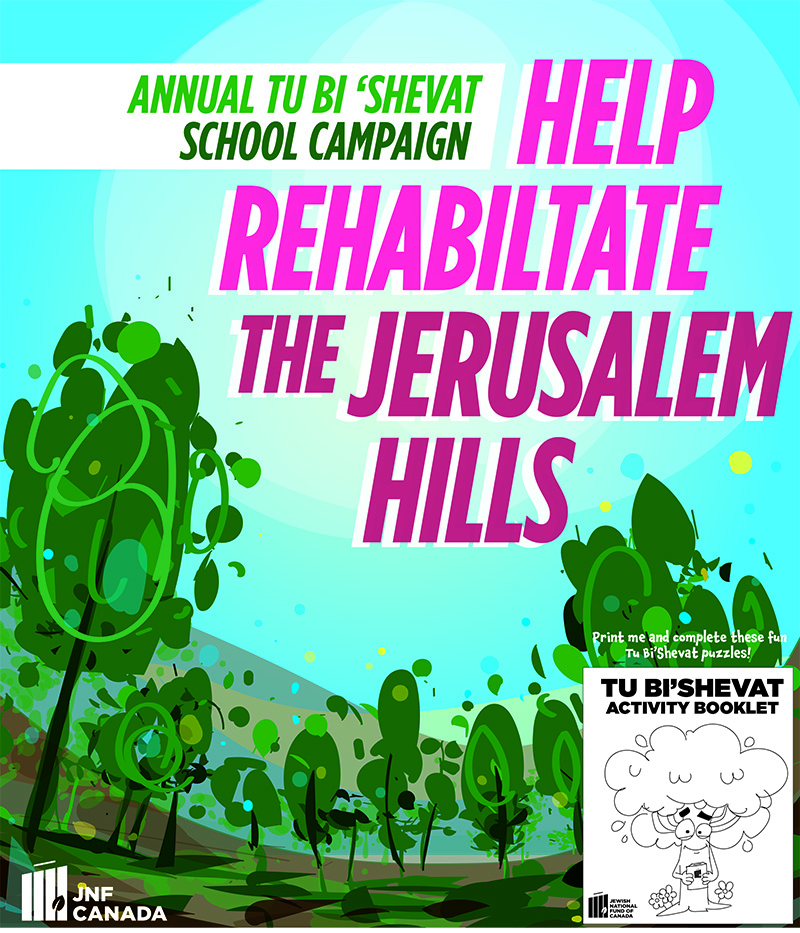 This year, JNF welcomes our readers to contribute to the JNF Tu Bi'Shevat School Campaign to ensure that the forests around Jerusalem will remain green and lush for generations to come. For a minimum of $18, you will receive a special certificate and a downloadable Tu Bi'Shevat activity book for young children with colouring pages and puzzles.
Edmonton's Talmud Torah School is a long-time supporter of the JNF Tu Bi'Shevat campaign and has helped raise funds to plant trees in Israel for many years. This year, the student organizing committee, with support from teacher supervisor Moreh Ari Sniderman, is running the campaign until January 31st. If you would like to learn more about this campaign and how to contribute, please visit. www.jnf.ca/annual-education-campaign.
Furthermore, in honour of Tu Bi'Shevat JNF is launching an important initiative as their environmental mission takes a new form to tackle the most pressing issue of our time: climate change.
The Climate Solutions Prize, a new initiative powered by JNF, will galvanize universities, scientists, engineers and research institutions to develop the best solutions to address climate change. Their aim is to develop a multimillion-dollar fund, and invest $1 million per year in the most promising ideas from across Israel.
JNF believes in Israel's ability to profoundly impact the world and the Climate Solutions Prize represents a natural extension of their environmental work. For more information visit www.climatesolutionsprize.com.
Winter in Alberta is a time for snow, icy sidewalks, and bundling up in many layers before going outside. It is also a season when we celebrate Tu Bi'Shevat, the new year for trees. Seems a bit odd, right?
On the 15th day of Shevat, which is from the evening of Sunday, January 16 to the evening of Monday, January 17 this year, Jewish people around the world plant trees and eat biblical foods in the order of wheat, barley, olives, dates, grapes, figs, and pomegranate. These foods act as symbols for the transition from bitter to sweet times in people's varying seasons of life. Rabbi Eitiel Goldwicht, founder of Aish Israel, explains that this holiday is the day "we celebrate the potential of the tree."
This year, as always, a variety of events and activities are being hosted in Edmonton and Calgary to help make your Tu Bi'Shevat a more meaningful and memorable one. The deadline for registration is passed for several of these events but here are a selection of programs taking place in Alberta. Check your local organizations for more activities and check online for activities beyond our communities.
Calgary JCC celebrated early this year; facilitated by Danielle Braitman, Calgary JCC's Director of Engagement Programs, the JCC held a Tu Bi'Shevat Terrarium Workshop on January 12,  for people to create their own mini-gardens to mark the holiday.
Calgary Beth Tzedec Congregation and PJ Library Calgary are collaborating with BING Art Studio's Sarah Bing, to celebrate Tu Bi'Shevat on Sunday, January 16th, from 1- 3 pm. Bing will lead families with elementary school-aged children in a nature-inspired, multi-media art project all within the comforts of your own home. Email info@bethtzedec.ca or call 403-255-8688 to save your spot for this free event.
Cantor Russell Jayne and Kesher are holding a virtual Tu Bi'Shevat Seder on Sunday, January 16 at noon, which includes a wonderful lunch from Karen's Cafe and Catering.There is no charge for Kesher members and their families for this program, but registration was needed by January 11. Generously sponsored by The Lenny and Faigel Shapiro and Family Fund.
Cozy up with a cup of hot chocolate while Mira Feldman Campbell shares some night time stories on Sunday, January 16 and Sunday, February 13 (both at 6:30 p.m.). Jewish Federation of Edmonton's PJ Library January program will feature Tu B'i Shevat and your kit will include some at-home activities, hot chocolate and a mug. Register at: https://conta.cc/3JSEAA8.
On Saturday, January 15th at 7:00pm, Victoria's Kolot Mayim Reform Temple and Edmonton's Temple Beth Ora congregations are coming together to celebrate the New Year of the Trees online for a virtual seder. You can register for this Facebook event at https://www.facebook.com/events/1639468783060592.
On Friday January 28 at 4 pm (online), Kehilat Shalom Calgary is presenting a Kabbalat Shabbat: A Time of Song, Joy and Mindfulness with Rabbi Ilana Krygier-Lapides and Rabbi Leonard Cohen. Everyone is invited to join in for an inclusive, wholehearted service led by "Rocky Mountain Rabbi" Ilana, as they welcome Shabbat with song and spirit. Attendance is free and open to all. RSVP to rockymountainrabbi@gmail.com with the subject "Kabbalat Shabbat" in order to register.
Edmonton's Beth Israel is inviting the community to sign up for their free kids' festival package filled with colouring sheets, games, snacks, and more! All packages will be available for pickup on January 13th and 14th between 9:00am – 4:30pm. Sign up at https://www.familyshul.org/form/Youth. You can also join Beth Israel's Virtual Seder on Sunday, January 16th at 6:30pm. Registration for your family ticket is $18 and includes a fruit platter as well as a guided tour through the seder plate with Rabbi Claman. Confirm your registration at https://www.familyshul.org/form/TuB'shvatVirtualSeder.
Looking for a fun way to be creative and test your Tu Bi'Shevat knowledge? Join Shira Or in a virtual Tu Bi'Shevat themed Kahoot challenge and crafting activity on Sunday, January 16th from 4:00-5:00pm. It is $10 for UJA members and $12 for non-members. Register at https://conta.cc/34w12Pj for this Jewish Federation of Edmonton and PJ Our Way event.
In these colder months, we may start to wonder how it will ever become warm again. Tu Bi'Shevat reminds us that even in the harshest environments, a rebirth is happening below the surface, waiting to burst its colours into the world again.
However you choose to celebrate Tu Bi'Shevat this year, let it be with the understanding that hard times do not last forever and sweeter times are a result of our resiliency.
Jenna Soroka is a Local Journalism Initiative Reporter with Alberta Jewish News.