(EJNews) – Paula Shoyer, best-selling author and frequent TV guest has taken some of our favorite Jewish holiday comfort foods and reimagines it more modern and lighter. In her fourth and latest cookbook: The Healthy Jewish Kitchen: Fresh Contemporary Recipes for Every Occasion, Paula takes Jewish every day and holiday cooking to a whole new level.
All her recipes utilize fresh, natural and seasonal ingredients, with many that are gluten-free and vegan, allowing home cooks to enjoy the holidays without guilt. Paula takes traditional comfort food that you love and The Healthy Jewish Kitchen features over 80 recipes and includes both Jewish classics as well as American and international trends that extend beyond the Jewish culinary world. Some of Paula's favorite recipes include:
–    Borscht
–    Tzimmis Puree
–    Mango Coleslaw
–    Watermelon, Peach, and Mint Gazpacho
–    Salmon Tartare (healthier choice than gefilte fish!)
–    Brisket Bourguignon
–    Red Quinoa Meatballs with Spaghetti Squash
–    Coq au Vin Blanc
–    Chocolate Quinoa Cake – which was deemed by Food52 as a "Genius Recipe" and made by tens of thousands of people worldwide
As said by Bonnie Benwick, food editor, The Washington Post, "while perusing Paula Shoyer's new cookbook it occurred to us that her dishes have appeal far beyond what is kosher. Many of the recipes are vegan and gluten-free, for example, and just about all of them are simple enough for entry-level cooks."
"Good nutrition is about balance and finding a way to introduce more healthful food into an everyday diet as often as possible," Paula says.  "I am simply offering you a subtle shift towards better health without giving up your favorite foods."
Paula Shoyer graduated with a pastry degree from the Ritz Escoffier in Paris and does cooking and baking demos across the United States and around the world. She is the author of The Holiday Kosher Baker, The Kosher Baker, The New Passover Menu and The Healthy Jewish Kitchen. Paula is a freelance writer for the Washington Post, Hadassah, Joy of Kosher, and Jewish Food Experience, among other publications.
Paula competed on Food Network's Sweet Genius and appears on TV before every major Jewish holiday, over 31 times. She recently appeared on Israeli i24 news. In 2015, Paula was honored by Jewish Women International as a "Woman to Watch," and by the kosher media community as a "kosher pioneer." She lives in Chevy Chase, Maryland with her husband and four children, who are all healthy eaters. You can find her at www.thekosherbaker.com, and here is a short video that highlights her books and philosophy: https://www.youtube.com/watch?v=qBW0nwtz2tM&t=2s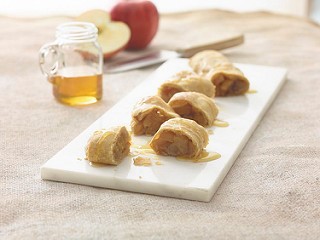 For your holiday table celebrate the sweetness of life with this delicious dessert. Recipe reprinted from The Healthy Jewish Kitchen by Paula Shoyer
Sterling Epicure/November 2017
CARAMELIZED APPLE STRUDEL
Parve, Vegan • Serves 10 to 12
Apple strudel is one of those Old-World desserts that few people bake from scratch anymore. The whole-grain dough in this recipe is very easy to make and roll out. I like to rewarm the strudel after the first day.
PREP TIME: 20 minutes; dough rises 1 to 2 hours • BAKE TIME: 30 to 40 minutes • ADVANCE PREP: May be made 2 days in advance; reheat to serve • EQUIPMENT: Measuring cups and spoons, vegetable peeler, cutting board, knife, stand mixer without attachment, plastic wrap, large frying pan, wooden spoon, silicone spatula, cookie sheet or jelly roll pan, parchment or silicone baking mat, wire cooling rack
DOUGH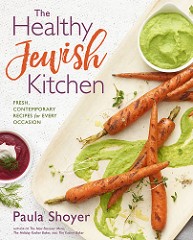 ½ cup (65g) plus 2 tablespoons (15g) all-purpose flour, plus extra for dusting
½ cup (65g) white whole-wheat flour
½ cup (65g) whole-wheat flour
1 tablespoon sugar
¼ teaspoon salt
¼ cup (60ml) sunflower or safflower oil
½ cup (120ml) water
Honey to drizzle over the strudel (optional)
FILLING
2 tablespoons coconut oil
¼ cup (55g) light brown sugar
1 tablespoon sugar
½ teaspoon cinnamon
4 Gala apples, peeled, cored, and sliced into ½-inch (12-mm) slices
3 tablespoons ground almonds
To make the dough, place the all-purpose flour, white whole-wheat flour, whole-wheat flour, sugar, salt, oil, and water into the bowl of a stand mixer and mix with a dough hook attachment, or by hand, until it comes together into a ball. Cover the bowl with plastic wrap and let it rest for 1 to 2 hours at room temperature.
To prepare the filling, heat a large frying pan over medium heat and add the coconut oil, brown sugar, sugar, and cinnamon, and stir. Add the apples to the pan and cook them, stirring often, for about 6 to 8 minutes, until the apples are fork-tender. Place the mixture into a bowl and let it cool for 10 minutes. Add the ground almonds and mix well.
When the dough is ready, preheat the oven to 375°F (190°C). Divide the dough into 3 pieces. Cut off a large piece of parchment paper and sprinkle it with some all-purpose flour. Roll out a piece of dough into a rectangle about 8 x 14 inches (20 x 36cm), lifting the dough a few times to add more flour underneath it. Place a third of the filling down the length of the dough, 2 inches from the edge. Fold in the right and left sides (the short sides) about 1 inch from the edge. Roll the long end of the dough (with the filling), into a tight, long log. Place it on a cookie sheet or jelly roll pan lined with parchment or a silicone baking mat. Repeat the same steps to make 2 other logs.
Bake the strudel for 30 to 40 minutes, or until it is lightly browned, and transfer to a wire cooling rack. Serve warm or at room temperature with a drizzle of honey over the top, if desired.