by the J.ca staff
(TheJ.ca) – From their home base in Calgary, the western region of Canadian Magan David Adom (CMDA) had a very busy month of October, as a variety of meetings and sessions brought the message of their life-saving work to the Calgary area and beyond.
Magen David Adom (MDA) is Israel's national EMS, blood services, and humanitarian relief organization and a member of the International Red Cross and Red Crescent. MDA is not government funded and relies heavily on donations from around the world to continue saving lives. Every year it responds to over 900,000 calls. Since 1976, Canadian Magen David Adom for Israel (CMDA) has been the sole-authorized fundraising organization in Canada, dedicated to supplying ambulances, medical equipment, supplies and blood-testing kits to support the life-saving efforts of MDA in Israel.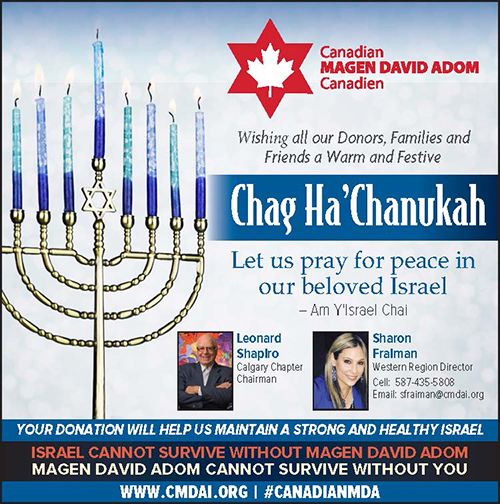 The goal of CMDA is to ensure that supporters are aware of the immediate and urgent needs facing the organization. For instance, with winter coming, MDA needs to be prepared for heavy snowfall, especially in the north of Israel. The equipment needed includes ten new 4×4 ambulances to reach patients in tough terrain and severe weather.
It could be said, that is an 'expected' annual need, as along with an increase in demand, equipment need to be replaced or upgraded. But this year there was a new need emerging, caused by the pandemic, creating added pressures. MDA launched the "Corona Guardians Program", teaching civilians how the virus works and is transmitted in order to cut off the chain of infections among family, friends, and coworkers.
To ensure maximum effectiveness at halting the spread of COVID-19, youth volunteers are being trained to assist the public by handing out masks, spreading information, and teaching them to take responsible actions to combat the virus.  This required the purchase of masks, breathing equipment and products to assist the paramedics.
Western Regional Director Sharon Fraiman tirelessly builds bridges with community groups to create awareness of those needs, and generate goodwill with prospective donors.
"I'm working very hard with Jewish and non-Jewish Organizations, churches, leaders from the community, congregations and volunteers." She said, citing one example of the Calgary Rotary Club meetup on October 5. "Such an honor for CMDA to be a part of Rotary Club", she wrote to supporters online. "There nothing more important than saving lives around the world."
Another important Alberta event was held with leaders from five churches in the Airdrie area. They came together with Fraiman and paramedic Don Sharpe to learn about and support Canadian Magen David Adom, and to participate in the "First Seven Minute" program. The First 7 Minutes is an educational and training session developed by International physicians. The program highlights those crucial first minutes and what people can do in a medical emergency, before the ambulance arrives, and is especially effective when presented in the context of a potential domestic attack on a civilian target.
Earlier this year, that presentation received a tremendous response in Winnipeg, with 3 dozen lay leaders and members of the community participating including the publisher of TheJ.ca, Ron East.
"Basically my region includes the major centres like Calgary, Edmonton, west to Vancouver and Victoria, as well Regina and Winnipeg to the east," Fraiman explained. "Our donors are not only generous in helping ensure MDA can attend to the emergency needs of Israel, they are generous with their time and effort to also promote our cause."
Donors Saul and Ida Alpern of Winnipeg are front and centre this month, with their earmark of $160,000 to purchase a Mobile Intensive Care Unit, being built in Canada. Orphaned after surviving the Holocaust in Romania, Saul emigrated to Canada and established a business career after marrying Ida, who was born in Edenbridge, Saskatchewan, and moved to Winnipeg as a youngster. She enjoyed a career as the Assistant Director of Dietetics at the Health Sciences Centre before her retirement.
They have a deep personal connection to Israel, as his brother Avrum gave his life in the War of Independence. The Alperns have made donations to CMDA in the past but this is the most significant expenditure, dedicated to Avrum and their family – parents Isaac and Rosa, sister Molly, and brother Shimon – who died in the Shoah. Fraiman noted that another Winnipeg couple have donated two medical scooters, cementing the reputation of the city as the home of philanthropists with big hearts.
On November 8, the Winnipeg chapter held a telethon with hopes of even more success. That evening, CMDA participated in the American Friends of Magen David Adom event – "A 90 Year MDA Virtual Celebration."  Some of the world's top entertainment and musical talent participated, including Jason Alexander, Gal Gadot, Howie Mandel, Itzhak Perlman and many more.
Visit cmdai.org for more information about Canadian Friends of Magen David Adom.
This article was originally published in The J.ca.