(AJNews) – The beautiful image on this month's cover of Alberta Jewish News: Calgary Edition is by Nina Bonos, an award-winning, Judaica artist who creates vivid watercolour paintings of joyous natural landscape elements.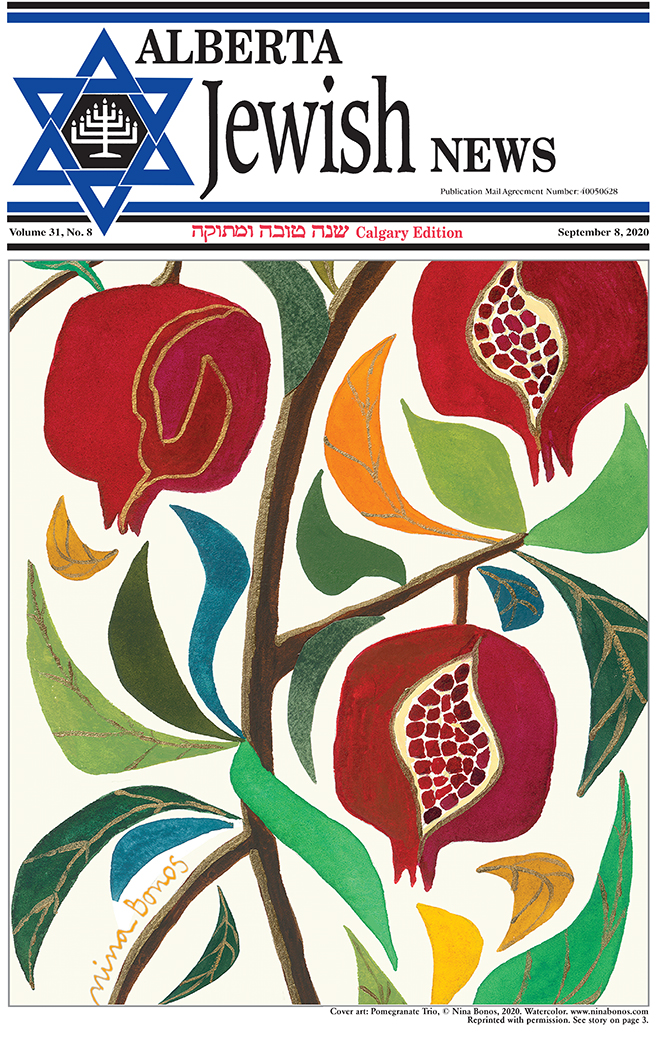 With a rich palette of jewel tone colours, Nina's bold compositions explore traditional and modern Jewish themes and symbols.  Pomegranate Trio is a detail from a Torah mantle illustration Nina created for her Santa Rosa, CA synagogue. This image was also adapted for a torah mantle designed for Congregation Beth Israel in Vancouver, BC.
 "My hands, heart and soul capture my artistic vision," explaines Nina. "My Judaica paintings express my life journey and family history as developed through decades of meditation and prayer. Creating art both calms and spiritually energizes me. Mixing colours and creating bold compositions enables me to feel the Divine presence while cultivating gratitude and vision. My paintings tell stories documenting the passage of time, and provide the setting and destinations for my memories, everyday experiences and dreams."
Nina's Joyous Judaica images adorn and add distinction to synagogues and other Jewish gathering places; professional office spaces and residences across the US and Canada. Her fine art originals are adapted as fine art prints and note cards; logos, donor appreciation and life cycle gifts; Torah mantles, synagogue banners, large-scale wall art, etched glass; and home accessories. Nina's Joyous Judaica collection is available at select Judaica shops and galleries, and on her website at www.ninabonos.com
Art and Scroll Studio, a zoominar series dedicated to promoting and interviewing artists, creators and makers of Judaica will be featuring a conversation with Nina Bonos about what informs and inspires her work on October 7, 2020 at 7:00 pm.
Contact artandscrollstudio@gmail.com to register.