(AJNews) – For years he has been heralded as one of Canada's strongest political leaders, and on Thursday February 27 former Premier of Saskatchewan Brad Wall will be honoured at the 69th Annual B'nai Brith Dinner. In a conversation with Deborah Yedlin – Chancellor of the University of Calgary – Wall will discuss the lessons he has learned over a lifetime public service and his thoughts on the future of Canada. Wall's strength as a leader is well known to most who follow politics in Western Canada, and since deciding to leave politics in 2018 Wall's voice and opinions are continually asked of and respected.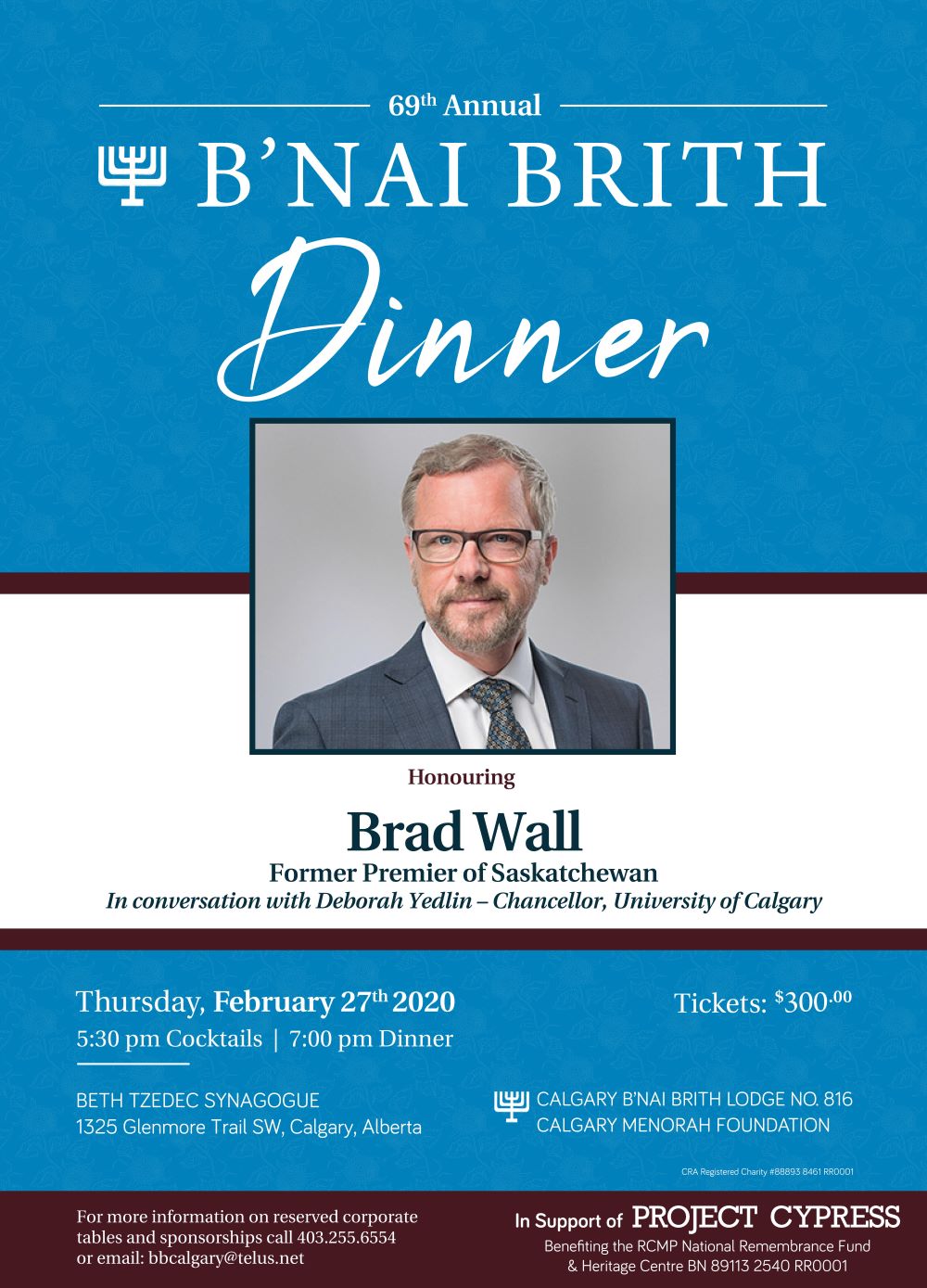 Wall is able to speak directly to and tap into what many Canadians are feeling in the current landscape. He discusses the state of politics in Canada, as well as the economy, and he provides a refreshing Western Canadian perspective.
Each year an honouree is selected who has made a significant contribution to the community and Brad Wall is an excellent choice. "Mr. Wall's accomplishments as Premier of Saskatchewan speak for themselves." explains BB Dinner Co-Chair Perry Feldman. "We were very interested to learn about his philanthropic activities and have been keen readers of his various opinion pieces."
Through Project Cypress, this year's Dinner Featured Charity, Wall has been able to raise funds and help support the RCMP National Remembrance Fund and Heritage Centre.
Brad Wall was Premier of Saskatchewan from 2007-2018. Since his departure from public life, Wall keeps himself busy operating his own consulting business that spans strategic, government relations and communications advice as well as a very small foray into the cattle business with his son. He is also a special advisor to the national law firm Osler, Hoskin and Harcourt LLP. He is an itinerant columnist for the BOE Report and the National Post and was recently named to the Advisory Board of the Canadian Global Affairs Institute.
Wall is the latest to join an illustrious list of recent honourees that includes former Alberta Premiers Klein, Stelmach, Prentice and Notley, Calgary Mayor Naheed Nenshi, and even National Hockey League Commissioner Gary Bettman.
The BB Dinner not only gives attendees a chance to see a political heavyweight in action, but also the strength of the young leaders in the Jewish Community. This year the Co-Chairs of the Dinner are Jordan Balaban, Perry Feldman, and Michael Men. "We were first exposed to B'nai Brith as teenagers during our time in the B'nai Brith Youth Organization," says Feldman, and the three young men are excited to keep the traditions they've learned alive and instill them in others as well.
"Each of us believes it is important that the younger adult members of our community take on leadership roles and co-chairing Calgary's B'nai Brith Dinner was a great opportunity to put that belief in action. The Lodge has played a unique role in Calgary's Jewish community for a very long time, and we are proud to be contributing to its legacy."
The Annual Dinner is not only the Lodge's major fundraiser for the year, but also one of the city of Calgary's longest running fundraising events. A successful Dinner provide the Lodge with the resources to help support many of Calgary's most beloved Jewish and non-Jewish community institutions and organizations.
In addition to dinner the evening will include a live auction, wine raffle, and a silent auction in support of BBYO.
On Thursday February 27, 2020 please join the B'nai Brith Calgary Lodge 816 in honouring former Premier of Saskatchewan Brad Wall at the 69th Annual B'nai Brith Dinner at the Beth Tzedec Synagogue. Doors open at 5:30 pm with a cocktail hour and dinner is served at 7:00 pm. Tickets are available by calling the BB office at 403-255-6554 or e-mailing bbcalgary@telus.net.