(Edmonton) – Mark your calendars for 1 pm on August 8 – The Dutch Canadian Club Edmonton is installing a remarkable statue of Anne Frank in Light Horse Park in Old Strathcona. Everyone is welcome to attend the unveiling ceremony, which commemorates the young Jewish girl who's story will live forever.
The beautiful bronze statue is a remarkable copy of the first Anne Frank statue made in the 1960s by famous artist Pieter d'Hont, which stands tall in the Dutch city of Utrecht. The same mould and form were used to make the Edmonton copy of the statue.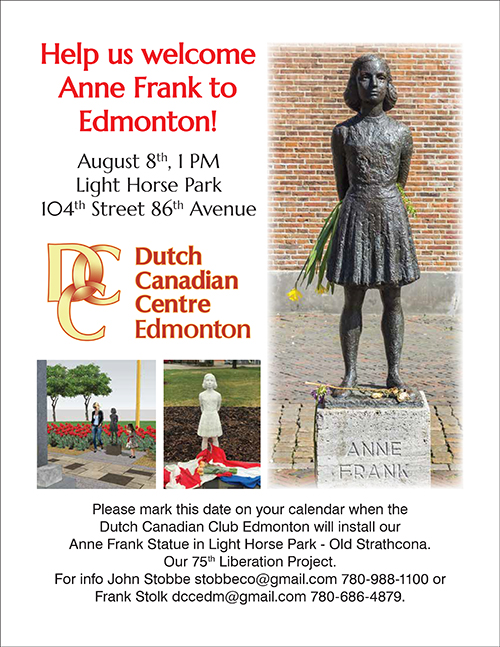 "This bronze statue is our way of thanking the many Canadian soldiers who were crucial in liberating the Netherlands from the Nazis in 1945," says realtor John Stobbe, who has worked on the project with Dutch Hon. Consul Jerry Bouma and Edmonton Dutch Canadian Club president Frank Stolk.
"We had planned to place our Anne Frank statue in Old Strathcona's Light Horse Park last year and launched our $75,000 campaign in January 2020 to cover the cost of the statue, transportation, installation and maintenance."
"The COVID-19 pandemic saw the ceremony postponed," says Stobbe. "Now our statue, poured from the original 1960 Anne Frank mould and only the second in the world to be placed in a public space, will be unveiled Aug. 8."
Anne Frank was  a Jewish girl, born in Frankfurt Germany in 1929. In 1942, at the age of 13, she received a diary as her birthday present. In this diary she wrote of how she lived through World War II at Amsterdam in Holland. Along with 1000 other Jewish Anne was put on a transport to the Auschwitz concentration and extermination camp with her family in 1944. She died in 1945, one of 35,000 prisoners who perished in the disease ridden Bergen Belson concentration camp in Germany.
In addition to describing her war time experiences, Anne Frank expressed her hopes and aspirations for the future. "Where there's hope, there's life. It fills us with fresh courage and makes us strong again," she wrote in her diary. "In spite of everything, I still believe that people are really good at heart."
The first part of Anne Frank's diary contained events of a normal girl's life such as school, crushes, and social interactions with friends and her life and family but after some time these would change. Fear was imminent because of the German Gestapo arresting Jewish people at will, so they went into hiding. Anne Frank's father Otto had thought of a perfect hiding place for his family, spaces behind his office building and they called it the Secret Annex (Het Achterhuis). After some time more people went into hiding at the Secret Annex, the Van Daans and Mr. Alfred Dussel.
The Diary of Anne Frank provides illustrations and narratives of how they lived their lives during World War II, their stories of everyday as they interact with each other, and the experiences they had to deal with during the war. The Diary was found by Miep Gies, the woman who helped hide and shelter Anne Frank and the people who resided in the Secret Annex after they were arrested and transported to several concentration camps. After the war she gave the diary to Otto Frank, the only surviving member of the residents of Prinsengracht 263, to share Anne's Diary with the rest of the world.
The book was published in 1947, just over five years after Anne's thirteenth birthday, the day she had received her diary. She had come up with the title of the book herself: Het Achterhuis (The
Secret Annex). Looking back, Otto Frank wrote: 'How proud Anne would have been if she had lived to see this. After all, on 29 March 1944, she wrote: "Imagine how interesting it would be if I published a novel about the Secret Annex."
The diary has been translated into 70 languages with over 30 million copies sold.
Don't miss the unveiling of this important and impactful statue, right here in Edmonton.