by Susan Schiffman
(AJNews) – Are you tired of staring at the same four walls? We have good news. The Edmonton Jewish Film Festival Committee invites you to join us on a Jewish journey from May 2 to May 11.  Register here for the free, Virtually Perfect 25th Anniversary Edmonton Jewish Film Festival and your travels will begin. No vaccine passport required. Just pull up a comfy chair, make some popcorn and you are off!
Click here for a full schedule. 
On Opening Night, May 2, travel with us to the American South for Shared Legacies, the riveting story of the African American/Jewish alliance during the civil rights movement. Though this story will be familiar to some, others, especially younger viewers, may learn for the first time of the Jewish leaders who marched from Selma to Montgomery in solidarity with their Black brothers and sisters, and of the Jewish students who were murdered by the KKK for standing up for civil rights. This is a film not to be missed!  A conversation with the film's director Shari Rogers and other special guests will be held at 7 PM, via Zoom.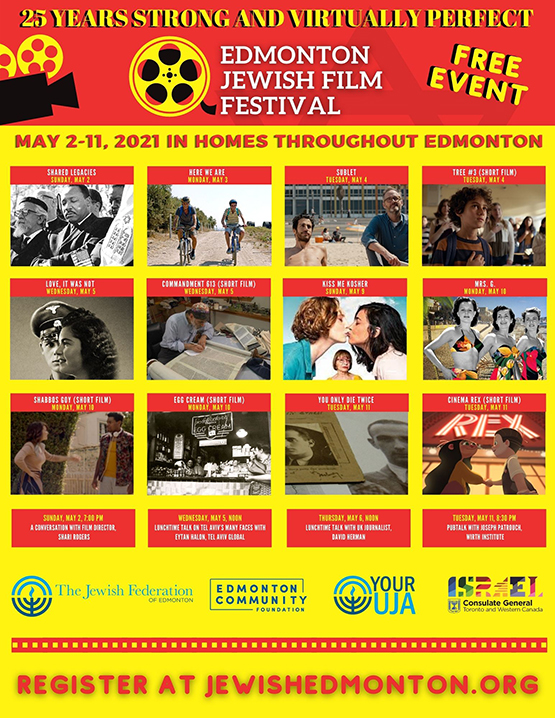 We are showing four feature films set in Israel this year, so climb aboard your virtual El Al flight. Here We Are, a tender drama about a father's relationship with his autistic son is beautifully acted and very moving. Sublet is the story of a gay American Travel writer, middle-aged and a bit stuffy, who goes to Tel Aviv to write a piece on the city; he meets a hip, handsome young film maker, and a life-changing friendship results. In addition to being a thoughtful drama about relationships, Sublet is also a love letter to the city of Tel Aviv. So, to accompany the film, we have invited Eytan Halon, Head of International Press, Tel Aviv Global, to speak about the many faces of his beloved city. That is on May 5 at noon, via Zoom.
Our journey also includes historical travels to Nazi-era Europe. The documentary, Love, It Was Not, tells the true story of a senior Nazi officer in Auschwitz, who falls in love with a beautiful Jewish prisoner and becomes her protector. Thirty years after her liberation she is asked to testify on the officer's behalf. The film's use of archival footage and survivor testimonies is extraordinary. UK Journalist David Herman will join us on Zoom on May 6 at noon to share his insights on the moral and ethical questions raised in this powerful and enigmatic film.
A second film, You Only Die Twice, also brings us to Europe. Although it is a documentary, the film plays more a like a "whodunit" telling the intriguing story of an Israeli investigating the theft of his grandfather's identity in pre-war Austria. Full of twists and turns, it is sure to hook those who love mysteries, historical research and family secrets. Joseph Patrouch, the Director of The Wirth Institute for Austrian and Central European Studies at the U of A, will help us unlock those secrets in a Pub talk at 8:30 PM on May 11 on Zoom.
Travel and entertainment should always go hand in hand. So, if you are looking for some laughs on your virtual journey, tune in for Kiss Me Kosher, a slightly screwball Israeli comedy about love, family mischief and culture clash. For lots more smiles and laughs, be sure to watch our short films. Tree #3, Cinema Rex, and Egg Cream are all chocolatey sweet and delicious. Bring the kids and grandkids for some fun. Shabbos Goy is very funny but decidedly not for the kids or grandkids.
Many thanks to our sponsors and supporters who make it possible for us to deliver this great festival to our community, free of charge.  Proceeds beyond festival delivery costs will go to The Jewish Federation of Edmonton's COVID-19 Relief Program, bringing food aid and financial subsidies to Jewish community members and organizations hard-hit by the pandemic. You can make a donation when you register at Jewishedmonton.org.
Can't wait to see you at the Festival. I am saving you the virtual plane seat next to mine for our outbound flight. Click here to register.
Susan Schiffman is the Coordinator of the Edmonton Jewish Film Festival.