by David Sklar
(Editor's note: This interview took place in early October, prior to the October 7 Hamas massacre of 1300 people in southern Israel.)
(AJNews) – Dr. Susannah Heschel doesn't consider herself an activist like her father, the late Abraham Joshua Heschel, one of the leading Jewish theologians and philosophers of the 20th century. However, she finds a deep connection in how he led his life.
"My father wrote about Judaism in deeply moving and important ways," she explains. The senior Heschel stated that it was more important to teach people the meaning of prayers rather than learning words by rote, which is something his daughter continues to practice.
"To him, Judaism was a religion of dissent, grounded in the prophetic tradition. The margins were his home. Believing that American Jewry had lost its way, he wasn't afraid to say so".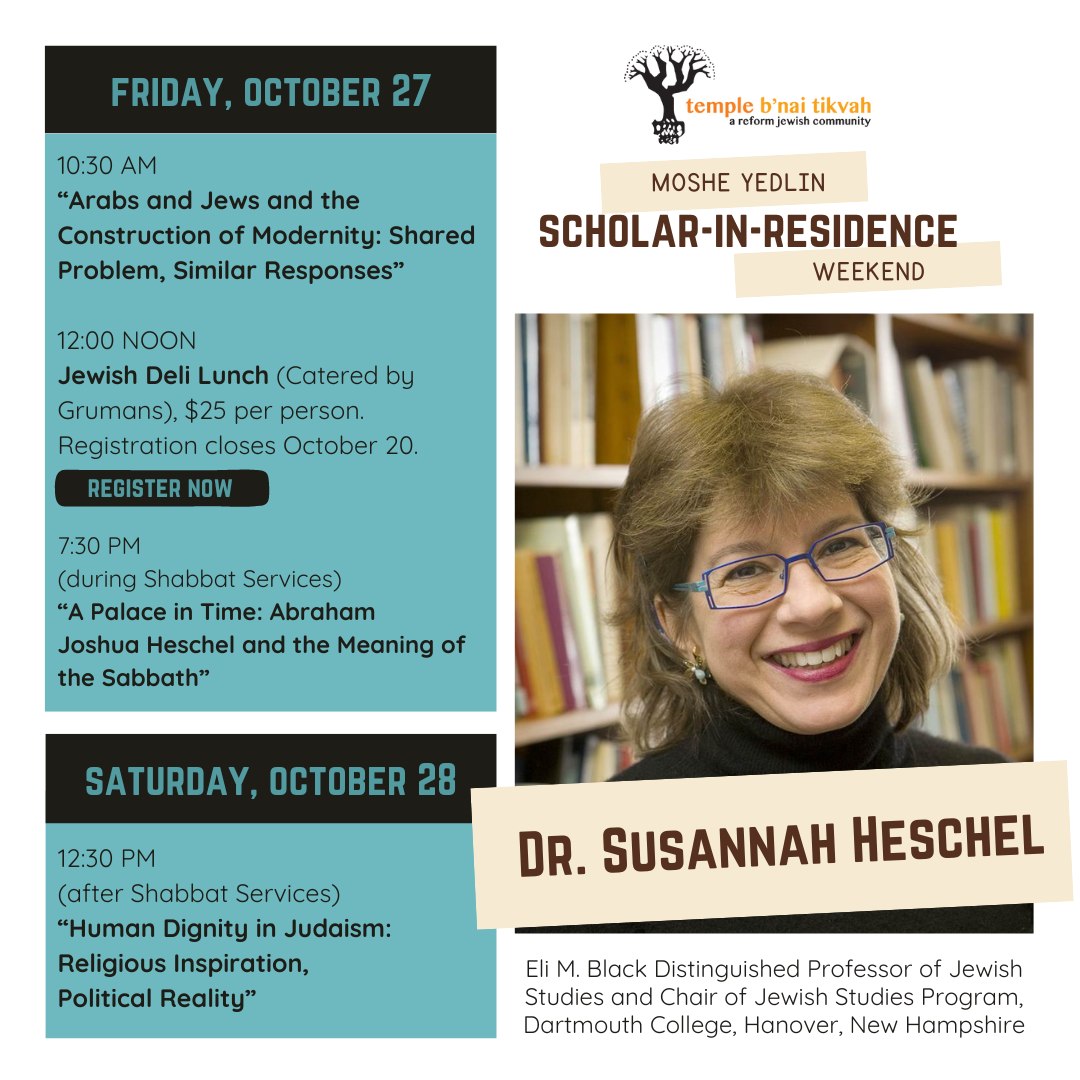 Heschel almost became a rabbi but was turned down at the Jewish Theological Seminary of New York, which did not ordain women at the time. She received her doctorate from the University of Pennsylvania in 1989 and her scholarship has focused on Jewish and Protestant thought during the 19th and 20th centuries, including the history of biblical scholarship, Jewish scholarship on Islam, and the history of anti-Semitism.
One of the three topics that she will be presenting at Temple B'nai Tikvah will be on human dignity in Judaism.
"What I see going on in the US Congress this week is just one example of the lack of human dignity," remarked Heschel. "Former Speaker of the House, Nancy Pelosi is attending the memorial service for the late senator, Dianne Feinstein in California. The same day, she received a notification from the temporary Speaker of the House that she had 24 hours to vacate her D.C. office. There's no way someone in California can vacate an office that they've devoted decades of their life to. You don't treat people this way. How you treat another person is not only about the dignity you convey to them, but it's also about whether you're capable of creating dignity for yourself. Are you a person of dignity?"
The irony wasn't lost on Heschel that as she was talking about the political instability in her country, she received a US government emergency test alert on her phone. The test was organized by FEMA (Federal Emergency Management Agency) to ensure the system continues to be effective but was already being met with Internet conspiracy theories.
She will also lead another lecture on the shared problems and similar responses both Arabs and Jews faced in the 19th and 20th centuries.
"After the French Revolution, France tried to demonstrate itself as a symbol of equity. Then came the Dreyfus Affair in which a Jew was falsely accused of treason. Jews were outraged but so were Arabs. It was quite earth-shattering. Later, when European countries arrived in Arab regions and talked about modernizing and liberalism, they discovered that Europe wasn't doing that back home. And of course, Jews in Europe had the same reaction. Jews and Arabs tried to aspire to a certain kind of modernity and discovered along the way that they were not always included."
One example Heschel provides of similar cultural responses between Jews and Arabs pertains to how each group modernized language.
"Standard Arabic was created through the translation of the bible and Hebrew, a language of study and piety, was created as a modern spoken language."
These reactions, as well as the rise of Jewish and Arab nationalism, were taking place at the same time and reinforcing one another.
Concerning the rise of anti-Semitism, Heschel urges caution over labelling everything anti-Semitic. "I think we focus a little too much on what is said, not how it's said. The danger depends on the tone of voice and the atmosphere. Is it said with mockery, with a sense of humour? It's not funny of course, but the emotional tenor of society is very important for us to consider when we talk about anti-Semitism".
It might surprise some people that despite her father's progressive ideals on the role of women in Judaism (She was Bat Mitzvah, which was unheard of in Orthodox circles at the time), Heschel feels right at home in Orthodox circles.
"I was respected far more than what I experienced in conservative synagogues that were supposed to be egalitarian."
Heschel was also impressed with how these orthodox institutions operated and addressed other social concerns. "(There were Jews) who were on welfare. Jewish refugees, immigrants. There was a food bank, and I think that made a difference (compared) to the big fancy, wealthy conservative and reform synagogues I knew".
Heschel might still be best known for placing an orange at the Seder table in the 1980's. This tale has become folklore in Jewish communities and is often mistold when a male rabbi suggested that a woman belonged on the bima the same way an orange belonged at the Seder table. The real version of events occurred when Heschel visited a Hillel at Oberlin College and read a feminist Haggadah suggesting adding a crust of bread to the Seder plate as a sign of solidarity with lesbian women. In her view, placing bread on a Seder table would suggest that lesbian and gay Jews were considered incompatible with Judaism, as bread is with Passover. The following year, Heschel added an orange as a symbol of inclusion.
"I never expected it to make waves around the world."
Perhaps due in part to her mini-revolution, people started adding different types of symbols to their Seder plates. There are now olives for the Palestinian struggle, bananas for refugees and acorns to acknowledge indigenous communities. How does Heschel feel about all these new additions?
"I'm glad it's meaningful. I would just hope that the original meaning that I gave had to do with the rejection of homophobia (and) I don't want that to get lost."
Despite Heschel stating that she is only an academic, she has made many waves throughout her career and like her prophetic father, she isn't afraid to speak up when she feels her community is losing its way.
"Jews don't always pay attention to problems facing other groups in society. We live in society and have to commit to all people's care. Racism against one group will quickly extend to racism against all groups. If Jews don't pay attention to growing anti-black or anti-Asian racism, they're gonna be lost when it comes for the Jews."
One thing she hasn't accomplished that she still wants to do, is visit the town of Banff.
"I'm coming (to Calgary) with my husband and it's our wedding anniversary. It was our 25th during COVID so we couldn't do anything. But now we're celebrating and we want to go to Banff. We just want to make sure we can get back to the city in time for our flight home."
Despite the warning of potential snowstorms occurring in late October, she said she was willing to risk it to see the Rockies.
On Oct 27th and 28th, Dr. Susannah Heschel will be the Moshe Yedlin Scholar-In-Residence at Temple B'nai Tikvah. She will be presenting three different lectures, "Arab and Jews and the Construction of Modernity: Shared Problem, Similar Responses," "A Palace in Time: Abraham Joshua Heschel and the Meaning of the Sabbath" and "Human Dignity in Judaism: Religious Inspiration, Political Reality." Click here to register for a deli lunch with Dr. Heschel on October 27 at 12 noon, catered by Gruman's Deli. 
 For more information on Dr. Heschel's lectures, please contact Temple B'nai Tikvah at office@bnaitikvah.ca or call 403-252-1654.
David Sklar is a Local Journalism Initiative Reporter.