Members of the Edmonton Jewish community have a rare opportunity to attend an evening of inspiration with the internationally renowned civil trial attorney Baruch Cohen, Esq. (SuperLawyer) on January 30, 2016 at 7:45 pm at the Fantasyland Hotel. Cohen is a prominent business lawyer, admitted to practice before all state and federal court in California and before the United States Supreme Court.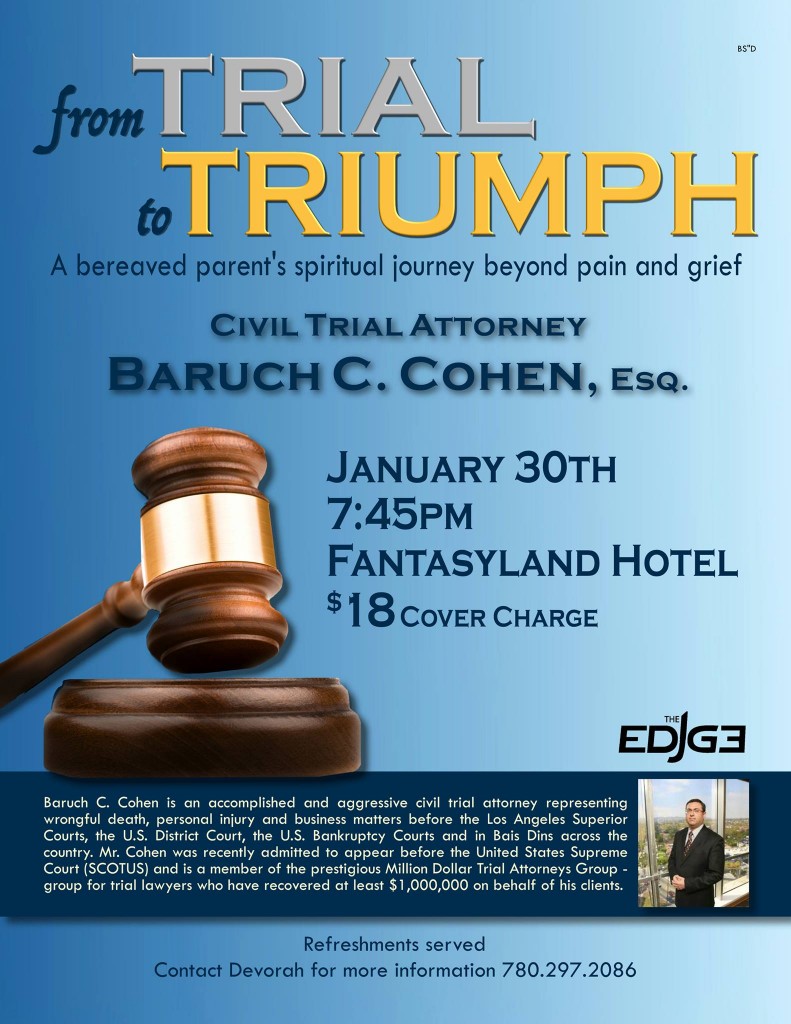 The topic of his presentation will be "From Trial to Triumph, a bereaved parent's spiritual journey beyond pain & grief." Join Baruch as he takes his audience on a compelling journey of  'Grieving & Healing Through the Prism of Torah.'
Baruch C. Cohen is an accomplished and aggressive civil trial attorney representing wrongful death, personal injury and business matters before the Los Angeles Superior Courts, the U.S. District Court, and the U.S. Bankruptcy Courts across America. Mr. Cohen was recently admitted to appear before the United States Supreme Court (SCOTUS) and is a member of the prestigious Million Dollar Trial Attorneys Group – a group for trial lawyers who have recovered at least $1,000,000 on behalf of his clients.
Baruch Cohen is an engaging speaker and a prolific writer. He will be in Edmonton as part of a Young Professionals Shabbat Retreat from January 29 – 30 where he will address a number of fascinating topics such as "The challenges of an Orthodox Jewish trial attorney" and  "How David slew Goliath, an Orthodox Jewish trial attorney's analysis." The cost of the retreat is $150. per couple and $180. for a family of  four.
Then on January 30, the 7:45  pm event will be open to the entire community at a nominal cost of $18.00. Refreshments will be served.
For more information about the Young Professionals Retreat and for reservations call Rabbi Moshe Segal at 780-680-3819 or email shabbatretreat@gmail.com.  Babysitting and kids programming will be available.
For information and to register for the January 30 evening event contact Devorah at 780-297-2086.