Following up on the very successful 2014 Edmonton Jewish Film Festival (EJFF), the 2015 edition will hit the silver screen at the Landmark Cinemas City Centre downtown, from May 3-5 and again from May 10-12!
EJFF is proud to partner with Landmark Cinemas yet again as our presenting sponsor, and the EJFF committee is busily screening potential films to bring to Edmonton a selection of the very best in Jewish cinema from around the world. Every year, the EJFF looks to grow in certain ways, whether it's bringing in guest speakers or enhancing the experience for our guests.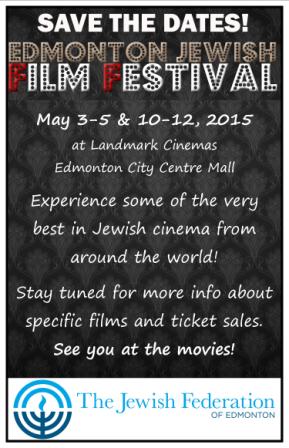 In our new space at Landmark Cinemas, EJFF guests will enjoy crystal-clear digital projection and surround sound, plush rocker seats and a fully-accessible auditorium. Every year, the EJFF committee seeks to balance the content of the Festival, with films last year touching on issues as diverse as the eccentricities of life, friendship across cultures, Jewish-Muslim relations and lesser-heard stories surrounding the Holocaust.
We're sure you'll enjoy the diverse lineup that will be unveiled in the first half of March. Of course, the EJFF could not be the success it is without the strong support of our dedicated sponsors and advertisers. Our thanks go out to all of them!
Proceeds raised by the Edmonton Jewish Film Festival go to support Partnership 2Gether (P2G), Edmonton's bridge-building program with the Galilee Panhandle region of Northern Israel, including the exchange program between students of Talmud Torah and their counterparts in Northern Israel. Remember to save the dates for the EJFF, and we look forward to seeing you at the movies!
The Edmonton Jewish Film Festival is a program of The Jewish Federation of Edmonton and is powered by the Edmonton United Jewish Appeal. For more information, visit www.jewishedmonton.org
by Daniel Larson