by JFSC staff
(AJNews) – Over the past year of living biblically, we've experienced floods, fires, plague. We've been forced to recognize that what we thought was important may not really be so critical.  We've learned the difference between "wants" and "needs" (think toilet paper…)  We've learned to slow down and enjoy the small stuff. We've learned how important social connection is to our well-being.  We've learned that struggles come in all shapes and sizes, and that nobody is immune.  We've started to talk about mental health. And we've learned that everybody has a story…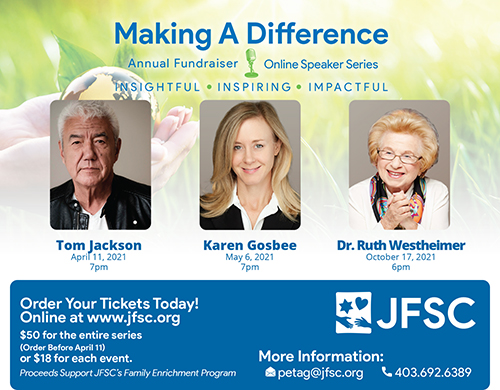 As we conclude our second Passover without our extended families, we think about the themes of freedom from oppression, hope, renewal.  It is fitting that this year, for our annual fundraiser, JFSC brings a series of talks from three individuals with real life stories about facing adversity, demonstrating grit, perseverance and the power of resilience to get through their circumstances.  They bring us hope when we learn how they use their experiences to "Make a Difference" in the lives of others.
Tom Jackson. Karen Gosbee. Dr. Ruth Westheimer.  "These three presenters speak the story of JFSC," says Roxanne Droppo, JFSC Executive Director. "In addition to highlighting the necessity for our programs and services in the Community, their messages relate to the Passover themes of hope, renewal and community support."
An enthusiastic supporter of JFSC, Tom Jackson entertained us, inspired us and brought us to tears during our 2018 Lil's Legacy fundraiser.  He's back on April 11, 2021, treating us to an evening of "Dancing, Dogs, Laughing, and Love" – his message is about creating mental well-being versus managing disease. Let's consider social prescriptions versus medical prescriptions. And then let's just sing…
We are thrilled to have Tom return to JFSC, lending us positive energy during these difficult times, inspiring us with his passion for mental health, the importance of philanthropy and showcasing his enormous talents. He has the gift to motivate us to be active members of our communities.  Special thank you to our sponsor Jenny Belzberg.
Karen Gosbee had it all – a successful husband, three beautiful children, the homes, the cars, the jewelry, the A-list invitations.  Her life looked perfect, and as her husband George liked to say, "appearances are everything".  But they're not.
Having been exposed to mental health and substance abuse both in her childhood and adult life, Karen has extensive lived experience.
We are honoured to have Karen Gosbee join us on May 6, 2021 to speak about mental health, reducing stigmas and building community resiliency.  Karen took her challenging high-profile life experiences and made a personal commitment to improve the quality of life for those directly and indirectly affected by mental illness and addiction. Special thank you to sponsors Raechelle and Lorne Paperny and Rose Zivot.
Dr. Ruth Westheimer may best be known for having pioneered talking explicitly about sex on radio and television, but as it turns out, that is only a small part of her rich and diversified life.
An Alzheimer's Caregiving Authority, Dr. Ruth has done extensive work on developing effective coping strategies for Alzheimer's care. She provides health-guided advice and coping strategies for caregivers looking after loved ones with this devastating illness.
With our new Memory Care Program in place, we are excited to hear Dr. Ruth's sage advice on October 17, 2021 in this growing social service area. Special thank you to our Anonymous Donor.
We are grateful for the support from the Sam Ousher Switzer z"l Charitable Foundation. Proceeds from "Making a Difference" will support JFSC's Family Enrichment Program, which provides a wide variety of services for individuals and families, with the goal of strengthening skills and connections while decreasing risk factors.   
To Purchase Tickets for "Making a Difference", or for more information on our programs and services www.jfsc.org, or contact Peta at petag@jfsc.org, 403-692-6389.