By Judy Zelikovitz
(AJNews) – As we look toward a new year, one with renewed opportunities to connect with loved ones and colleagues, we must reflect on the past to appreciate what has been accomplished and what remains to be done.
5782 continued to be a year of unprecedented times, one that imposed and rescinded lockdown rules and where science brought hope, but that also saw dark times with the war in Ukraine, continued violence in Israel, and a disturbing uptick in antisemitism and other hate here at home.
Through it all, the CIJA team pivoted and came together to continue our important work protecting the quality of Jewish life in Canada. After more than two years of isolation and working from home, the CIJA team across Canada and in Israel returned to full operation with a hybrid model of work from home and office that has allowed us to meet in person with partners, stakeholders, and political leaders once again, helped us to move key priorities forward, and energized our agenda advocating for issues of greatest concern to our community.
Among these many tasks were finding support for bills to ban Holocaust denial and symbols of hate, as well as to combat online hate. We secured funding to support important Jewish community priorities including $20 million for the Montreal Holocaust Museum; $2.5 million for the Sarah and Chaim Neuberger Holocaust Education Centre in Toronto; $5.6 million for the Office of the Special Envoy on Preserving Holocaust Remembrance and Combatting Antisemitism; $30 million for the Centre for Aging and Brain Health Innovation, established by Baycrest Health Sciences in Toronto; and $25 million for the Vancouver JCC redevelopment project.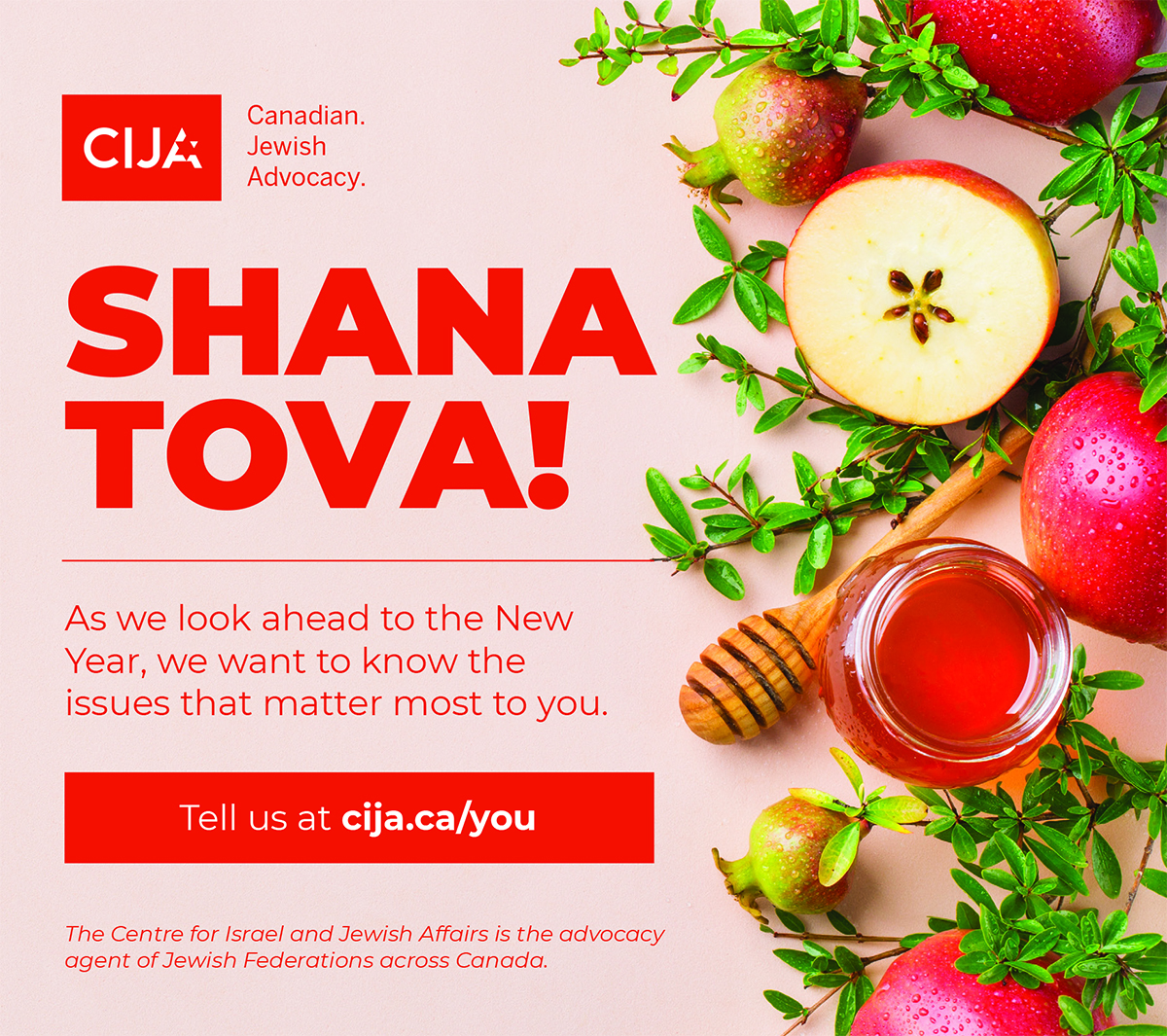 We are tackling antisemitism head on: We promoted the use of the International Holocaust Remembrance Alliance (IHRA) working definition of antisemitism to guide the policies of governments and provincial agencies and educated law enforcement services across the country about antisemitism, providing advice and guidance on the development of effective hate crime units. We are working with school boards to develop educational curriculums, for various levels of learning, to teach students about antisemitism, how to identify it, and how to reject it.
We are extending our hands to partners: We led a multi-partner coalition to eliminate the discriminatory policy limiting blood and plasma donations from members of the LGBTQ2+ community. We sought funding for Jewish immigrant agencies, other Federation-sponsored charities, synagogues, and individual Canadians to welcome Ukrainians, find them supplies, and support them in their new homes.
We celebrated Judaism and Zionism: Working alongside Federations across the country, we helped ensure that holidays and events, including, among others, Yom HaShoah, Pride, Walk with Israel, Calgary Stampede, and Edmonton Heritage Days were commemorated and celebrated by our community.
We are delighted to have restarted our phenomenally effective Missions program, where we show (mostly non-Jewish) Canadian cultural, business, political, academic leaders, students, and various influencers the reality of life experienced by diverse Israelis so they can appreciate first-hand the only liberal democracy of the Middle East and the world's 'start-up nation.'
And, as always, we spent last year, as we will this one, advocating for Canada's vibrant Jewish community.
Feedback is central to ensuring that we are effective in our advocacy, so CIJA has undertaken a new set of public polling to measure Canadians' response to our priorities and our messaging. The results are both intriguing and helpful as we assemble a plan to address the issues that most affect our community – one that will carry us into the next year and beyond.
But, we need to hear from you too! Your feedback guides us in all that we do. Please visit cija.ca/you and tell us what matters to you. As we step into the new year, reflecting on the progress made, we are committed to bringing projects to completion and advocating for new priorities based on issues of concern to you, our community.
We look forward to continuing to work for Canadian Jewry and wish you and your families a sweet, healthy, and happy 5783.
L'Shana Tova!
Judy Zelikovitz is Vice President, University and Local Partner Services at the Centre for Israel and Jewish Affairs (CIJA).